Vietnam Energy Online - Search results for keyword "
power smart
". Hope you find the content you want on https://vietnamenergy.vn/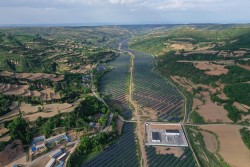 Trina Solar Co., Ltd., a leading global PV and smart energy total solution provider, announced the global launch of TrinaPro Mega, an ultra-high power smart PV solution featuring modules with power output exceeding 500W. With further improvements in product selection and integrated design, the solution enhances the overall system performance and reduces the levelized cost of energy (LCOE). Following the debut of the Vertex ultra-high-power new 500W-plus module in February, TrinaPro Mega marks yet another benchmark for the era of the 500W power output, as it delivers an optimized solution for the application of Vertex modules in downstream systems.