Vietnam Energy Online - Search results for keyword "
SP GROUP
". Hope you find the content you want on https://vietnamenergy.vn/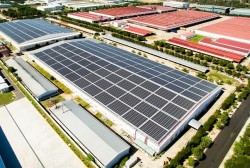 SP Group (SP) and BCG Energy Joint Stock Company (BCG Energy), a wholly owned subsidiary of Bamboo Capital JSC, signed a Memorandum of Understanding (MoU) to invest in renewable energy projects in Vietnam. The MOU also provides an exclusive right for SP to acquire up to 49 per cent of its subsidiary Skylar Joint Stock Company (Skylar).