Vietnam Energy Online - Search results for keyword "
Hoa Binh Hydropower Plant
". Hope you find the content you want on https://vietnamenergy.vn/
On November 10, 2021, in Hanoi took place a ceremony for signing a credit agreement for a preferential loan without a government guarantee with a value of 70 million Euro (equivalent to 1,900 billion VND, accounting for about 20% of total investment capital) that the French Development Agency (AFD) lends to Electricity of Vietnam (EVN) for extending Hoa Binh hydropower plant.
At 6 pm on June 16, 2021, EVN Repair Service Center (EVNPSC) in coordination with Hoa Binh Hydropower Company and related organizations successfully synchronized the unit No1 of Hoa Binh Hydropower Plant to the national power system after this unit stopping for repair and replacing a cable section from oil insulation to dry one with a length of 600 meters and a weight of 11 tons from 220 kV output of the step-up transformer of unit 1 to 220 kV transition substation.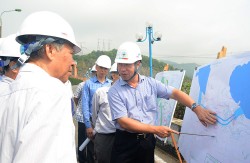 On May 18, in Hoa Binh city, the State Capital Management Committee at Enterprise and Electricity of Vietnam (EVN) had a meeting with Hoa Binh Provincial People's Committee to discuss the matters about expanding Hoa Binh Hydropower Plant (HPP).