Signing a credit agreement for Hoa Binh expansion hydropower project
08:40 | 12/11/2021
- On November 10, 2021, in Hanoi took place a ceremony for signing a credit agreement for a preferential loan without a government guarantee with a value of 70 million Euro (equivalent to 1,900 billion VND, accounting for about 20% of total investment capital) that the French Development Agency (AFD) lends to Electricity of Vietnam (EVN) for extending Hoa Binh hydropower plant.
The investment policy on extending the Hoa Binh hydropower plant was approved by the Prime Minister and its feasibility study report was approved by the Committee of State capital management in enterprises. EVN decided on investment and assigned Power Management Board 1 as a Representative of Investor.
Hoa Binh extension hydropower project consists of two units with a total capacity of 480 MW (2x240 MW) and a total investment of 9,220 billion VND, including 30% equity and 70% commercial loan with 70 million Euro from AFD.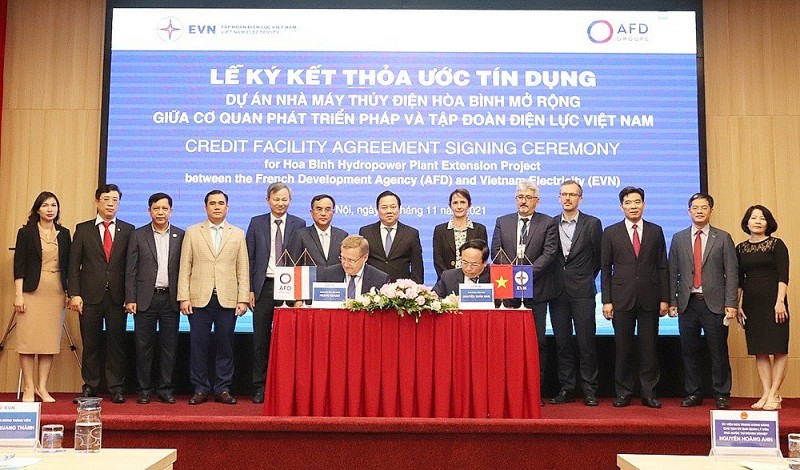 The Signing ceremony of credit agreement for Hoa Binh Hydropower Plant expansion project.
At the signing ceremony, Mr. Herve Conan - AFD Director in Vietnam said: "Following the recent successes in the renewable energy development, AFD and EVN decided to extend cooperation on the key projects in Vietnam's energy transition. This signing is appropriate with the strong statements of Vietnam Prime Minister at COP 26, demonstrating confidence of EVN in AFD, and at the same time marking ambition of EVN in sustainable energy development, suitable with strategy "100% Paris Agreement" of AFD in Vietnam. I would like to thank EVN for trusting us and welcoming the excellent cooperation between the two sides."
Speaking at the ceremony Mr. Duong Quang Thanh- Chairman of EVN Member Council affirmed:
"The Hoa Binh Hydropower Plant extension project and other extension hydropower projects are all in EVN strategy on the green and sustainable energy development. This extension is not only to strengthen hydropower capacity for EVN but also to promote sustainability and efficiency of the national power system in the context of strong development of hydropower projects in the North of Vietnam. EVN high appraises the support of AFD in over 20 years of AFD – EVN close cooperation, especially the preferential loans without the government guarantee and many other technical supports for EVN".
Hoa Binh HPP after extension will increase the ability to mobilize capacity during peak hours, contribute to improving working regime of the power system (increasing peak capacity, flexible operation, reliability and safety of the power system) and to decreasing production costs of the power system. The extended units of Hoa Binh HPP should generate an annual average of about 495 kWh, contribute to decreasing coal use in thermal power plants, decreasing CO2 emission, limiting annual water discharge and decreasing the working intensity of the existing units, that prolonging the equipment life, and saving maintenance and repair costs.