Signing credit agreement for Ialy extended Hydropower project
08:51 | 01/07/2021
- On 29/6/2021 in Hanoi, Electricity of Vietnam (EVN) and the French Development Agency (AFD) held the signing ceremony of credit agreement for the preferential loan without government guarantee, worth €74.7 million for the Ialy extended Hydropower project (HPP).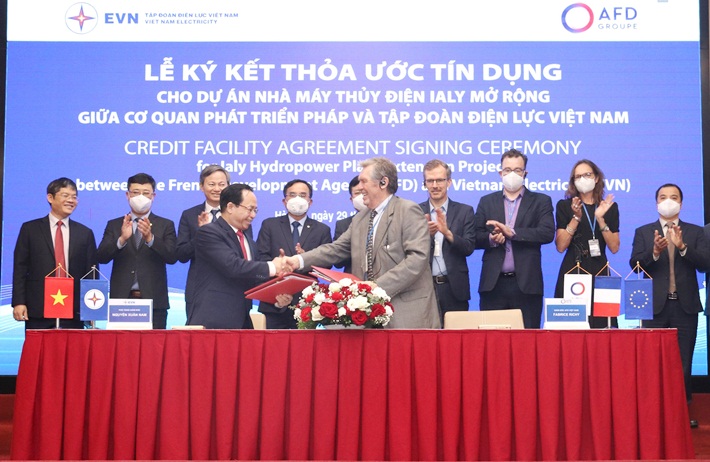 The Signing Ceremony
The Ialy extended HPP has been approved by the Prime Minister for investment policy. The Committee for Management of State Capital at Enterprises has approved the Feasibility Study Report of the project. EVN has decided investment in the project and assigned Power Project Management Board 2 as the representative of the investor.
The Ialy extended HPP includes 2 power units with a total installed capacity of 360 MW and average electricity output of 233 GWh/year, total investment of about VND 6,398 billion. The preferential loan without government guarantee worth €74.7 million equivalent to VND1,900 billion, accounting for 30.8% of the total investment capital for the Ialy extended HPP is the second loan without the government guarantee that AFD provides for EVN.
At the Signing Ceremony, Mr. Fabrice Richy, Director of AFD in Vietnam said: "AFD is proud to be the main and long-term partner of EVN, the Ialy extended HPP will contribute to the low carbon and suitable energy development as one of the important strategies of AFD in Vietnam.
The credit agreement signed today should help promote renewable energy development and continuously look for the international funds for EVN strategic projects. AFD would like continuously to cooperate with EVN and the other Vietnamese State enterprises through the finance without government guarantee"
Mr. Duong Quang Thanh - Chairman of EVN Member Council said: The Ialy extended HPP and the other extended HPPs belong to EVN green and suitable development strategies, that not only increase the hydropower capacity but also strengthen sustainability and efficiency of the power system in condition of strong developing renewable energy power projects in Central region of Vietnam.
EVN high appropriates the support of AFD in 20-year close cooperation between two groups, especially the support through the preferential loan without the government guarantee, and many valuable technical assistances for EVN.
A number of information about Ialy extended HPP:
- Investor: EVN
- Investor Representative: Power Management Board 2
- Location: Ya Tang commune, Sa Thay district, Kon Tum province and Ia Mo Nong and Ia Kreng communes, Ialy town, Chu Pah district, Gia Lai province,
- Designing Unit: Power Engineering Consulting Joint Stock Company 1 (PECC 1)
- Total investment level: About VND 6,398.630 billion
- Starting date: Quarter II/2021
- Power generation of Unit 1: quarter/2024, Unit 2: Quarter 3/2024
Project completion: December/2024
VER.