Signing a credit agreement for the project of the Southern distribution network
08:48 | 31/03/2022
- On March 28, 2022, in Hanoi, Electricity of Vietnam (EVN) and the French Development Agency (AFD) held a ceremony for signing a credit agreement for a preferential loan without a government guarantee valued 80 million Euros for the Southern distribution grid project invested by Southern Electricity Corporation (EVNSPC).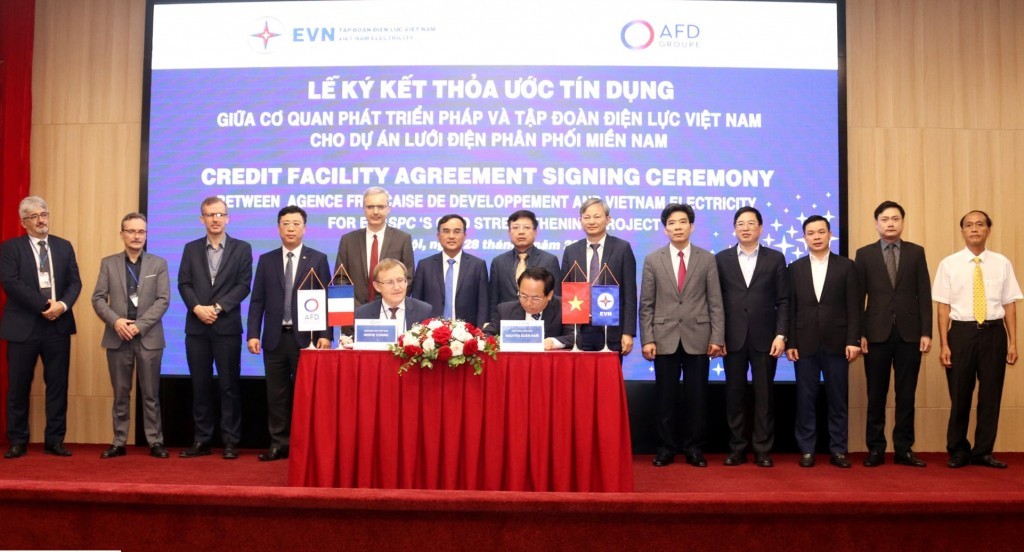 ceremony for signing a credit agreement for a preferential loan without a government guarantee valued 80 million Euros for the Southern distribution grid project invested by EVNSPC.
In order to carry out the great political tasks assigned by the Party and State, EVN and its member units are aggressively implementing construction investment activities to expand the electricity distribution network... The Southern Electricity Corporation is investing in the power grid projects in the South for improving the reliability, safety and quality of electricity supply service.
The project "Southern distribution power network" with AFD loans includes 33 sub-projects in Ben Tre, An Giang, Binh Thuan, Long An, Soc Trang, Tra Vinh, Ca Mau, Binh Phuoc, Dong Nai, Dong Phap Bac Lieu, Kien Giang and Can Tho city. All the subprojects including in the electricity development planning for the period 2016 - 2025 with a vision to 2035 approved by the Ministry of Industry and Trade. The feasibility study reports of the sub-projects have been approved by EVNSPC with a total investment level of about 4,487 billion VND implemented in the period 2022-2024.
In the previous periods, the distribution network projects used ODA loans with a Government guarantee. Recently,
The Government promulgated Resolution No 37/NQ-CP dated March 29, 2021, for EVN to apply a re-borrowing mechanism without a Government guarantee to avoid financial burden for the Government. The EVNSPC borrows AFD loans under this mechanism.
At the signing ceremony, Mr. Herve Conan, Vietnam AFD director said "the type of project will help EVN and Vietnam achieve their goals of low-carbon transition and sustainable development and implement Paris Agreements on Climate Change and commitment on zero carbon emission in 2050 in Glasgow COP 26.
Today credit signing will also open the way for cooperation between AFD and EVN in power transmission and distribution. AFD commits to support EVN in increasing power infrastructure in a more smart, flexible and modern direction".
Speaking at the signing ceremony, Mr. Duong Quang Thanh, EVN Chairman said "At present, AFD and European partners are actively cooperating and supporting EVN to implement a leading role in the national energy transition for realizing a goal of achieving net-ero carbon emissions in 2050. Today credit signing between AFD and EVN to increase the Southern power grid system for releasing capacities of renewable energy projects which are strongly developing in Southern provinces, contributing to the energy transition and net-zero carbon emission in Vietnam.
EVN hopes to continuously accept active assistance and supports from the Government, Ministries, Agencies in power investment projects as Bac Ai pumped-storage hydropower project, the extended hydropower projects and power transmission and distribution projects. EVN high appreciates support of AFD in over 20-year close cooperation, and especially the preferential loans without the Government guarantee and much technical value support that AFD intended EVN".
In over 20-year, EVN and AFD cooperated through the loans with and without the Government guarantee for the power plant and power grid projects. AFD very much interested in the dialogue of policies on climate change, clean energy and sustainable energy development to support Vietnam in transiting the growth model to a green growth model, low carbon model for coping with climate change.
Up to now, AFD has loaned EVN without a Government guarantee of about 350 million EUR, which shows AFD effort to satisfy the capital of EVN in the conditions of difficulties and limitations of the public investment capital and government guarantee.