Signing financial commitment for Hoa Binh Extended Hydropower Project
08:49 | 24/06/2020
- On June 22, in Hanoi, took place the signing ceremony of financial commitment between Electricity of Vietnam (EVN) and French Development Agency (AFD) for Hoa Binh Extended Hydropower Project (EHPP).
Hoa Binh EHPP with a capacity of 480 MW is an important power project of EVN. The project assigned to the Power Project Management Board 1 (on behalf of EVN) for implementation and management expects to start in 2020 and put into operation in 2023.
The project meets the objectives such as: increasing the capacity of peak coverage for the national electricity system, facilitating the maximum exploitation of the annual discharge water in the flood season of the existing Hoa Binh Hydro Power Plant to generate electricity.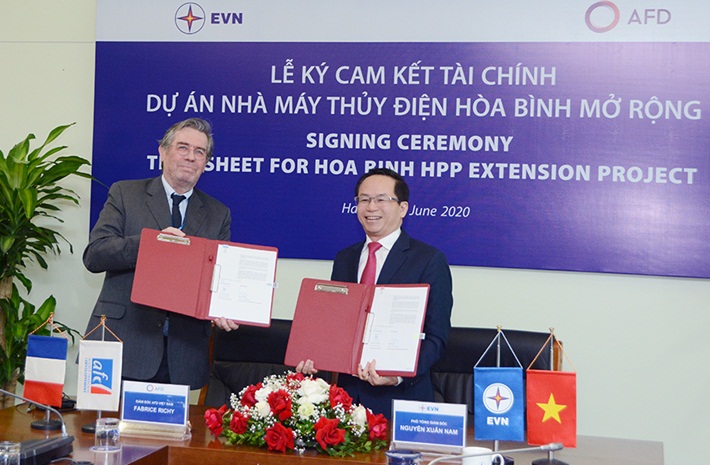 AFD Director Mr. Fabrice Richy and EVN Deputy General Director Mr. Nguyen Xuan Nam at the signing ceremony.
At the same time, the project will improve ability for adjusting and stabilizing the frequency of the national power system, contributing to reducing the costs of the electricity system.
At the ceremony, Mr. Nguyen Xuan Nam, EVN Deputy General Director expressed thank for AFD support to the projects of EVN.
The AFD non-government guarantee loan for Hoa Binh EHPP worth EUR 100 million should be used for financing equipment packages.
Previously, the other EVN projects provided non-government guarantee loans from AFD include: USD 100 million for Huoi Quang Hydropower Project, signed in 2010; EUR 24.2 million for Se San 4 Solar Power Project with a capacity of 49 MW, signed in October 2019.
In June 2018, EVN, the first State-owned enterprise in Vietnam was ranged by Fitch Rating as the debt issuer at BB level with a "Stable perspective" on long-term debt in foreign currency, equal to the national confidence factor.
Mr. Fabrice Richy - Director of Vietnam AFD considered that this is an admirable result of EVN. AFD is honored to be a friendship partner of EVN and ready to provide loans and technical assistance to help EVN access to higheinternational standards in development of power system and power supply.
Mr. Fabrice Richy informed that after signing financial commitment for Hoa Binh EHPP, the two sides will continue the related works for more promoting development cooperation.
AFD is a nonprofit international financial institution of the French Government. AFD is the first sponsor to provide the non-government guarantee loans in Vietnam and also the first organization to receive non-government guarantee loans from France for implementing power projects.
VER.