Signing a contract to supply hydro-technic equipment and technical services for the Ialy Extended Hydropower project
15:54 | 04/05/2022
- On April 28, in Hanoi, Power Project Management Board 2 and Consortium of Contactors as the Corporation of Industrial Machinery and Equipment, Mechanical Research Institute, Electromechanical Construction Corporation, and LILAMA10 Joint Stock Company signed a contract for package No 41 (TB-2) to supply the hydro-technic equipment and technical services for the Ialy Extended Hydropower Project.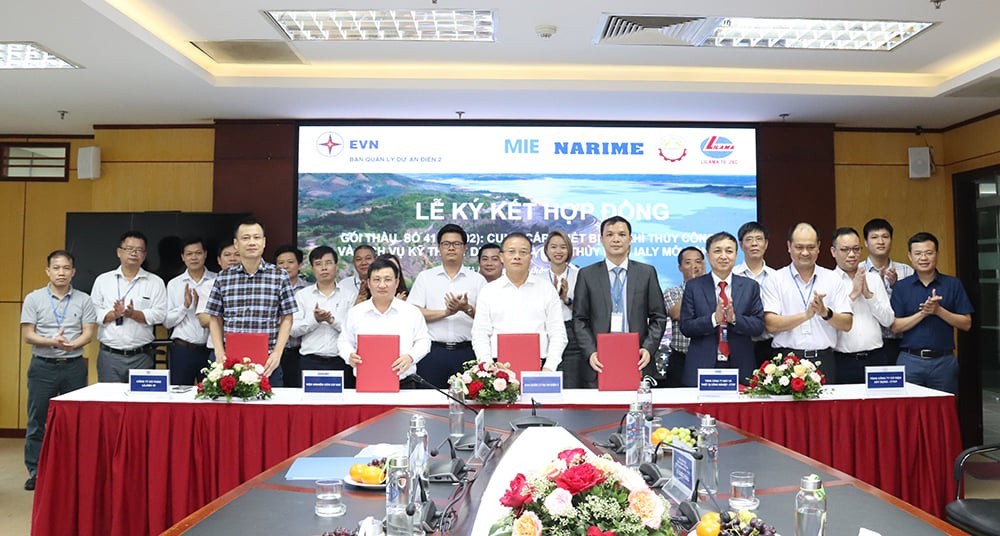 Signing Ceremony.
This package is one of the largest packages for the Ialy Extended Hydropower Project with an investment of more than 287.9 ​​billion VND borrowed from the French Development Agency (AFD).
The package includes manufacturing and supplying valve gates, valve slot of water intake, penstock, goat leg crane, supplying hydraulic lifting machine, and implementing relevant technical services.
On the base of the plan for selecting contractors approved by Electricity of Vietnam (EVN), the Power Project Management Board 2 deployed selecting contractors in accordance with current regulations guaranteeing a balance, and transparency in the bid evaluation.
Finalizing the procedure for selecting the contractors of this package is a special important meaning for guaranteeing the time schedule milestone of the project.
The Ialy extended Hydropower Project with a capacity of 360 MW (2x180 MW), a total investment of 6,398 billion VND, invested by EVN and managed by Power Project Board 2 on behalf of EVN. The project is carried out in Ya Tang commune, Sa Thay district, Kom Tum province and Ia Mo Nong, Ia Kreng communes, Ialy tower, Chu Pah, Gia Lai province.