The workshop on "Mechanisms and policies for IPP investors to develop power sources in Vietnam - Issues for investors"
09:52 | 21/09/2020
- The period 2020 - 2030 will mark an important step in strong increasing the clean energy sources as renewable energy, LNG power in total power resource structure of Vietnam. This trend will continue after 2030. At the same time, the role of the private sector in the electricity/energy market will become important and significantly increase in coming future.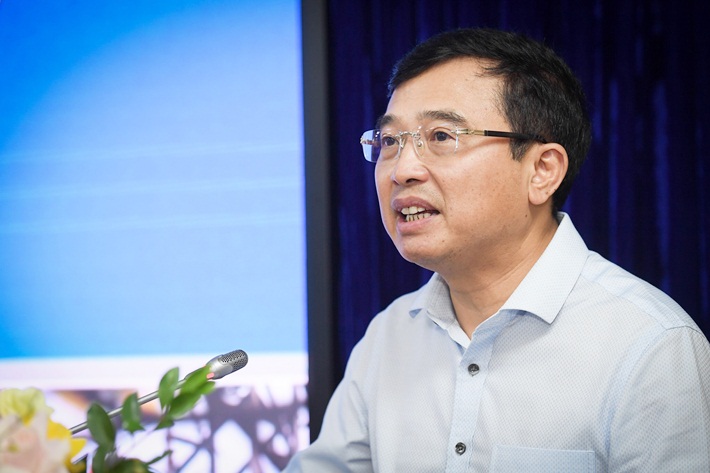 Mr. Hoang Quoc Vuong-MOIT Deputy Minister, Deputy Director of NSCED is speaking at the conference
Speaking at the workshop, Deputy Minister of MOIT Mr. Hoang Quoc Vuong - Deputy Head of the National Steering Committee for Electricity Development said: It is forecasted that to 2030 the electricity demand will increase by an average of 7.5% to 8% per year.
According to the preliminary results of Power Planning VIII report researched by the Institute of Energy, forecasts of electricity production demand in the base scenario by 2030 will be about 526 billion kWh, corresponding to the installed capacity of the whole power source system is 131,000 MW. With the total power capacity in 2019 of about 55,900 MW, so up to 2030, it is necessary to build an additional 75,100 MW of power sources, average 7,500 MW per year.
According to Mr. Hoang Quoc Vuong, from now to 2030, it needed to add an average about 7,500 MW of new power source capacity each year, with an investment capital of about 7-8 billion USD per year.
In recent time, beside the sound and timely regulations of the Government on mechanisms to encourage the development of renewable energy sources such as solar power, wind power, biomass power... there are still a number of regulations, guidelines, procedures for supplement to the power development, investment preparation, capital arrangement in the case without the Government's guarantee and participating in competition, electricity market) and technical infrastructure (as power grid development is not synchronous with power plant development) … could not keep up with the actual development, causing difficulties in developing clean energy in Vietnam.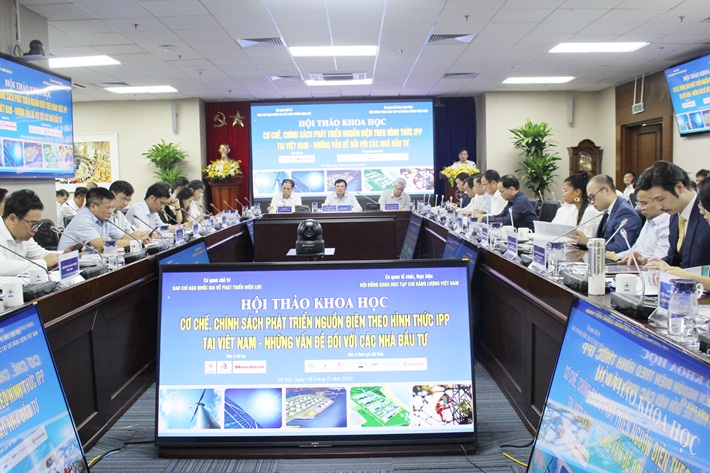 In this situation, the National Power Development Steering Committee presides over organizing of a Workshop on "Mechanisms and policies for IPP investors to develop power sources in Vietnam – the Issues for the investors" for domestic and foreign private investors in IPP sources to present the main advantages, difficulties and obstacles on mechanisms, policies and actual implementing power sources by IPP form in localities. A number of inadequate problems in recent years
1 / Due to the Law on Planning with a number of the new regulations, leading to lengthening the process of approving and supplementing a series of renewable energy (RE) projects to power development planning due to waiting for the new instructions causing losing, or reducing opportunities to attract and mobilize investment RE projects.
2 / To release the capacity of clean electricity sources (RE, LNG), a synchronous transmission grid is required. But due to the state capital limitation, and at the same time, the power transmission corporation has still many responsibilities for the large projects on electricity supply security, unable to timely invest in the grid for renewable energy sources. Therefore, the Government should consider and adopt mechanisms: (i) to reserve more preferential capital, prolong payback time and increase reasonably transmission charge for the power transmission grids releasing capacity of clean energy power sources, (ii) to adjust the Electricity Law so that private individuals can participate in investing transmission grid from their own RE project to the receiving points of the national transmission grid.
3 / Due to the impact of the Covid-19 epidemic on the world and Vietnam, the mobilization of investment capital, the order, receipt and transportation of RE project equipment, especially the wind power equipment import to Vietnam are severely affected (prolonging order time, lack of experts to supervise installation, check and take over the projects...). The consequences of these statuses will continue until the end of 2020. Therefore, the Government should consider the actual conditions for allowing extend the period of the FIT mechanism application (especially the FIT mechanism for wind power projects) by 1 to 2 years.
4 / In the current regulations on the standards, technical parameters, technologies of RE projects, there are several unclear and not specific points leading to the difficulties for both electricity buyers (EVN) and equipment suppliers.
5 / Land compensation and ground clearance for power projects are still many inadequate issues, a lack of coordination between state management agencies and local authorities leading to prolonging project implementation.
After this workshop, the National Steering Committee for Electricity Development will synthesize addresses, opponent opinions and proposals... for suggesting the Government and relevant agencies to consider and as soon as promulgate the suitable regulations to remove obstacles and difficulties for Vietnamese and international investors and enterprises, create conditions for rapid and sustainable development of energy projects according to the orientation of Resolution 55/NQTW of the Party Politburo.
Some photos at the workshop: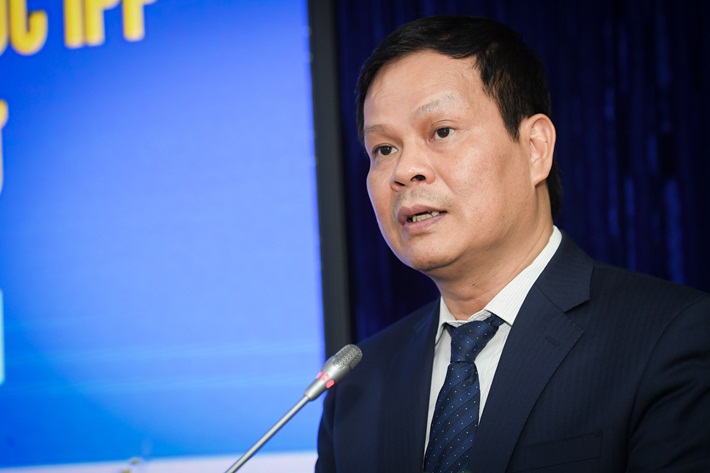 Mr. Hoang Tien Dung - Director of Department of Electricity and Renewable Energy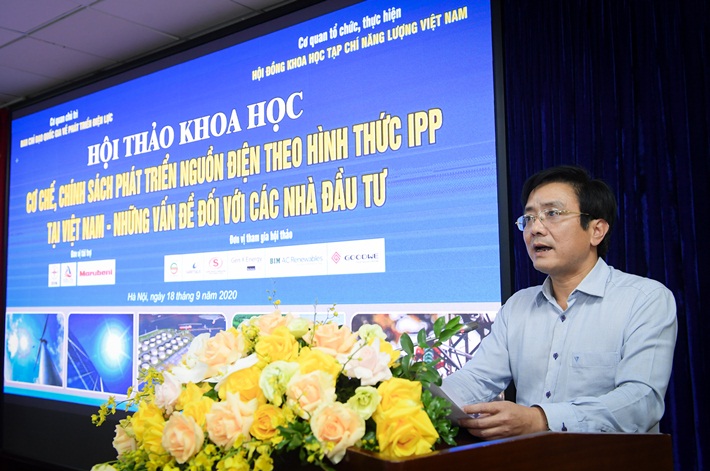 Mr. Hoang Trong Hieu - Representative of Office of National Steering Committee for Electricity Development (NSCED)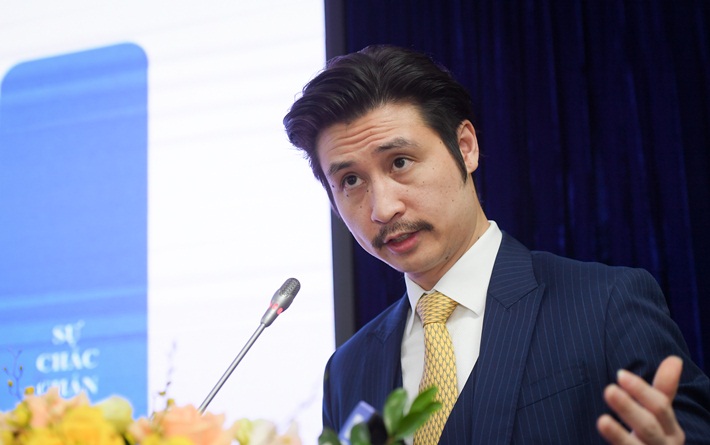 Mr. Ian Nguyen - General Director of Delta Offshore Energy Pte. Ltd (DOE)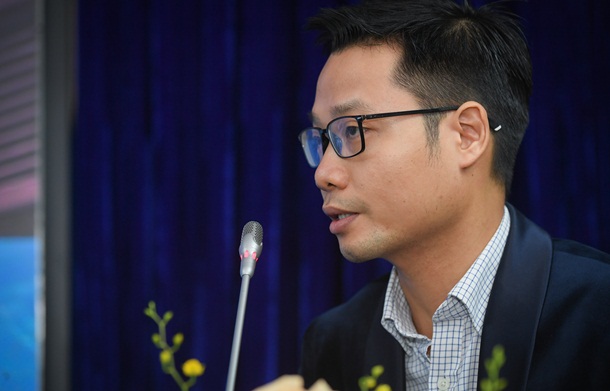 Mr. Ngo Hoai Phuong, WoodWe Sales Director in Vietnam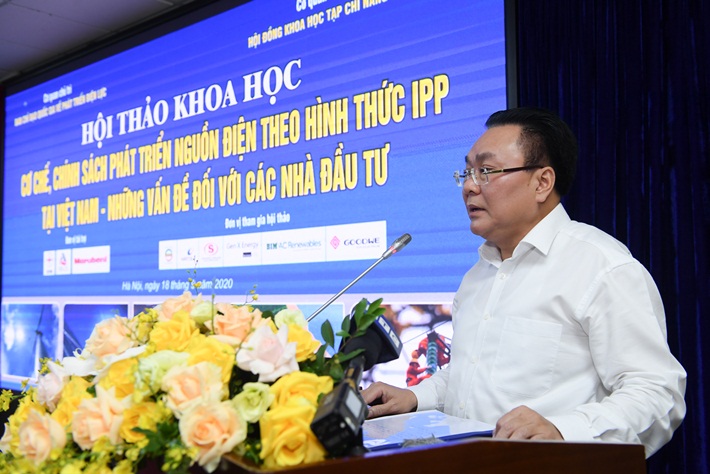 Mr. Ngo Quoc Hoi - General Director of An Khanh Thermal Power JJSC - Bac Giang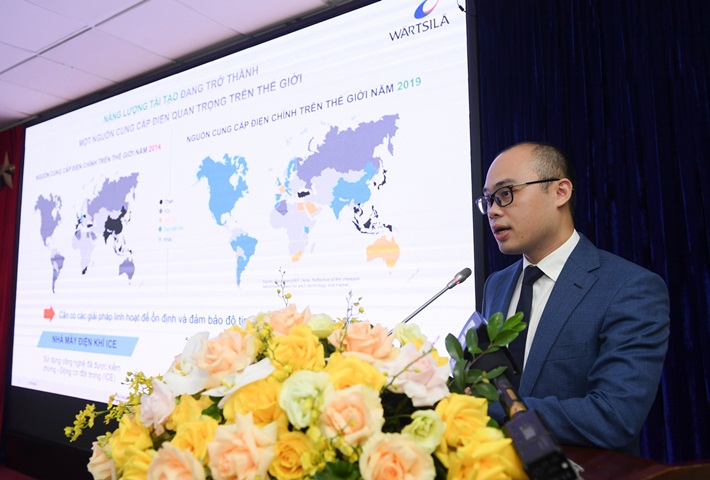 Mr. Pham Minh Thanh - Director of Business Development - Southeast Asia, Wärtsilä Corporation (Finland)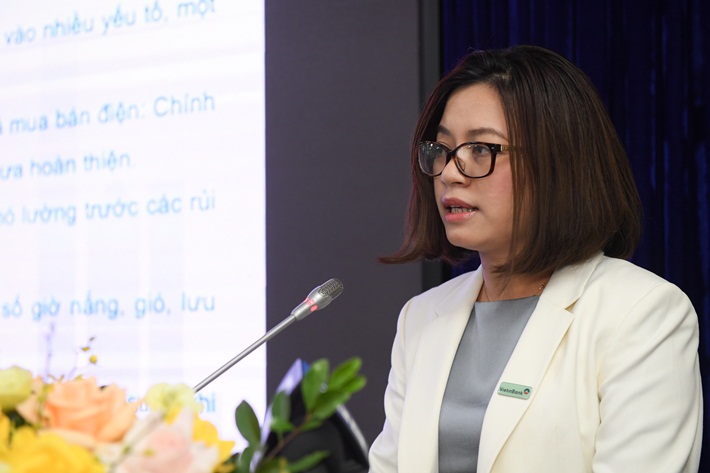 Representative of Vietinbank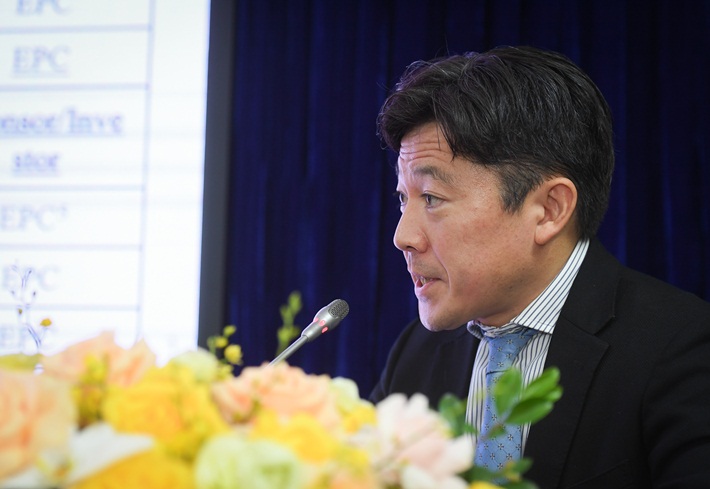 Mr. Miura - General, Director of Marubeni Asian Power Vietnam Co., Ltd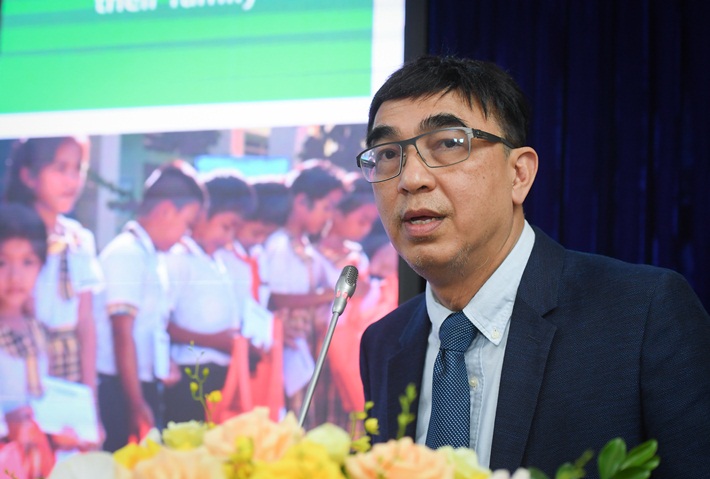 Mr. Supa Waisayarat - Regional Director of Super Energy Vietnam Group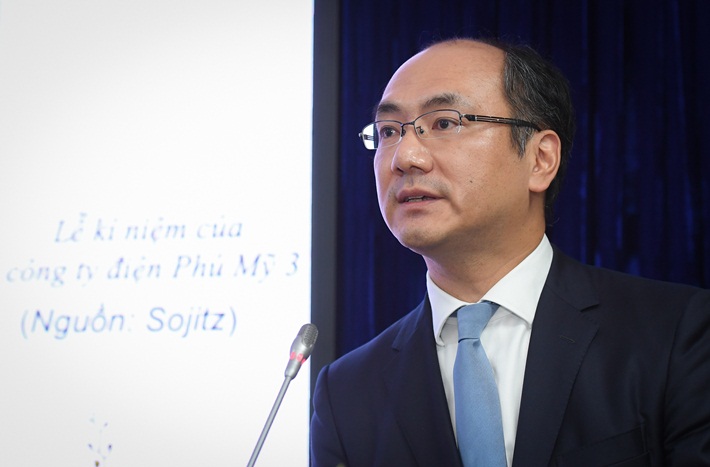 Mr. Aguin Toru - Head of JIBIC Representative Office in Hanoi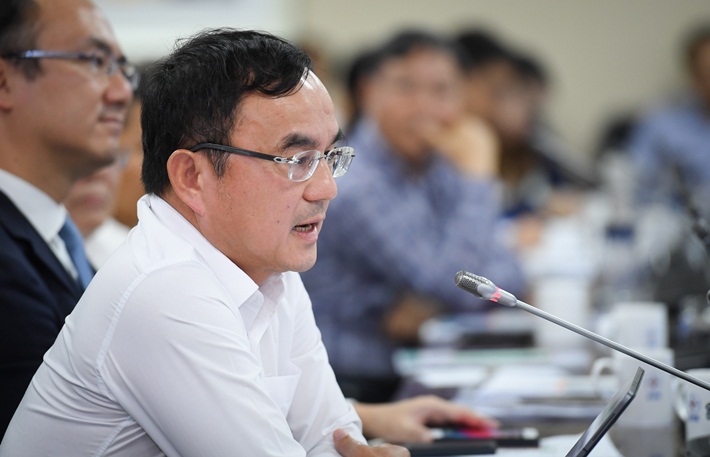 Mr. Duong Quang Thanh - EVN Chairman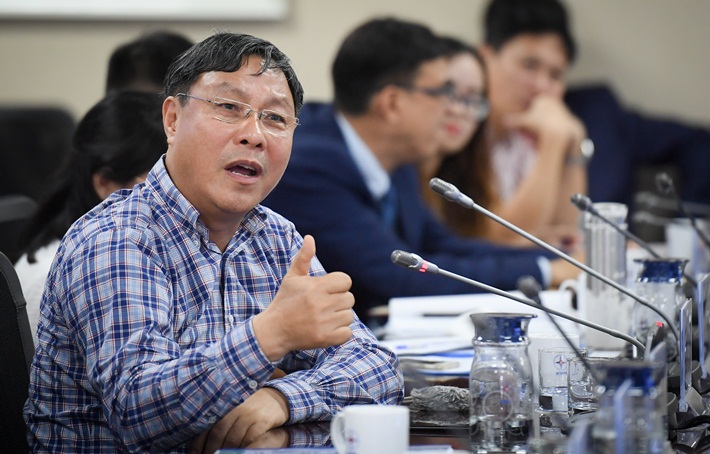 Representative of Bac Lieu province
VER.