Awarding the TOP best investors, technology and services of the clean energy in Vietnam
09:36 | 12/04/2022
- In order to recognize, encourage and promote investors and enterprises investing in developing typical clean power projects, providing high-tech equipment and services for clean energy projects in 2021. On April 7, 2022, in Hanoi, in the presence of central state management agencies, the Committee on Science, Technology, and Environment of the National Assembly, the State Bank of Vietnam, the Climate Change Department (Ministry of Natural Resources and Environment), Institute of Energy (Ministry of Industry and Trade), Vietnamese and International organizations and enterprises... the Scientific Council of Vietnam Energy Magazine held a meeting to summarize voting and awarding certificates of "TOP 10 prestigious clean energy IPP investors in Vietnam 2021" and "TOP 10 enterprises with the best technology, equipment, and services of wind and solar power in Vietnam 2021".
According to voting "TOP 10 prestigious clean energy IPP investors in Vietnam 2021", the Organizing Committee received 15 applications from the investment enterprises developing the typical clean energy projects; to the "TOP 10 enterprises with the best technology, equipment and services on wind and solar power in Vietnam 2021", the Organizing Committee received 18 applications from Vietnamese and International enterprises providing high-tech electrical equipment and services for developing clean energy projects in Vietnam.
Through reviewing and evaluating according to the Voting Regulations and the scoreboard of the Voting Council, the number of enterprises satisfying the voting criteria was still small. However, the Council hopes that the enterprises will continue to make efforts in investment activities, technological innovation, production management, business and service provision, etc. to improve the position of their business to continue to register for voting in 2022 and the following years.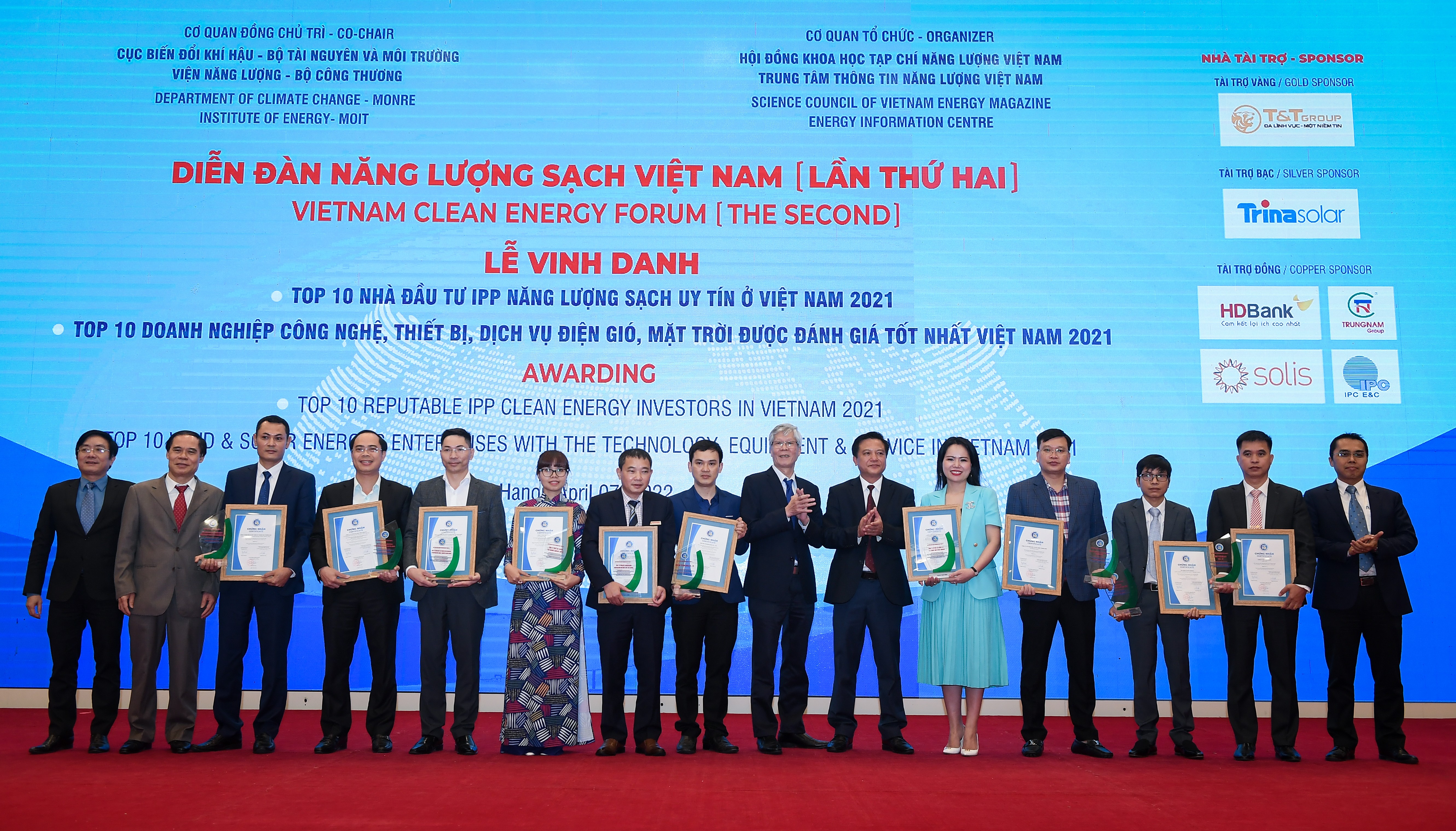 Awarding "TOP 10 prestigious clean energy IPP investors in Vietnam 2021", and "TOP 10 enterprises with the best technology, equipment, and services on wind and solar power in Vietnam 2021".
Hereafter are "TOP 10 prestigious clean energy IPP investors in Vietnam 2021", and "TOP 10 enterprises with the best technology, equipment, and services on wind and solar power in Vietnam 2021":
1. Trung Nam Group:
Trung Nam Joint Stock Company (Trungnam Group) was established in 2004. It has grown significantly in the 18 years since, with a staff of more than 2000 people and a system of nearly 20 subsidiaries operating in many different fields such as energy, construction, infrastructure, real estate, and information technology - electronics industry. Trung Nam Group has grown and increased its operating scale in the North - Central - South, creating a significant brand, winning trust with partners and customers, and becoming one of Vietnam's most influential professional investors.
Trung Nam Group is a powerful Vietnamese renewable energy company, holding a leading position in Vietnam's RE industry and capable of connecting foreign organizations and businesses when investing in renewable energy in Vietnam and Southeast Asia. Trung Nam Group focuses on the latest applications and technology globally through projects that optimize green space, ecologically friendly solutions, and harmonize with the natural landscape. The profit component and long-term development value, exploitation of natural resources for economic development, and environmental protection: A company with a "Sustainable Development" approach balances the following factors: *People - Planet - Profit*.
Furthermore, the development of renewable energy projects focusing on onshore wind power and offshore wind power, and LNG gas power ensures business goals while also ensuring national energy security with the government in environmental protection goals toward being carbon neutral by 2050.
2. T& T Group:
Established in 1993, T&T Group is one of the leading multi-sector private economic groups in Vietnam, operating in 7 main areas. In particular, in recent years, T&T Group has focused on investing in green energy, renewable energy such as wind power, solar power, LNG power, and other clean power sources... By the end of 2021, T&T Group has put into operation and completed construction of about 1,000 MW of wind power and solar power projects and started a 1,500 MW LNG gas power project. The goal is that, by 2030, T&T Group will invest and develop the total capacity of power sources to about 12,000 - 15,000 MW, accounting for approximately 10% of the total installed capacity of electricity sources of Vietnam's power system.
3. Super Energy:
Super Energy (Super Energy Corporation Public Company Limited), is an enterprise from Thailand and has been listed on the Stock Exchange of Thailand (SET) since 2005.
In 2017, Super Energy expanded its investment in Vietnam's green energy industry (wind and solar power). Its goals are to conquer the domestic renewable energy sector and become the leading manufacturer in ASEAN, and at the same time aim for sustainable development and a green environment.
Particularly in Vietnam, Super Energy has put into commercial operation date (COD) 9 solar power projects in the provinces of Binh Phuoc, Ninh Thuan, Binh Thuan, An Giang, and Phu Yen and 1 wind power project in Gia Lai province, with a total installed capacity of up to 886.72MW.
In terms of wind power projects, Super Energy is in the development phase of 4 plants, with a total capacity of 421MW after completion and is expected to be completed in 2022.
Super Energy strives to increase the capacity at factories in Vietnam and other countries in the region to a total of 2GW, leading in the production and supply of renewable energy in Southeast Asia in 2022.
4. Hacom Holding Investment Joint Stock Company:
Established in 2005, Hacom Holdings Joint Stock Company is one of the pioneers in developing real estate and energy in Vietnam.
Hacom Holding is always dynamic in modernizing real estate products and construction buildings in compliance with international standards and codes. We bring about outstanding quality, best performance and experience, and effective investment. Our housing buildings and tourism projects locate in many places including Ha Noi city, Ninh Thuan province, Da Lat city,…
Besides, Hacom Holdings is a leading developer of renewable energy in Vietnam, having 130MW of solar and wind power in operation, under FIT price granted by the Government. Hacom's solar power plant signed Emission Reduction Purchase Agreement (carbon credits) in accordance with Global Carbon Council (GCC)'s standards and contributed to GHG emission reduction program. Hacom also has more than 600MW of renewable energy is under approval into the National Power Development Planning period of 2020-2030. Hacom Holdings is continuously searching for opportunities of investing in energy projects in order to ensure its strong financial resources and sustainable development.
5. Phuong Anh Company:
The predecessor was Phuong Anh Private Construction Enterprise, which was established in 2000, until 2009 the company was renamed Phuong Anh Trading and Construction Investment Company Limited with a charter capital was 2,300 billion VND; In 2017, Phuong Anh Company expanded its investment in renewable energy with the first project was Hoa Binh 1 Wind Farm Project, a capacity of 50MW with a total investment of 2,803 billion VND, energized in July 2021; In 2020, the Project continues to be expanded in phase 2, with a capacity of 50MW and a total investment capital of 2,400 billion VND, energized in August 2021; Further in 2020, the Hoa Binh 2 Wind Farm Project, with a capacity of 50MW and a total investment of 2,666 billion VND has been invested and energized in October 2021; Hoa Binh 1 and Hoa Binh 2 Wind Farm Project Complex is the largest offshore wind power project in Vietnam and have certified by the Gold Standard, therefore the wind farms have Carbon Credit.
Concurrently, the project was also certified as the only offshore wind power project in the Top 10 typical Vietnamese renewable energy projects in 2021 awarded by the Vietnam Chamber of Commerce and Industry (VCCI) in collaboration with the Scientific Advisory Council, Education and Environment.
In the future, the Hoa Binh 1 and Hoa Binh 2 wind farm project complex will continue to expand to invest a capacity is 150MW, accompanying Phuong Anh Company registered with Bac Lieu province continues to develop the Hoa Binh 8 Wind Farm Project with a total capacity of 1,500 MW.
6. Kosy Group:
Founded in 2008, with breakthrough thinking and strategic vision, Kosy Group has grown strongly, becoming a prestigious economic group and strong brand in Vietnam. Kosy Group has gradually affirmed its position and expanded its scale with more than 20 member companies, operating in multiple industries, in which, two key fields are real estate and renewable energy.
In which, Kosy Joint Stock Company, the investor of many modern urban areas, is a member of Kosy Group, listed on HOSE, with a market capitalization of about VND 7,500 billion. . In addition, member units of Kosy Group are also investors of many real estate projects, hydropower, wind power, solar power… with a total investment of thousands of billions of dong.
Kosy Group aspires to become a multi-industry corporation with the Holding model, derived from the two current spearhead fields of real estate and renewable energy. Kosy Group-branded projects are creating sustainable living values ​​day by day, increasing investment value for customers and partners.
Accordingly, Kosy Group currently has 3 business groups:
(1) The group of hydropower enterprises includes a number of companies. By 2025, about 200-300MW of electricity will be generated and connected to the national power grid; (2) The business group includes Kosy Joint Stock Company and enterprises operating in the field of real estate, each year starting a number of real estate projects in the provinces; (3) The group of wind and solar power enterprises includes a number of companies. By 2025, about 300 MW of electricity will be generated and connected to the national grid.
The goal is that by 2023, Kosy Group's revenue will reach VND 12,000 billion, and VND 20,000 billion in 2025. Kosy Group strives to become a large non-state enterprise in Vietnam, creating many jobs, fulfilling community responsibilities, and contributing to the country's socio-economic development.
7/ Ginlong Technologies Co., Ltd:
Established in 2005, Ginlong Technologies(Stock Code: 300763.SZ) is one of most experienced and largest manufacturers of solar inverters.
Ginlong's cost-effective solutions for residential, commercial, and utility-scale users deliver value at every level of the solar supply chain, engaging both homeowners and businesses, as well as power producers and renewable energy investors across the globe.
Presented under the Solis brand, the company's solar inverter product line uses innovative string technology to deliver first-class reliability, validated under the most stringent international certifications.
Combining a global supply chain with world-class R&D and manufacturing capabilities, Ginlong optimizes its Solis inverters for each regional market, servicing and supporting its customers with its team of local experts.
Proven bankability has attracted support from world-leading financial institutions, ensuring solid long-term returns on investment. Working with stakeholders to accelerate the world's journey towards a more sustainable future.
8. IPC E&C:
Pioneering in the field of renergy projects, IPC Group, represented by IPC E&C, has undertaken the role of EPC contractor for hundreds of renewable energy projects: from rooftop solar power projects with a capacity of several MW to large capacity solar and wind power plants in Ninh Thuan, Gia Lai, Soc Trang, etc. To date, IPC E&C is the leading Vietnam EPC contractors for power projects with a total capacity of 1GW: 650MWp of farm solar power, 50MWp of rooftop solar power, 650MW of wind power plants. Our professionalism and efficiency are appreciated by our Clients and partners.
With increasing capacity and experience, we now provide not only EPC services, but also Operation and Maintenance (O&M) services, we expand our operations to manufacturing structures, infrastructure construction, complete MEP solutions offering for all types of factories, workshops, urban areas… that are independently invested. IPC E&C is firmly asserting itself as the pioneering EPC Contractor in Vietnam for industrial plants, energy plants, water treatment plants and infrastructure, buildings.
9. Tree Marine Company Limited:
Founded in January 2019 and based in Ho Chi Minh City (HCMC), Vietnam. We are a shipping agency specializing in cargo vessel handling as well as midstream, renewables, and offshore logistics. Tree Marine poses to be the most experienced offshore project shipping and customs agency in the south of Vietnam for having supported a multitude of offshore wind projects, totaling 675 MW with the management of the largest number of foreign working vessels in Vietnam. With clear goals and visions, we are known as a reliable shipping agent in the region, providing good quality and punctual service.
10. Vietranstimex:
Established on March 27, 1976 with the original name of Da Nang Transport Agency Company, directly managed by the Ministry of Transport, Vietranstimex is now a leading enterprise in Vietnam and the region in terms of oversize-overweight transportation, loading and unloading, installation, project goods, and complete equipment, with headquarters in Ho Chi Minh City and offices located in many other cities such as Hanoi, Hai Phong, Da Nang...Vietranstimex is honored to rank 33rd (2021) and present in the Top 50 World's largest specialized transport companies (IC Transport 50) as from 2011 to present.
Vietranstimex owns and manages a large amount of transport equipment from popular trailers, prime movers to specialized trailers, self-propelled modular transporter (SPMT) can lift up to 3264 tons, modular trailers, conventional hydraulic trailers, specialized cranes for installation, specialized cranes of 7,000 – 13,000ton. With the mission of providing customers with absolute safety and reliability, improving the material and spiritual life of employees, Vietranstimex Vietranstimex is confident to be able to provide the best transportation and installation services, affirms its position as a leading transport and installation unit in Vietnam and the region, contribute to build an increasingly prosperous country.