Signing a MOU for Quang Ninh LNG Power Project
14:16 | 22/10/2020
- On October 19, 2020, in the presence of Vietnamese Prime Minister Nguyen Xuan Phuc and Japanese Prime Minister Suga Yoshihide, the consortium of investors including PetroVietnam Power Corporation (PV Power), Vietnam Mechanical and Machine Assembly Joint Stock Company (Colavi), Tokyo Gas Group and Marubeni Group have signed a memorandum of understanding (MOU) on Quang Ninh LNG Power Project
This if the first LNG power project in the northern Vietnam with an expected capacity of 1,500 MW, located in Cam Thinh ward, Cam Pha city, Quang Ninh province.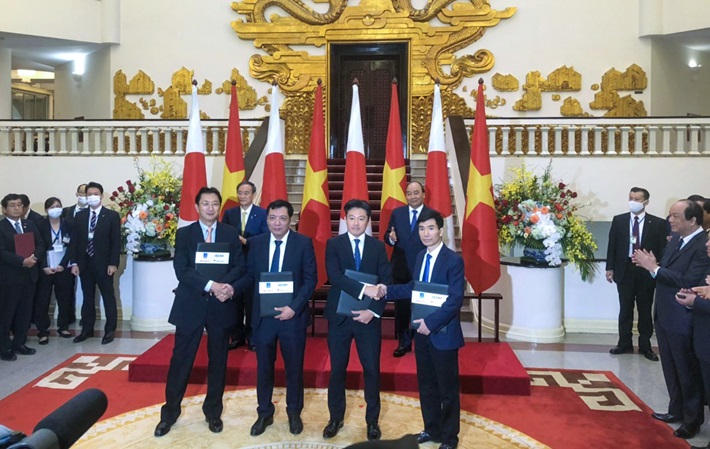 The signing ceremony takes place in the presence of the Vietnam and Japan Prime Ministers.
After nearly two – year study along with the proposal of Quang Ninh Provincial People's Committee, and relevant ministries and agencies, on October 17, 2020 the project was submitted to the Prime Minister (PM) and PM has agreed to supplement it to the Adjusted National Power Development Planning in 2011-2020 period with outlook up to 2030 (PDP VII adjusted)
With the economic potential and experience in the management, construction investment, and operation of LNG port warehouses and power plants with the most advanced technology of gas turbine combined cycle, the investors truly form a strong and professional consortium and can fully implement the project with expectation to put it into commercial operation in 2026 – 2027 on schedule approved by the Government.
With the participation of Japanese investors, the preferential capital of Japanese Government will be used to contribute to increasing the economic, financial and social efficiency.
VER.