Signing credit and PMC contracts for Thac Ba 2 Hydropower Project
11:21 | 28/09/2022
- On the afternoon of September 26, 2022, Thac Ba 2 Hydropower Joint Stock Company (TBC2) signed a credit contract for Thac Ba 2 hydropower project with Vietnam Single Limited Shinhan (Shinhan), consulting contract for management and construction supervising (PMC) with Power Engineering Consulting Joint Stock Company 2 (PECC2).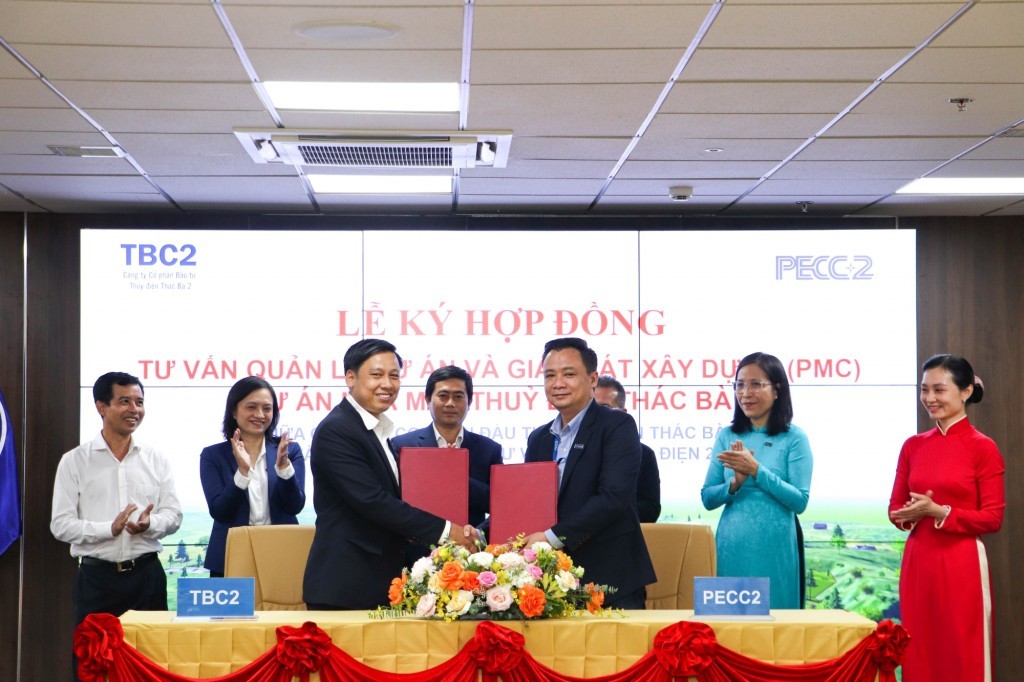 The signing ceremony of project management and construction supervision consultancy contract (PMC) for Thac Ba 2 Hydropower Plant project between TBC2 and PECC2.
Speaking at the ceremony, Mr. Ho Van Trung - Chairman of TBC2 Management Council emphasized that Thac Ba 2 Hydropower project would bring the economic efficiency and promote general development for the area with using the natural energy for meeting the demand of the local people.
Mr. Ho Van Trung would like to thank the cooperation of Shinhan Bank and believed that PECC2 with its experience and ability will contribute to finalizing project on schedule.
Mr. Vo Van Binh – PECC 2 General Director said that PECC2 is honored to be selected as PMC consultant of the TBC2 project and affirmed that with the 40-year experience, PECC 2 will supply the best perfecting and professional services for the customer and ensure that the project will be completed in time schedule with the highest quality.
At the ceremony, Mr. Tran Van Lam, Director of Customer Center of Shinhan Bank in Ho Chi Minh City expressed his pleasure in opportunity with TBC 2 in this case.
Thac Ba 2 Hydropower project with a Normal water rising level of 23.0 meters, a capacity of 18.9 MW and average annual generation of 70.2 GWh is developed on the Lower basin of Chay River,the adjacent existing Thac Ba hydropower plant in Thac Ba tower and Han Da, Vinh Kien communes, Yen Binh district, Yen Bai province and My Bang commune, Yen Son district, Tuyen Quang province.