Ca Tam field exploited oil production of 01 million tons
21:00 | 17/10/2021
- At 2:15 on October 13, 2021, Ca Tam (Sturgeon) field after exploitation by nearly 2 years and 9 months has reached the oil production of 01 million tons, oil turnover of 427.5 million US$ and budget payment of 169 million US$.
Ca Tam oil field has been put into exploitation since January 25, 2019, in 2020 this field exploited with exceeding 18 % over the plan and in 2021 expects with exceeding 5% over the plan due to the high determination of the employees and the close leadership of Vietsovpetro.
Ca Tam field belonged to 09-3/12 Lot in southeast edge of Rong (Dragon) field. The Ca Tam field is also adjacent with Kinh Ngu Trang (White Whale) – South White Whale 09-2/09 Lot in the North. 03 and 04-2 Lots in East, 10 Lot in South and 17 Lot in West.
In situation, that 09-1 Lot reduced production the Vietsovpetro leadership received the new petroleum lots and exceeded operation area and at the present, Vietsovpetro is focusing all the resources on developing the new fields. At the present, the lots outside 09-1 and the outside services contribute 20-22 % to annual payment for employees of the whole Vietsovpetro and this number expects to increase up to 50 % and higher in future.
Ca Tam field - Lot 09-3/12 is one of the first lot outside lot 09-1, to which Vietsovpetro contributes capital and in which Vietsovpetro directly operates many objects.
Beside Ca Tam, currently Vietsovpetro also receives many other oil and gas lots that are in the exploratory, assessing and developing stage such as lots 09-2/09, 16-1/15, 12-11,...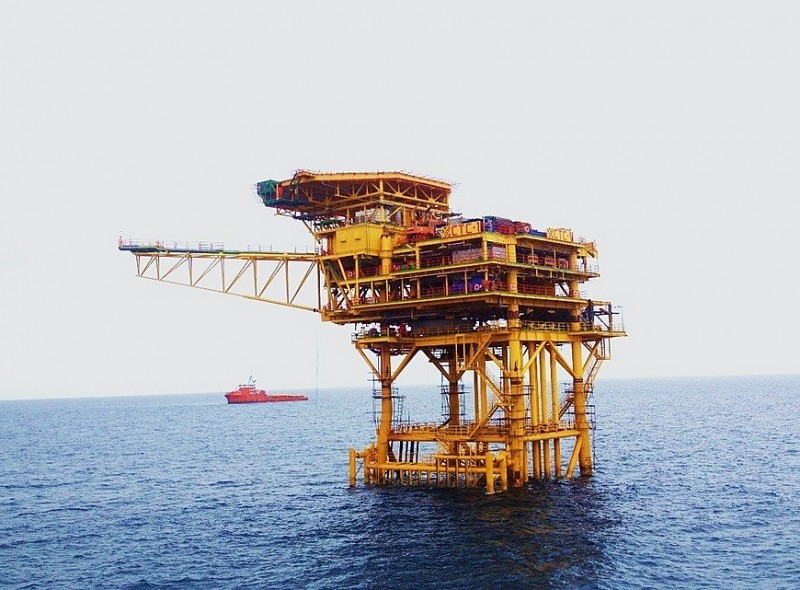 Wellhead rig CTC-1 of Ca Tam field
In addition of operating wellhead drilling rig CTC-1, Vietsovpetro is prompting design, equipment and material procurement for the second wellhead drilling rig (CTC-2) that expects to be exploited at the end of 2022 for increasing the total production of Ca Tam field in particular and of Vietsopetro in general.
The achievement of oil production of 01 million tons and guarantee of exploiting production by the plan in situation that our economy is severely impacted by Covid-19 pandemic demonstrate resilient virtue to overcome difficulties and obstructs of Vietsovpetro international labor collective as well as the efficiency in broadening the operating area and right development orientation of the Vietsopetro leadership.