Vietsovpetro welcomed the first commercial oil flow from the RC-8 rig at Dragon field
09:03 | 18/07/2023
- Vietsovpetro informed that at 7:00 am on July 15, 2023, Vietsovpetro opened well R-24, then at 9:06 am on the same day opened well R-66 and welcomed the first commercial oil flow from the RC-8 rig at Dragon (Rong) field.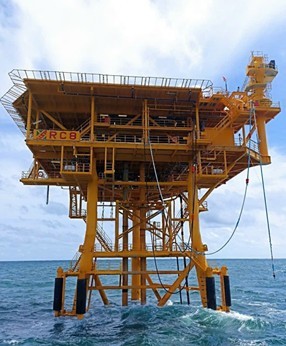 RC-8 rig
The RC-8 project includes Construction of the RC-8 wellhead platform, underground pipelines connecting to the rig group of RC-5/9 with a total length of 11.4 km (oil pipeline, multi-function mixed pipeline gas lift/PPD), a 22 kV underground cable line for connecting to the RC-5/9 rig group with a length of 5.6 km, for converting the RC-5/9 rig group to receive and handle products from RC-8 (the Basic information of the project is summarized in Table 1).
Table 1: The main information and important milestones for constructing the RC-8 project:
Weight (tons)

Base: 579 (tons)

Pile: 728 (tons)

Docking station: 46 (tons)

940 (tons)

First cut (starting)

01/11/2022

01/11/2022

Acceptance of the onshore phase

24/3/2023

15/6/2023

Launching

01/04/2023

16/06/2023

Offshore installation

04/04/2023

20/06/2023

Complete and put into operation

14/7/2023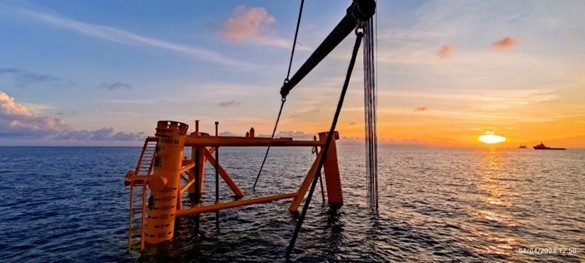 RC-8 stand was successfully installed at Dragon mine
Receiving the first commercial oil flow from the RC-8 rig at Dragon Field 30 days earlier than planned has contributed to increasing the oil production of Vietsovpetro in 2023.
In addition, the success of the project complex once again proves Vietsovpetro's EPCI capacity in the construction and installation of offshore oil and gas platforms, affirming the correct orientation of the two parties (Vietnam National Oil and Gas Group and Zarubezhneft Joint Stock Company) and Steering Committee of Vietsovpetro on strengthening the development of small and marginal fields in the exploration phase of Block 09-1, to maintain the oil and gas production output in the following years.