AES and PV Gas sign Joint Venture Agreement for Son My LNG Terminal
10:46 | 23/09/2021
- On 22 September 2021, in New York, representatives of
The AES Corporation
(NYSE: AES) and Petrovietnam Gas JSC (PV Gas) today exchanged the signed joint venture agreement for the Son My LNG terminal, which will be located in Binh Thuan Province in South-Central Vietnam. The terminal will play an important role in accelerating Vietnam's energy transition and economic growth.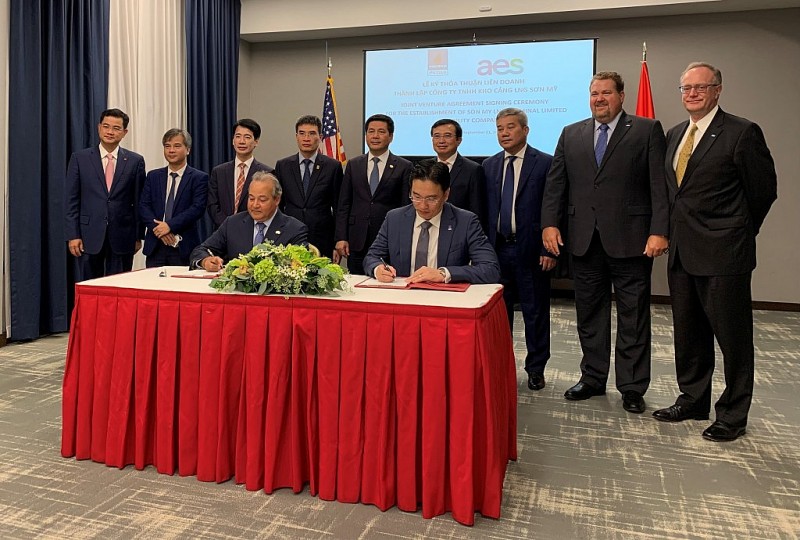 AES and PV Gas sign Joint Venture Agreement for Son My LNG Terminal.
The event took place in New York during the visit of Vietnam's President Nguyen Xuan Phuc for the 76th UN General Assembly and was attended by President Phuc, Vietnam Ambassador to the US Ha Kim Ngoc, Minister of Industry and Trade Nguyen Hong Dien, Minister of Planning and Investment Nguyen Chi Dung, Chairman of the President's Office Le Khanh Hai, Minister of Construction Nguyen Thanh Nghi, Petro Vietnam Chairman Hoang Quoc Vuong, other Vietnamese officials and members of AES' senior leadership.
The Son My LNG terminal has an installed capacity of 450 TBtu and represents a total investment of about $1.4 billion. The terminal is expected to achieve financial completion in 2022 and begin commercial operations in 2026.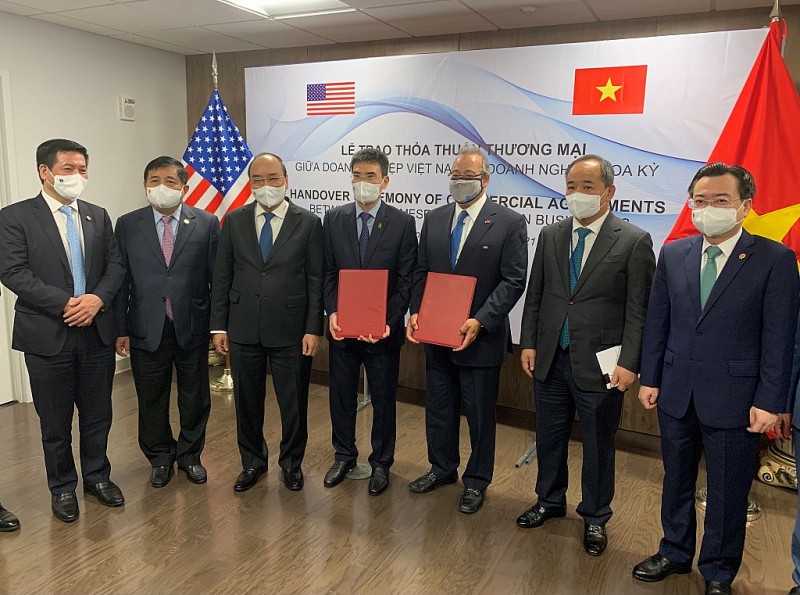 AES and PV Gas exchanged the signed joint venture agreement for the Son My LNG terminal witnessed by President Nguyen Xuan Phuc and Vietnamese officials.
"This is an important milestone for the development of the Son My LNG terminal and CCGT power plant. The terminal will enable our customers in Vietnam to continue accelerating economic growth by using cleaner, more reliable and more affordable fuel to transform the energy sector," said David Stone, President of AES Vietnam.
The Son My LNG terminal complements AES' investment in gas infrastructure around the country, alongside its $1.8 billion 2.2 GW combined cycle gas turbine (CCGT) Son My 2 power plant. Together, the plant and terminal will play a major role in shaping Vietnam's energy future by diversifying its energy mix with imported LNG as well as meeting the country's increasing demand for sustainable and affordable electricity.
The AES Corporation has extensive experience in developing LNG to power projects, including LNG terminals in the Dominican Republic in 2003 and in Panama in 2018. These projects provide cleaner, more cost-effective and sustainable energy solutions for the Caribbean and Central America.