Signing a credit contract for phase 2 of the adjusted Nam Con Son 2 gas pipeline
09:06 | 21/01/2021
- At the afternoon of January 19, 2021, in Ho Chi Minh City, Vietnam Gas Corporation (PV GAS) and Joint Stock Commercial Bank for Foreign Trade of Vietnam (Vietcombank) held a ceremony for signing a credit contract of 1,500 billion VND to sponsor "Phase 2 of the Adjusted Nam Con Son gas pipeline project", in which Ky Dong Branch of Vietcombank as the Vietcombank representative clue provides a credit of 1,000 billion VND.
Vietcombank as a leading joint stock commercial bank in Vietnam plays an important role in securing credit capital for the development of the country. PV GAS as a main force of Vietnam gas industry and a top flag of Vietnam Oil and Gas Group (PVN) is implementing many important goals in PVN development strategy.
Vietcombank has accompanied PV GAS since the foundation date, especially since May 29, 2018, the day for signing agreement on financial share to support the key role of PV Gas in general development planning of Vietnam gas industry.
Up to now, Vietcombank has provided PV Gas with the comprehensive financial solution packages, including project finance, working capital finance, international payment, cash flow management…and even the services on personal financial loan with many incentives. Signing a credit contract worth 1,500 billion VND to finance the phase 2 of PV GAS Nam Con Son gas pipeline project is an important milestone in the strategic cooperation between the two sides that helps more strengthen the strategic position of Vietcombank for PV GAS activities.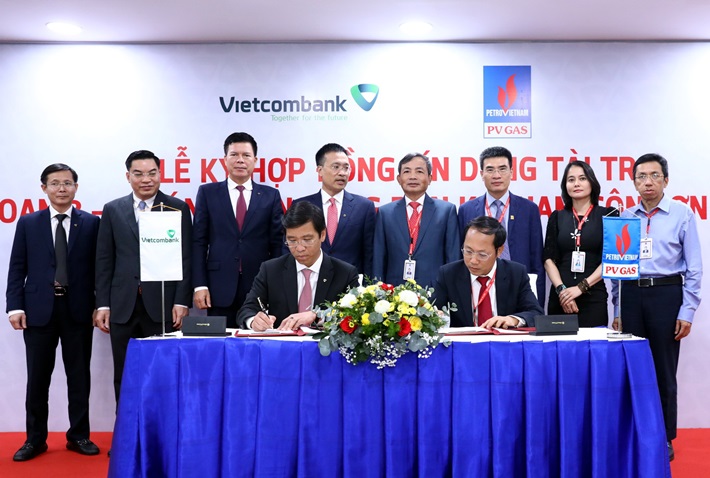 The Signing Cerymony.
Nam Con Son 2 gas pipeline as a project in the general development planning of Vietnam gas industry to 2025 with vision to 2035, approved by the Prime Minister, has an important role in the synchronous development strategy of Vietnam gas industrial infrastructure, contributing to supplement capacity for gas receiving and handling and to increase flexibility in gas project operation.
The phase 1 of Nam Con Son 2 project has been completed in 2015 with a length of 151 km from KP 207.5 to BK – Thien Ung rig.
Providing credit for the second phase of adjusted Nam Con Son 2 gas pipeline project is a part in the development orientation of Vietcombank for the energy sector. This could be considered as an important milestone acknowledging parallel journey results of PV GAS and Vietcombank in recent years and at the same time, it opens a new period with the most close and comprehensive for good exploiting current potential of each side, bringing benefits for both sides.
VietnamEnergy.vn