EIB will support EVN in the energy transition process
12:24 | 12/12/2022
- From December 5 to 11, 2022, the senior leadership mission of Electricity of Vietnam (EVN) led by Mr. Duong Quang Thanh – EVN Member Council Chairman accompanied Prime Minister (PM) to Europe had a working meeting with the European Investment Bank (EIB) and the partners on arranging capital and cooperation in investment projects of EVN and its units.
On this occasion, EVN Chairman Duong Quang Thanh and EIB Vice Chairman Kris Peeters signed a Memorandum of Understanding (MOU) with the witness of PM Pham Minh Chinh for the contribution of EIB to the sustainable development and energy transition roadmap of EVN.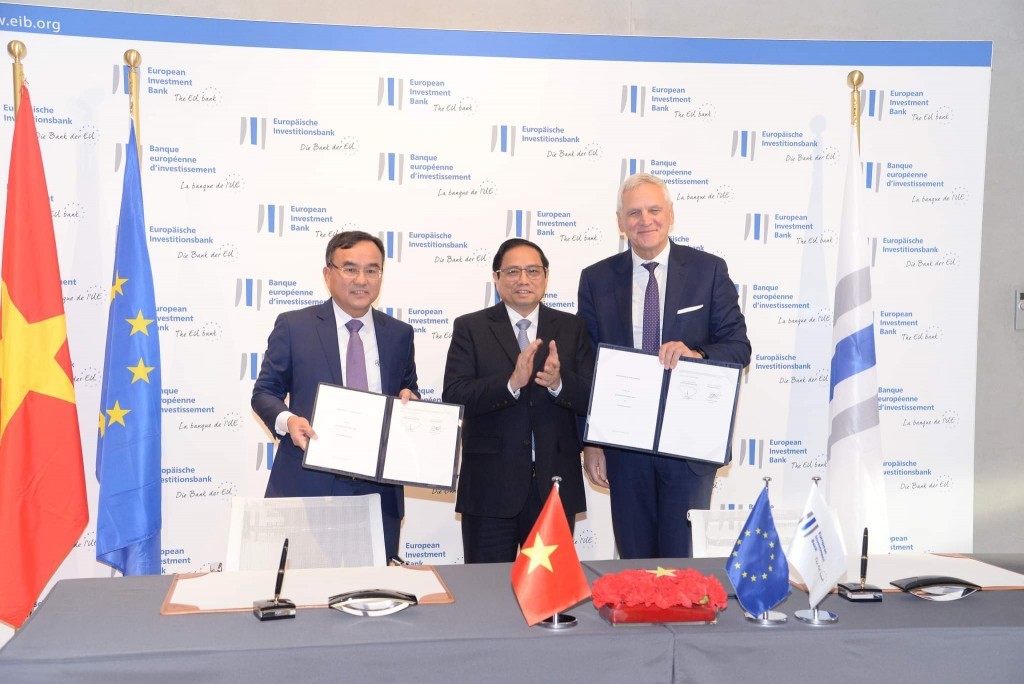 EVN and EIB signed a Memorandum of Understanding, under the witness of Vietnamese Prime Minister Pham Minh Chinh.
The MOU has opened an opportunity for EIB to participate in direct financial support for power investment projects in Vietnam and strengthen partnerships in the power generation, transmission and electricity distribution and retail, as well as in the energy transition to the de-carbonization process.
Mr. Kris Peeters, EIB Vice President, in charge of EIB's operations in Southeast Asia, said: "I am pleased to welcome the Vietnamese delegation led by PM Pham Minh Chinh to visit EIB headquarter. The meeting creates for EIB to emphasize cooperation importance and partnership between EIB in a status of a Climate Bank and Vietnam in promoting key areas of the EU Green Agreement.
Signing MOU with EVN needs to speed up the discussions, important information exchanges and open pathways for EIB to participate in the large energy projects in Vietnam.
We will support the process transition from the low carbon to the model energy systems in Vietnam with the economic growth, energy security and environmental sustainably"
Mr. Duong Quang Thanh informed "EVN is a main state economic group, playing an important role in ensuring electricity supply in Vietnam, participating in the journey of realizing the net zero emissions target by 2050 of the Vietnamese Government,..
EVN has been building its own energy transition roadmap, under which there are many projects having potential investments in the future such as offshore wind power, hydropower pump storage, hydropower expansion and transmission grid projects... that is enough for EIB to finance.
The cooperation between EVN and EIB expects to contribute to helping Vietnam develop low emissions and adapt to climate change, promote the equitable energy transition and de-carbonization of the power system, and develop new economic opportunities to support Vietnam's transition to a net-zero future.
The European Investment Bank is a lending institution of the European Union (EU) with 27 shareholder member countries. The EIB is the largest multilateral financial institution in the world, and one of the largest funders of climate adaptation projects, founded in 1958.
EIB has invested billions of Euros in climate and environment, development, innovation, small and medium enterprises, and infrastructure... EIB provides a wide range of services such as loans, guarantees, equity investments, consulting services, etc. EIB has signed Financial Cooperation Framework Agreement with Vietnam since 1997. Up to now, EIB has signed with the Vietnamese Government 5 Agreements, including 2 Agreements on Environmental Credit and 3 Agreements on Metro Projects.