New Siemens headquarters: A testament to sustainability commitment
09:22 | 14/11/2017
- The key requirements for Siemens' new corporate headquarters in Munich were that it be more open, more innovative, and more energy efficient than the buildings it replaced.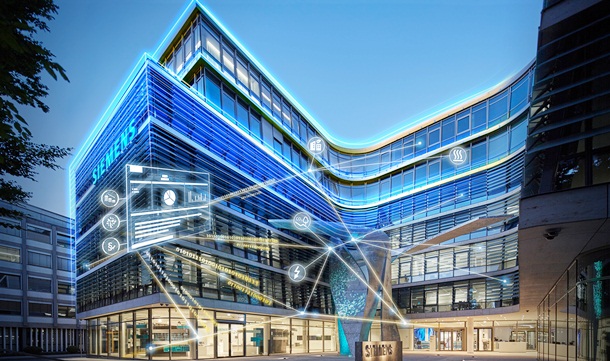 The new Siemens headquarters in the heart of Munich is using 90 per cent less electricity and 75 per cent less water, and generates 90 per cent less CO2 than its predecessor. What is more, it has already become one of the most modern and sustainable office complexes in the world.
With over 45,000 square metres of floor space, the building complex was meant to be more than just a replacement for the previous complex, which after years of acquisitions had become a sprawling conglomeration of disparate buildings that would have been impractical to modernise. Rather, it was meant to create a healthier and more flexible environment for employees while helping to revitalise downtown Munich at the same time. In addition, the complex was designed with openness in mind. Thus, rather than creating a barrier, it was to be an attractive space that would open to the public and serve as a pedestrian link to the art district. Above all, the new headquarters was designed to be largely energy self-sufficient. Sustainability and an optimally energy-efficient design were therefore crucial criteria from the very beginning.
Putting geothermal energy and rainwater to work
The results are truly impressive. The new building uses 90 per cent less electricity, 75 per cent less water, and produces 90 per cent less CO2 emissions than the previous headquarters. These values make the new corporate headquarters a stellar example of energy efficiency. The building will be certified with the Platinum label, according to both the international standard Leadership in Energy and Environmental Design (LEED) and its German counterpart, the German Sustainable Building Council. The complex was designed, insulated, and shaded in such a way as to minimise energy demand.
The use of geothermal energy, for example, is an important part of the building's climate control system. About 100,000 litres of water per hour are pumped through 70 kilometres of pipes in the foundation slab and are continuously circulated throughout the building, thus heating or cooling, depending on the season. An efficient ceiling-mounted heating and cooling system ensures pleasant indoor temperatures. Enlarged pipes reduce flow resistance, thus helping to save even more energy.
All facades facing the interior courtyards feature generously-sized windows and are sloped by approximately 5 per cent, allowing considerable daylight into interior rooms and courtyards. A maximum of approximately 1.5 million litres of rainwater can be collected on the roof of the new headquarters and used to flush toilets, among other uses. The outdoor areas are also irrigated with rainwater as needed. If more rainwater is collected than what is needed, the surplus trickles into the groundwater through a system of underground trenches. The complex's ultramodern rooftop photovoltaic system can generate up to nearly one third of the headquarters' electricity.
Modern building technology
A comprehensive environmental and sustainability concept has been implemented at the new Siemens headquarters. For example, smart solutions from Siemens Building Technologies control all the building-services engineering. An intelligent connection to the power grid - known as smart grid - regulates load fluctuations. The smart energy controller optimises the efficient use of power, including charging stations for electric cars and bicycles. To distribute electricity throughout the building, 250 kilometres of cable were laid. Security technology, featuring systems for access control, fire safety, alarms, and video monitoring, along with a parking guidance system, help ensure the safety of visitors and employees.
Siemens DESIGO building management platform controls the building technology around the clock. More than 300 kilometres of cable bring information from 30,000 data points together on this platform, where the data is evaluated continuously. The system controls the entire heating, ventilation and air conditioning (HVAC) technology as well as the roughly 2,500 glass louvers on the facade. In addition, DESIGO controls the lighting and shading as well as the intrusion-protection, access-control, and fire-protection systems. Should any of the more than 5,000 smoke and fire detectors go off, DESIGO automatically alerts the fire department and controls the operation of the more than 50 smoke extraction systems.
The people who work at the new Siemens headquarters benefit immensely from this technology. Using the Siemens RoomOptiControl module, they can adjust the lighting and room climate to meet individual needs. The ventilation system in the meeting rooms uses CO2 sensors to measure air quality, and it optimises the intake of fresh air. For this ventilation, the central air-control system drives the flow of about 200,000 cubic metres of fresh air per hour. In addition, all windows can be opened manually.
Furthermore, RoomOptiControl helps make employees aware of factors that are important for ensuring the responsible use of resources. In connection with the Green Building Monitor information system from Siemens, RoomOptiControl displays a symbol to inform room occupants when energy is being consumed unnecessarily. At the press of a button, the system automatically switches to an environmentally friendly mode. To make this possible, Green Building Monitor evaluates all the building's consumption and measurement values in real time and supplements this data with information, such as details on current weather conditions. One-third of the building's overall power consumption is generated by the more than 800 solar panels on the roof.
At the new Siemens headquarters, indirect light-emitting diode (LED) lamps from Osram illuminate the office areas and workspaces as well as the conference areas and the zones that link different parts of the building. Overall, 7,400 LED lamps have been installed in the building. Compared to conventional lighting, these LEDs cut power consumption in half. In combination with daylight sensors and presence detectors, smart control technology helps reduce power consumption by another 25 per cent.
Far-Sighted Energy Goals
"A key aspect of the overall energy concept in the new headquarters complex is not only to consume much less energy than before, but also to satisfy the remaining electricity demand with electricity from renewable sources to the greatest extent possible," says Jesper Friis, who is responsible for the complex's building systems in Siemens Real Estate's team. "This will help Siemens meet its ambitious CO2 goals." The company wants to become the world's first large industrial enterprise to have a neutral CO2 footprint by 2030. In fact, it plans to cut its carbon dioxide emissions in half by 2020.
As an ultra-low energy building, the new Siemens headquarters is a stellar example of resource efficiency. In addition to the use of geothermal heat, photovoltaic cells, rainwater, and advanced building automation systems, this success can also be credited to indirect factors, such as the use of materials with a high level of recycled content (more than 250 tonnes altogether). Moreover, a large amount of regional building materials was used, including, for example, more than 23,000 natural stone slabs from Altmühltal Nature Park just outside Munich and certified wood and wood materials produced from sustainable forestry practices. Instead of wood preservatives, the company opted to use products bearing an environmental protection product label and biologically-based products. "The LEED certification is usually only associated with energy efficiency," said Friis. "To attain this certificate, however, a company must also meet ecological criteria, such as the avoidance of harmful emissions, the use of regional, low-polluting, and environmentally friendly materials, such as floor coverings, wall panelling, paints, adhesives, and FSC-certified wood, for example. This way, natural resources are conserved."
From Communications to a Reduced CO2 Footprint
The company's thinking with regard to its new headquarters' CO2 footprint did not end at the complex's perimeters. One of the company's goals was to minimise employees' need to travel by investing in the best possible communications. Thus, in the auditorium, presentations from around the world can appear on a full HD-LED video screen measuring 13 square metres. Two million LEDs produce a brilliant picture under all lighting conditions. One hundred high-end loudspeakers rated at roughly 30,000 watts produce excellent sound. Similarly high-quality media technology can also be found in the numerous conference rooms and lounges throughout the new headquarters.
Siemens Energy Management products are also used throughout the entire energy system. "Switchgear, transformers, busbar systems, and emergency generators ensure optimal energy distribution throughout the building," explains Siemens Energy Management Project manager Klaus Hürttlen. "Furthermore, our rooftop PV system reduces energy purchases and allows for a minimal energy footprint, which is important in a modern office building."
The Siemens headquarters complex also features 21 parking spaces equipped with e-car charging poles and charging stations for roughly 20 electric bicycles. All in all, Siemens has created a future-oriented building to satisfy its needs while also contributing to a more liveable city.
Huong Ly