Solis Award Winning Streak Continues with C&I Solution
14:52 | 22/02/2023
- A Ginlong Solis project has been included in the Third Batch of Smart PV Demonstration Pilots for C&I Inverters - previously awarded to the category of residential inverters in 2022. This award continues the award-winning for Ginlong Solis recognizing its high efficiency, superior product performance and intelligent C&I solution.
Ginlong Solis has worked alongside the Ningbo Heli Technology Company to install a rooftop solar power system for this leading die case mold manufacturer. This system generates 2MW of power, utilizing Ginlong Solis 110kW inverters and has over 4000 solar modules installed. This is a substantial large scale rooftop installation integrating the Ginlong Solis smart PV solution composed of inverters, data loggers, SolisCloud online management platform, and Ginlong Solis Smart AI online service system.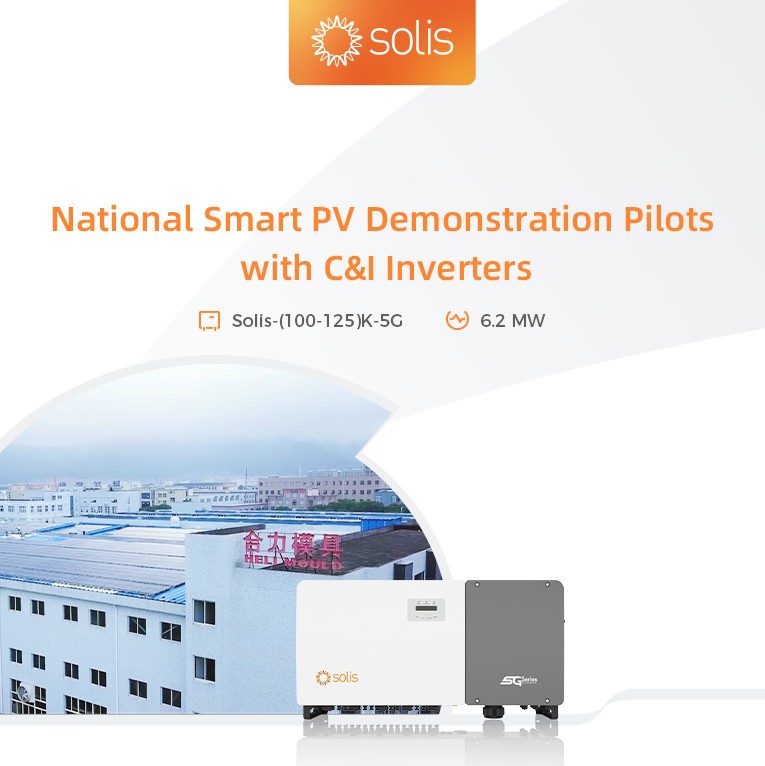 Designed for improved efficiency, increased yield and worry-free operation and maintenance, the Ginlong Solis 110kW inverter is the ideal solution for this type of installation. The project not only injects more electric energy and vitality into the company productivity, but also accelerates the growth of the new "green" technology industry. The annual power output from the project will be up to 1.94 million KWh, with 634 tons of standard coal saved and 1926 tons of carbon emission reduced annually. Coupled with these stats it is contributing to local environment protection and promotion of energy conservation and emission reduction.
Eric Zhang, Solis Global Sales Director said, "Designed specifically for commercial rooftop applications, the 110kW utilizes best-in-class components to deliver an industry leading efficiency and performance. Working together with our commercial customers we can ensure that the maximum energy yield and ROI is realised."
As a global leader in string inverters, Ginlong Solis is actively accelerating the application of innovative technologies, promoting sustainable solutions and contributing to long-term sustainable development, in order to meet the opportunities and challenges brought by the green energy transition. Ginlong Solis will cooperate with all partners to move towards a net zero carbon emission world.
About Ginlong Technologies (Solis)
Established in 2005, Ginlong Technologies (Solis)(Stock Code: 300763. SZ) is one of the world's largest and most experienced solar inverter manufacturers. The company provides cost-effective solutions for homes, businesses, and large-scale power plants delivering value at every level of the solar supply chain and appealing to homeowners and businesses, as well as electricity producers and renewable energy investors globally. Combining a global supply chain with world-class R&D and manufacturing capabilities, Ginlong optimizes Solis inverters for each regional market, serving and supporting its customers with a team of local experts. The company aims to work with stakeholders to accelerate the world's journey towards a more sustainable future. For more information visit www.solisinverters.com