Vietnam - Germany push forward the co-operation in renewable energy field
09:07 | 13/08/2021
- Vietnamese Ambassador to Germany, Dr. Nguyen Minh Vu, recently met with Großmann Ingenieur Consult GmbH (GICON®) and the Vietnam Petroleum Institute (VPI) to promote co-operation in the field of renewable energy in Vietnam.
The meeting was attended by GICON® and VPI, as well as the German - Vietnamese Innovation and Economic Forum e. V., and other representatives of the Vietnamese Embassy for Trade, Investment and Military.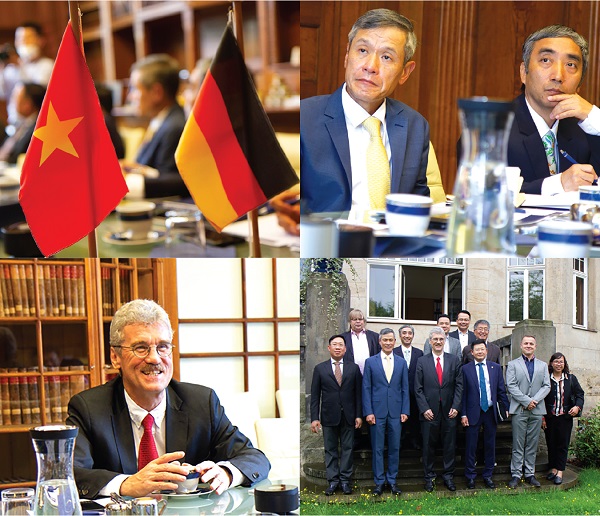 Vietnamese Ambassador to Germany, worked with GICON® and VPI on research and the development of floating offshore wind turbines Vietnam.
According to the signed Memorandum of Understanding, VPI and GICON® will collaborate in the R&D of the state-of-the-art technologies in Vietnam, focusing on power generation from offshore wind when not used for hydrogen production, on using biotechnology and water electrolysis to convert biomass to biomethane, etc.
Both sides will develop new technologies to manufacture hydrogen and power from renewable sources or further adapt GICON® technologies to be applicable in Vietnam. As the first priority, GICON® and VPI will focus on development of pilot projects in the field of offshore wind power.
According to Dr. Frank Adam, Head of GICON®'s Wind Engineering Dept., Vietnam has the potential for installing floating wind turbine generators (WTGs) of more than 30 GW capacity at water depths of 60 meters and more.
Dr. Pham Quy Ngoc, VPI specialist, briefly presented the potentials of offshore wind power in Vietnam, and the possible locations for WTGs. Both sides agreed about collaborative goals of building up a geo-database for offshore wind farm development, studying to determine a technically optimal area for a wind farm offshore Vietnam, and developing a pilot project in the next 5 years.
Ambassador Nguyen Minh Vu firmly stated that the Vietnamese Government prioritized the development of the energy industry toward sustainability with the goal to uphold national energy security and reduce greenhouse emission, at the same time supporting the joint collaboration between GICON® and VPI.
He also pointed out that in the first two quarters of 2021, renewable energy accounted for about 11.4% of the total energy output and tends to accelerate. In terms of wind power, there are 9 wind farms currently running in Vietnam with a total capacity of around 304.6 MW.
Ambassador Nguyen Minh Vu believed that GICON® and VPI will promote cooperation in line with Vietnam's potentials and conditions, in which the focus is on offshore wind power, thereby contributing to the improvement of the environment, the prevention of climate change as well as strengthening economic, trade and investment relation between the two nations.
Prof. Jochen Grossmann - President of GICON® said that with the advantage of a coastline of more than 3,200 km, annual average wind speed of more than 6 m/s and at an altitude of 65m in the East Sea, Vietnam has great potential in developing wind power. GICON® believes that they can collaborate and support Vietnam in the development of renewable energy sources.
Confirming "VPI is GICON®'s important partner in Vietnam", Prof. Jochen Grossmann said that after signing the Memorandum of Understanding, GICON® and VPI have actively worked on research, exchanging and sharing experience, discussing details of specific projects in Vietnam.
Dr. Nguyen Anh Duc - VPI General Director said that GICON® has the advantage of cutting-edge technologies, techniques, and experience in renewable energy, making it an important partner of VPI. In the coming time, VPI will continue to closely collaborate with GICON® to promote the implementation of cooperation projects under the signed Memorandum of Understanding.
Following the working sessions at GICON® headquarters in Dresden, Ambassador Nguyen Minh Vu and the delegation traveled to visit the Klettwitz wind farm. As the largest repowering project in Germany, the Klettwitz wind farm can also be considered a model project for wind farm planning in Vietnam.
Source: pvn.vn