EVN was honored as 'Top Industry 4.0 Enterprises'
10:25 | 19/07/2022
- The electricity of Vietnam (EVN) was honored as a "Top Industry 4.0 Enterprises" with the digital transition project "Total digitization application for a coal-fired power plant". The program to honor Vietnam's Top Industry 4.0 (4.0 Awards) - for the first time, 2022 just placed in Hanoi, on July 15.
The program is implemented by the Vietnam Union of Science and Technology Associations (VUSTA) the Vietnam Automation Association, the Institute of Innovation and Digital Transformation (VIDIT) with the patronage of the Ministry of Industry and Trade (MOIT), the Ministry of Science and Technology (MOST), and the Ministry of Information and Communications (MOIC).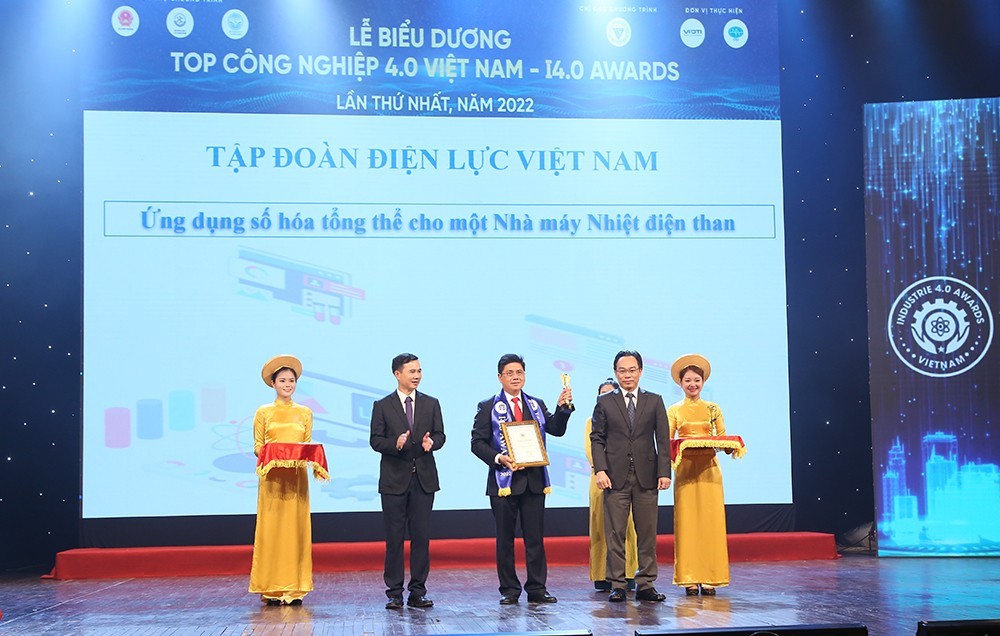 EVN Deputy General Director Vo Quang Lam on behalf of the EVN received the certificate "Top Industry 4.0 enterprise".
The project/product of digital transition "The application of total digitization for a coal-fired power plant" of EVN was highly appreciated for the following criteria: High automation in production, control optimization for the production process, implementation of the digital transition to production – business development and applying artificial intelligence and new technology to production - business, and growth efficiency.
In order to enter the "Top Industry 4.0 Enterprises", in recent times, EVN carried out a strong digital transition and applied the achievements of Industry 4.0 in all spheres of management, production, and business activities. The Group aims to become a digital enterprise by 2025, of which the digital transition will be basically completed in 2022.
Along with EVN, Information and Communications Technology Company (EVNICT) was honored in the field of "Top enterprises with intelligent digital products and industrial technology solutions 4.0", with the product "Computerization of repair and maintenance by RCM method".
Dr. Nguyen Quan – the Former Minister of Science and Technology, Chairman of the Vietnam Automation Association, and Chairman of the Jury Council for the program "Top Industry Enterprises 4.0" stated that the products/services sent by EVN to the program all apply the new and digital technologies. "We highly appreciate EVN's efforts and give EVN a worthy position in the enterprises honored at the program honoring Vietnam's Top Industry 4.0" - Mr. Nguyen Quan said.
The program to honor Vietnam's Top Industry 4.0 was organized to evaluate the effectiveness of digital transition and creative innovation in organizations and businesses, and to promote digital transition for localities and enterprises, to promote digital economic development.
Through the sense of justice and subjective process of the preliminary and final evaluation, the organization board has selected 35 businesses with 48 digital products/solutions to be awarded and honored. The program becomes a place to honor and encourage organizations and businesses to conquer the digital era confidently.