Two desalination plants on Ly Son island operates stably again after the general maintenance and repair
16:16 | 19/03/2021
- After more than 8 years of operation since the date of being awarded in August 2012, two seawater reverse osmosis (SWRO) plants on An Binh islet of Ly Son island district have been maintained, repaired by Doosan Vina and re-operated stability to supply enough drinking water for more than 100 households.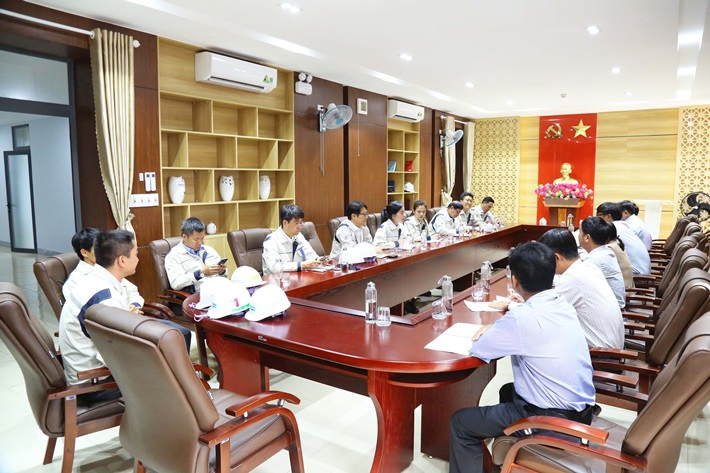 The leaders of Ly Son district worked with the leaders of Doosan Vina.
Over 8 years of operation, the system has deteriorated and some items such as sensors, motors, fans, and inverters have been damaged. It caused the interruption and shortage of the daily water supply for people on the island in the dry season.
To overcome, Doosan Vina sent a technical team to carefully check and urgently purchase equipment and materials to replace and repair in late August of 2020. After nearly 01 month of maintenance, two SWRO systems were completed and operated again by the end of September 2020 with a capacity of 3 cubic meter of water per hour per system, meeting the demand for daily fresh water of the people on the islet.
The water filtered from the desalination plant awarded by Doosan Vina ensures current standards.
After 5 months of general maintenance, Doosan Vina's CEO Jeong Young Chil and leaders paid a visit here to check the actual operation of the plants. Working with Doosan Vina's leadership, Ly Son District People's Committee Standing Vice Chairman Le Van Ninh, on behalf of the authorities and people, thanked Doosan Vina for the sponsor of this meaningful desalination equipment package. They have greatly contributed to stabilizing the daily life of people, especially in the hot season from April to September every year. The water reserve is quite stable, and the water quality is up to the standard, so people are very secure when using it. Mr. Ninh also added that at present, Ly Son district does not have enough human and technical personnel to maintain and repair when the plants have problems. He hoped Doosan Vina will support the maintenance continuously.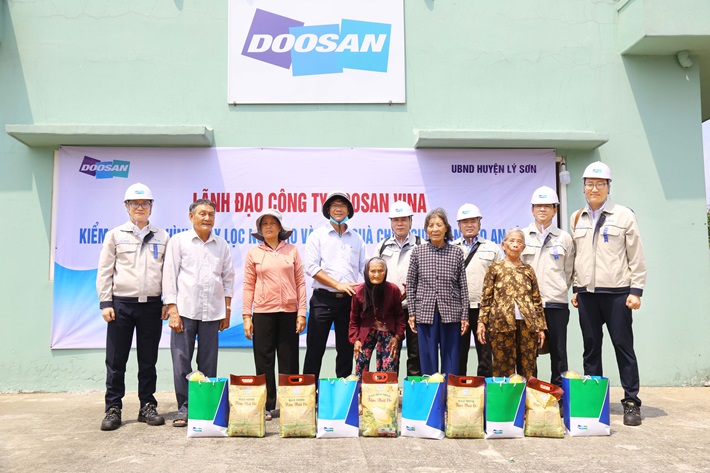 Leaders of Doosan Vina presented gifts to households in difficult circumstances on An Binh islet.
During this trip, the leaders of Doosan Vina and Ly Son district spent most of their time inspecting the plants, the water tanks and drank water directly from the filter.
In addition, the Doosan Vina team visited and presented gifts to 5 needy households who suffer from Molave typhoon in 2020, each worth 500,000 VND and conducted a survey at some locations, areas and needs on Ly Son island to plan for upcoming social responsibility programs.
Doosan Vina
Doosan Vina is a high-tech industrial complex in the Dung Quat Economic Zone of Central Vietnam's Quang Ngai Province employing 2,000 Vietnamese. The company supplies the mega infrastructure products that make modern life a reality. Doosan Vina's products include: Boilers for thermal power plants, Desalination plants the size of a football pitch that turn sea water into fresh, Material Handling Systems like cranes that are the heart of logistics at ports around the world, Modularization and Structural Steel for refineries, buildings and infrastructure developments. To date the company has exported products valued at $2.4 billion.
The Doosan Group
The Doosan Group is a global multinational focusing on Power, Water and other infrastructure developments worldwide. The company is headquartered in Seoul, South Korea, has operations in 38 countries, over 42,600 employees and $22 billion in annual revenue.
Vietnamenergy.vn