Petrovietnam seeks creative ways to overcome pandemic, related obstacles
16:41 | 27/09/2021
- The Ministry of Finance recently reported that although revenues from domestic, import and export activities have fallen short of estimated levels, budget revenue from crude oil in the first eight months recorded positive results. At VND25.7 trillion it equaled 111 percent of the estimate, and up 0.9 percent over the same period last year.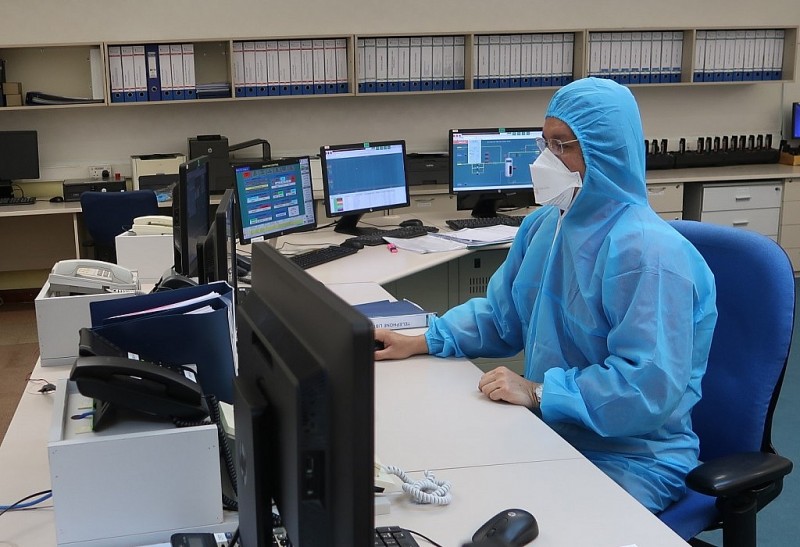 Checking control system.
Reduced sales, surplus inventories
Negative Covid-19 impacts have severely affected the production, business and investment activities of the Vietnam Oil and Gas Group (Petrovietnam) in all five key areas: petrochemical refining, distribution of petroleum products; gas industry; power industry; and oil and gas services. The supply chain of raw materials has been interrupted or broken while circulation of goods, products, raw materials of member units faced difficulties.
The demand for gas, electricity, petroleum and petrochemical products decreased sharply due to social distancing and tight controls on movement, resulting in high inventories that reduced the capacity of the Dung Quat and Nghi Son refineries. The volume of dry gas supplied in the first eight months decreased by 15 percent compared to the same period in 2020; sales of petroleum, chemical products and fertilizers all decreased sharply over the same period.
Prolonged work at sea and abroad, limits on the entry of foreign experts into oil and gas plants have also affected the progress of key projects, such as Song Hau 1 and Thai Binh 2. It also affected overall maintenance and repair schedules at some facilities.
In addition to the impacts of the pandemic, Petrovietnam has been encountering legal impediments due to delays in the revision of certain policies and mechanisms, such as the Law on Petroleum, the investment mechanism for the Exploration and Production (E&P) sector, and more. Currently, Petrovietnam has 48 proposals for changes and revisions awaiting approval by the Government and related ministries and sectors. Along with ensuring worker health, stabilizing investment, production, and business activities, Petrovietnam is also under high pressure to carry out newly assigned targets and tasks.
Solutions
According to Petrovietnam President and CEO Le Manh Hung, the group has been implementing drastic measures to cope with the Covid-19 pandemic.
To ensure worker health and safety, it continues strict implementation of pandemic prevention and control measures higher than average levels, while providing timely support for employees materially and spiritually under quarantine and having to live at their workplace.
To ensure stable and continuous operation, efforts have been made to effectively carry out the "stay-at-work" and "one route, two destinations" scheme for employees directly working at oil and gas factories and projects, sharing resources among member units to reduce the stockpiles of units in the group system including PVOIL, BSR, PVNDB, and PVTRANS.
Performing outdoor maintenance
To ensure the circulation of raw materials and other production materials in order to maintain the smooth consumption of goods and products, the group is renting warehouses for storage.
To ensure the progress of investment projects, Petrovietnam has made strides to accelerate investment disbursement, particularly for projects scheduled for 2021 and 2022 completion. It is also decentralizing investment management, along with enhancing supervisory efficiency, completing procedures relevant to E&P investment for submission to competent agencies, and focusing on implementing E&P projects in traditional fields.
In the current context, the market plays a vital role in the existence and development of enterprises. As an enterprise holding an important position in the country's economy, Petrovietnam has seized opportunities, continued to promote flexible management, regularly updated data and market forecasts, and presented optimal scenarios to boost efficient operations.