Solis Showcases Latest Sixth Generation (S6) Technology in Thailand for the First Time
18:05 | 22/09/2023
- September, 2023, Thailand: The third largest inverter manufacturer in the world, Solis, introduces its S6 technology range to the Thailand market for the first time. The versatile technology caters to a diverse range of applications from residential and C&I, to utility-scale solar. With an emphasis on generator connectivity and multiple input methods, the S6 offers automatic UPS switching and up to 10 seconds of 200% surge power backup overload capability. With Solis' dedication to research and development, the latest range is the product of years of innovation.
In residential environments, the S6 inverters connect solar panels to a low-voltage battery. The inverter manages solar energy during the day, continuously assessing production against demand in real-time. This enables them to distribute electricity both for immediate use in the home and to charge the battery for later consumption – either during the night or during peak periods. The S6 Advanced Hybrid energy storage inverter is designed for residential and C&I PV energy storage systems and supports multiple parallel machines to form single-phase or three-phase systems, with a maximum of 48kW in parallel. The inverter is compatible with both lead-acid and lithium batteries, offering multiple battery protection features.
"What sets this product range apart is its ingenious use of the inverter as a fully independent power hub – seamlessly integrating generator management and connection operations" comments Tim Xue, Business Development Manager APAC at Solis.
"Not only does this provide a guaranteed power supply during grid disruptions, but it extends that reliability to the most delicate of devices. We're thrilled to share our latest products at this special exhibition. Since 2005 we've relentlessly pushed the boundaries of innovation, resulting in numerous international awards for our products. The S6 range will continue that trend – empowering energy transition professionals with game-changing options for their projects and delivering cost-savings to end users."
In addition to seeing the latest generation of technology, visitors who came to Solis, have had the unique opportunity to engage with renowned industry experts from around the world and gain insights into the future of solar energy utilization.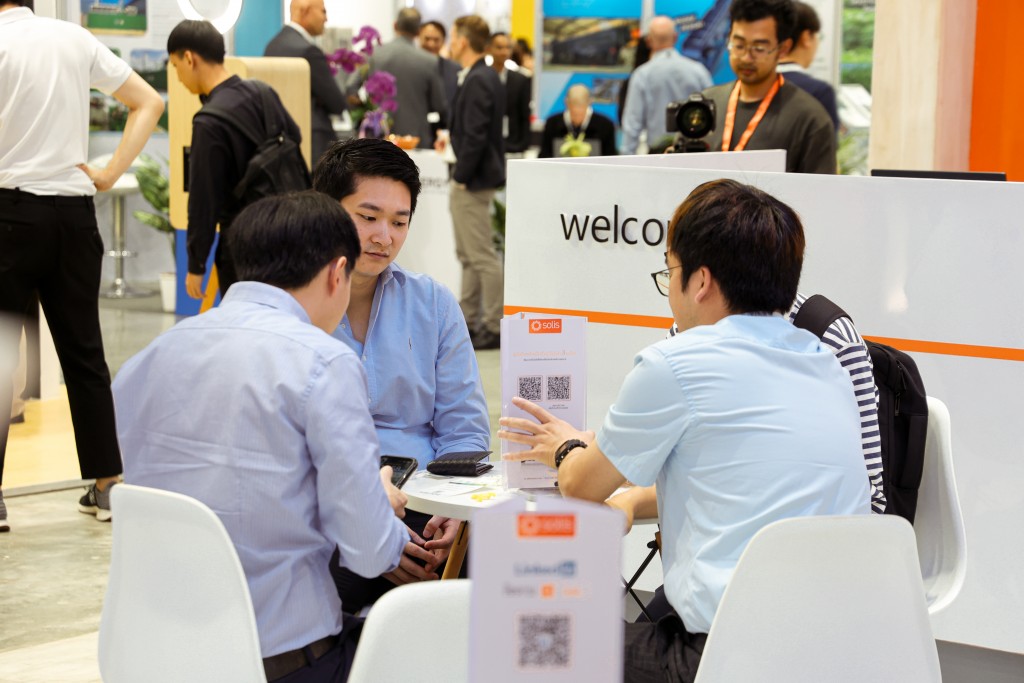 Solis is ushering in a new era of energy independence with its cutting-edge Six Generation hybrid inverter, designed to revolutionize photovoltaic power applications in the Thai market. With power classes ranging from 3kW to 8kW, this innovative inverter empowers users to harness clean electricity while optimizing energy structures for greater economic, secure, and stable power consumption. Boasting features such as Bluetooth configuration, generator connectivity, UPS-level switching, and enhanced surge capabilities, Solis ensures seamless power continuity. With a focus on sustainability, the inverter's high DC/AC ratio, PV string current support, and customizable charging/discharging settings reduce electricity bills and maximize the use of solar energy. Solis also facilitates system expansion, whole-house backup, and versatile working modes, accommodating diverse energy needs. With compatibility with various battery types and robust communication options, Solis provides flexibility and reliability. The establishment of a local service team underscores Solis's commitment to delivering exceptional support to its customers in Thailand, making clean energy accessible to all.
About Ginlong (Solis)
Established in 2005, and listed on the Shenzhen Stock Exchange (300763. SZ), Ginlong (Solis) Technologies is one of the largest and most experienced global solar inverter manufacturers. The company provides cost-effective solutions for homes, businesses and large-scale power plants; delivering value at every level of the solar supply chain and appealing to homeowners and businesses, as well as electricity producers and renewable energy investors globally. Combining a global supply chain with world-class R&D and manufacturing capabilities, validated under the most stringent international certification, Ginlong optimises Solis inverters for each regional market, serving and supporting its customers with a team of local experts. The company aims to work with stakeholders to accelerate the world's journey towards a more sustainable future.
Solis, which had previously been honored with the "Innovation Award" and "Company of the Year" titles in 2022, maintains its reputation into 2023 by securing a spot among the top three photovoltaic (PV) inverter manufacturers worldwide, as reported by Wood Mackenzie. The company has a history of receiving significant awards in branding, inverters, and energy storage systems. Recognized for their transformative impact on the energy industry and their contribution to environmental conservation, Solis' products have garnered substantial attention. The return of this leading brand in the current year, armed with brand-new technologies, has generated even greater interest.
Please visit www.solisinverters.com