Taking the comparative advantages to develop offshore wind industry
09:32 | 07/05/2022
- Norwegian largest energy company officially opens its representative office in Hanoi, marking an important milestone in Norway-Vietnam business cooperation portfolio. This reaffirms Norway's willing and determination to contribute to the development of Vietnam's offshore wind industry and to be part of Vietnam's green transition process and implementation of the country's commitments in the Paris Agreement and in COP26.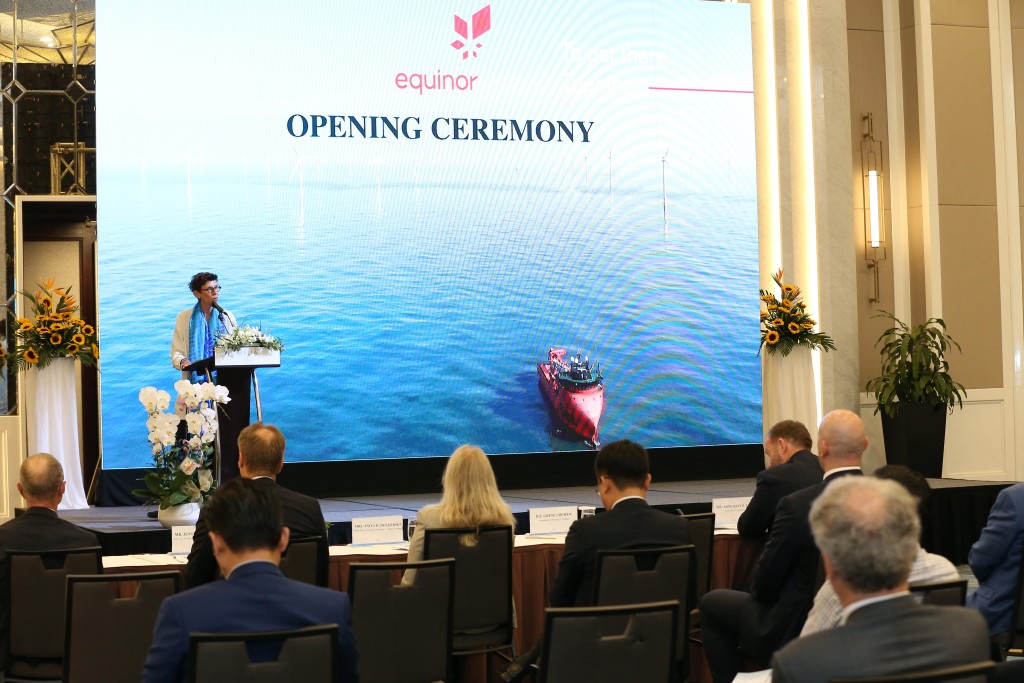 Norwegian Ambassador in Vietnam - Ms. Grete Lochen speaking at the Opening Ceremony of Equinor office.
On this occasion, Ambassador of Norway H.E, Ms. Grete Løchen and Senior Vice President of Equinor, Mr. Jens Olaf Økland hosted an opening ceremony which spotlighted the attendance of representatives from Vietnamese agencies such as Ministry of Industry and Trade (MOIT) and its Electricity Regulatory Authority of Vietnam (ERAV), Ministry of Planning and Investment, Ministry of Natural Resources and Environment and its Vietnam Administration of Seas and Islands (VASI), PetroVietnam, Global Wind Energy Council (GWEC) Vietnam, Vietnamese and Norwegian business representatives and other guest members.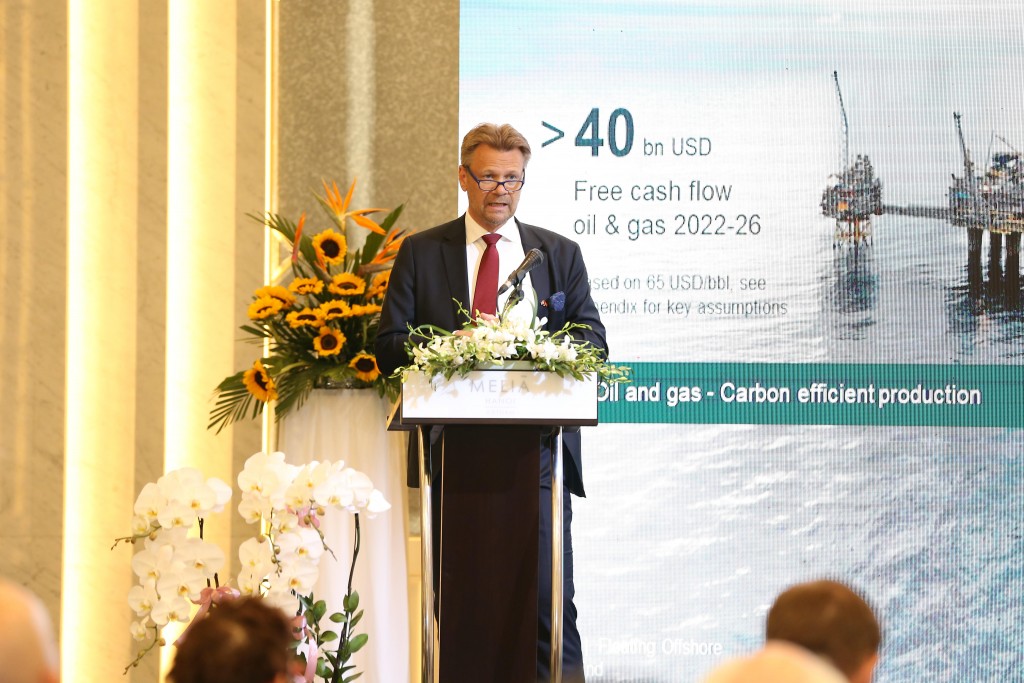 Senior Vice President of Equinor - Mr. Jens Okland speaking at the opening ceremony.
"Renewable energy and climate are the top priorities for the Norwegian Government. Climate change is the main challenge of our time. Meanwhile, globally, the energy sector is the primary source and makes nearly three quarters of the greenhouse gas emissions. We have to transform the way we produce and consume energy if we want to achieve the goals envisioned in the Paris Agreement and COP26. For this cause, Norway will continue its active engagement in international climate diplomacy and work towards further strengthening global cooperation in this process. It is a priority for the Norwegian Government to work closely with business and industry to succeed in a just transition towards a renewable, circular and sustainable future. Therefore I'm very pleased and proud today that Equinor is making its commercial presence in Vietnam and opening its country office in the Hanoi Capital", said Ambassador Grete Løchen in her remarks.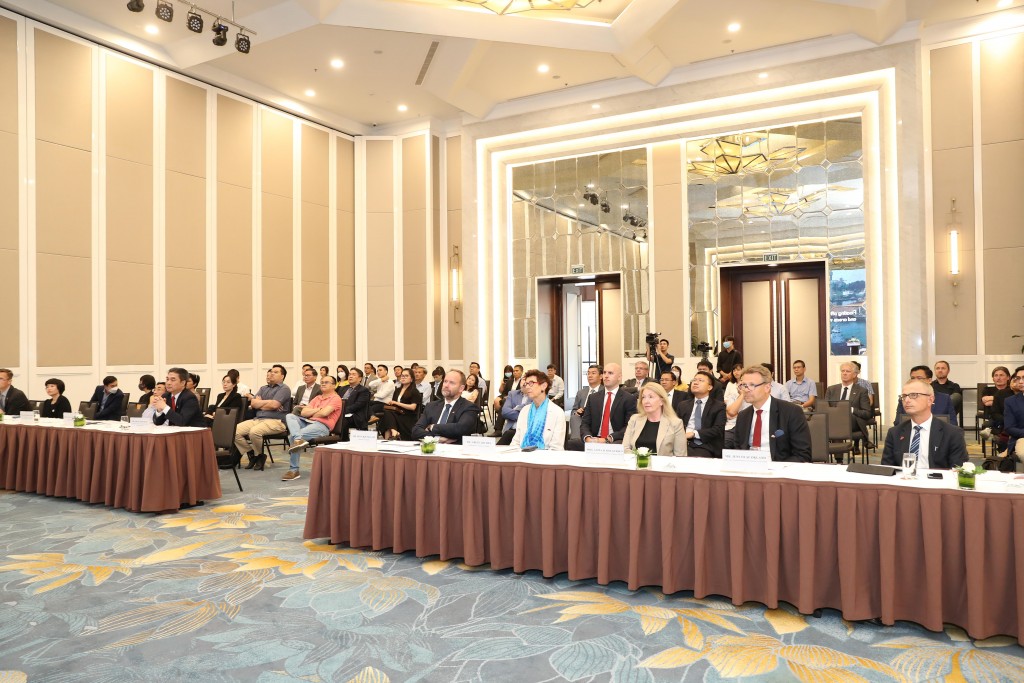 The scene of the opening ceremony of Equinor representative office in Hanoi.
"Vietnam is one of the worlds' fastest growing economies and power markets. With its long coastline and favorable wind conditions, the country has among the best wind resources in Asia and a strong desire to develop an offshore wind market. We believe Vietnam has high potential to become an interesting growth market for offshore wind. Equinor wants to take part in maturing the offshore wind industry in Vietnam and is therefore happy to establish local presence in Hanoi. Together with our local partners, our ambition is to utilize our offshore experience and broad energy competence to support Vietnam's energy transition, paving the way for renewables growth", statedEquinor's Senior Vice President Mr. Jens Olaf Økland.
Norway has been actively supporting green transition efforts globally. Technically, we build on our world-leading competence and technology from the oil and gas industry in new sectors, including offshore wind power, hydrogen, carbon capture and storage, and green shipping. Financially, Norway will continue to be a leader in climate finance and other support to the developing countries. Norway will double its climate finance by 2026 including a plan for allocating NOK 10 billion (approx. USD 1 billion) over five years to a new climate fund, which will be managed by Norfund, the Norwegian Fund for Developing Countries.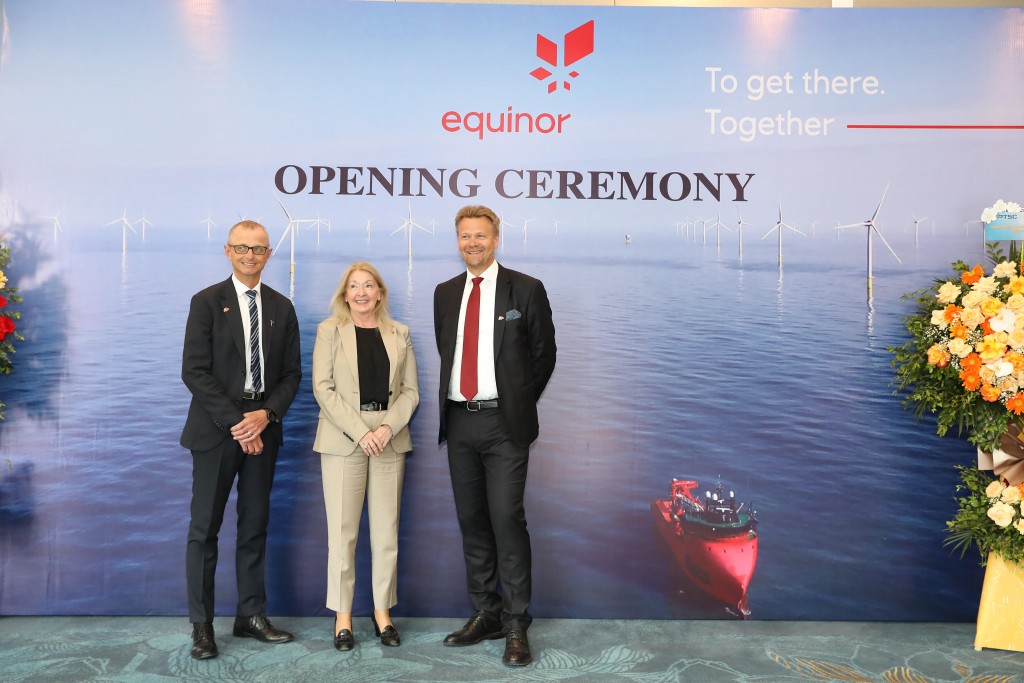 Senior leaders of Equinor Group.
With the establishment of its local presence in Vietnam, Equinor wants to use its experience and competence together with its local partner, PetroVietnam, to successfully:
· develop Vietnam's offshore wind industry by implementing successfuloffshore wind projects
· improve local competence and capacity
· build a strong local supply chain for offshore wind industry
· create more skilled jobs locally
· generate power at lower costs
· gradually make renewable energy affordable for all; and
· assist Vietnam's green transition agenda and implementation of its international commitments on climate and environment.
Mr Pham Tien Dung, Vice President of PetroVietnam said "Equinor and PetroVietnam have many things in common as we are both State Oil and Gas Corporations, which want to transform into Energy companies. We very much value creditability, experience, expertise and technologies of Equinor in that transformation process. To us, Equinor is the main and important partner in renewable energy portfolio particularly offshore wind".
BACKGROUND INFORMATION
To reach climate neutrality, the European Commission estimates that European offshore wind must generate as much as 300 GW by 2050. Globally, the Ocean Renewable Energy Action Coalition sees 1,400 GW of offshore wind generation as a realistic target for 2050.
With over 3000 kilometers of coastlines, Vietnam has an abundant offshore wind resource and is an emerging market for offshore wind. According to the World Bank, offshore wind has the potential to supply 12% of Vietnam's electricity by 2035. By gradually replacing coal-fired generation, this could help reduce to avoid over 200 million metric tons of CO2 emissions and add at least US$50 billion to Vietnam's economy from a strong local supply chain, job creation and exports. It will also attract more long-term international climate financing and investments to the country.
Norway's advantages in offshore wind
Increasing offshore wind production is crucial for the world to achieve its climate targets. Thanks to its maritime and offshore expertise, Norway is uniquely positioned to take a sizeable share of this rapidly growing market. Norway's advantage lies in its unique reservoir of experience, technology, skills and knowledge related to offshore installations.
Offshore wind value chains built on offshore experience. There are many skills in the offshore oil and gas industry that can be transferable to offshore wind: floating foundations for harsh environments, mooring, anchoring and anchor lines, geotechnical surveys, maintenance, service vessels and everything in between. With highly skilled contractors across the whole process from planning to building offshore wind facilities, Norwegian offshore wind industry has the potential to be competitive across the whole value chain, with the exception of construction of turbines.
Norway - a pioneer in floating offshore wind. Norway is home to one of the world's foremost testing facilities for floating wind solutions. In this regard, prominent Norwegian academia and universities such as NTNU, SINTEF, the University of Bergen and the Marine Energy Test Centreplay an important role in promoting strong research and testing ecosystems, that give actors across the entire offshore wind value chain opportunities to develop, test and scale their solutions.
Making the most of these competitive advantages, Norway has truly been a pioneer in floating offshore wind. The world's first floating wind turbine, Hywind Demo, was installed here in 2009. In 2017, Equinor opened Hywind Scotland, the world's first full-fledged floating wind farm.
About Equinor (www.equinor.com):
Equinor was founded in 1972 as the Norwegian State's Oil & Gas Company (Statoil). Over the years, Equinor has become an international company, still with majority ownership from the Norwegian State. Located in 33 countries, Equinor has developed the strategy to become an ENERGY company, providing energy to the people.
Now, Equinor is a leading company in the energy transition, using the knowledge it has obtained from its long history of offshore construction to become a fairly significant global developer of offshore wind farms with decades of experience in developing offshore energy. The company developed the world's first floating wind turbine and is rapidly gaining ground in the fixed offshore wind market. Not only leading the world in floating offshore wind, Equinor also has many large bottom fixed projects (all over the globe). Some examples include a large project of 3.3 GW offshore wind in US to power nearly 2 million homes; 3.6 GW in UK; and large projects in Poland etc.
Last October, Equinor, together with the Norwegian Embassy in Hanoi, completed a Vietnam Supply Chain Study Report and handed over to Vietnamese Minister of Industry and Trade Nguyễn Hồng Diên right before his trip to COP26 with Vietnamese Prime Minister Pham Minh Chinh (see more here).
Together with its local partner, PVN, Equinor has applied for projects in five provinces in Vietnam: Ba Ria - Vung Tau, Binh Thuan, Ninh Thuan, Hai Phong and Thai Binh. Equinor has also sent applications for survey rights to MONRE. Equinor is very happy with this partnership as it will support Equinor's strategy as a global offshore wind major to build scale in core areas and secure growth options in attractive transition markets.
"We are looking forward to collaborating with PVN, a strong local partner, to assess the potential of accessing early and at scale in what could become a very interesting growth market for offshore wind. As companies, we have both a strong oil & gas background and the combination of PVN's strong local presence with Equinor's offshore wind experience, provides a solid starting point for growth and value creation"– said Equinor's Senior Vice President Mr. Jens Olaf Økland.