The Prime Minister presided over a conference on the 'great balance' of energy for national development
11:01 | 05/04/2022
- On the morning of April 03, Prime Minister (PM) Pham Minh Chinh presided over a meeting on electricity supply, coal and gas supply for power generation for ensuring a 'great balance' of energy in 2022 and the following years.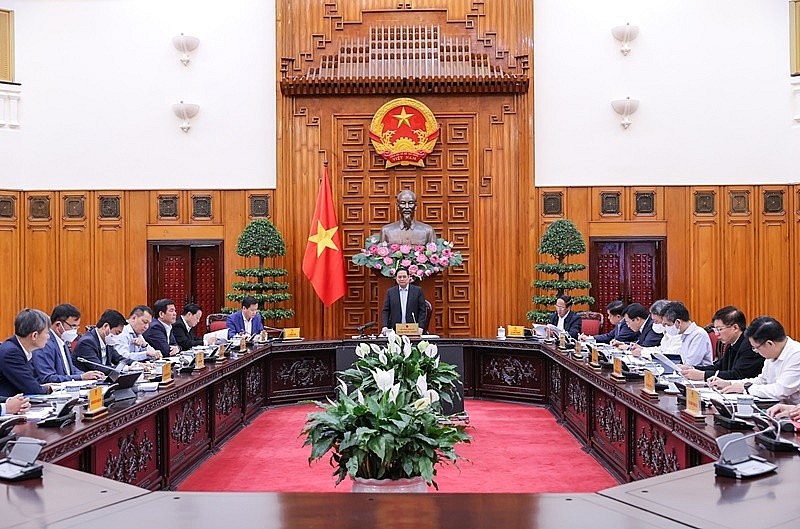 Prime Minister Pham Minh Chinh asked the delegates to speak in a frank, serious, sincere, constructive, and marketable spirit for the common goal. Photo: Nhat Bac-VGP.
The Deputy Prime Ministers (DPM) Le Minh Khai, Le Van Thanh and Ministers of Industry and Trade (MOIT), Planning and Investment (MPI), Natural Resources and Environment (MNRE), Chairman of the Government Office and leaders of ministries, central agencies, large state-owned energy enterprises (Electricity of Vietnam (EVN), Vietnam Oil and Gas Group (PVN), Vietnam National Coal - Mineral Industries Corporation Holding Limited (Vinacomin), Northeast Corporation) also attended the Conference.
Speaking at the opening of the conference, PM Pham Minh Chinh suggested the delegates to express with a frank, serious, constructive and marketable spirit for the common goal, without avoiding and blaming.
After attentively listening to the opinions of the presenters, PM concluded: In recent time the Government, PM had many working meetings for directing and operating these issues and in 2021 and quarter 1 of 2022, the great balance of the economy, among that electricity and energy balance ensured. At the end of December 2021, PM promulgated
Public Notice No 1813/CĐ- TTg on electricity demand forecast, economic and efficient electricity use; ensuring electricity supply in 2022 and following years. The Public Note assigned the Ministries, under Government Agencies, People's Committees of the Provinces and Cities and relevant units to deploy solutions and handle problems according to assigned functions, targets and authorities, but caring out this Public Note was limited.
The rose opinions at the conference affirmed that we have sufficient potential, condition, foundation and solution for ensuring a great electricity and energy balance. The question is a flexible, effective and appropriate operation, coordination and adjustment.
Generally, it is not electricity shortage, but there may be an electricity shortage in some locality, at some time.
If overcoming constraints and inadequacies and coordinating more closely, more efficiently, the electricity shortage would not happen even local shortages. It requires more effort of the agencies, enterprises and the National Steering Committee on Electricity Development.
In recent times, the electricity generation, business, use and distribution, the coal and gas supply for power generation, ensuring great energy balance were objectively affected by Covid -19 pandemic, increasing the prices of materials, freight and Russia – Ukraine war…However, in terms of subjective reasons as the implementation organization, administration and coordination among relevant entities (Ministries, State Capital Management Committee, enterprises) were not really close, synchronous, efficient. Forecasting and formulating plans on energy output, progress, demand, etc., were still not close to the situation and not adjusted in time when the situation changed, especially electricity output, coal and gas prices.
it could not mention been subject to objective impacts due to the epidemic situation. ; prices of materials and input materials for production in the world, prices increased freight rates; the need for economic recovery and development requires an increase in power output; impact from the conflict in Ukraine... However, for subjective reasons, the organization, implementation, administration and coordination among relevant entities (ministries, State Capital Management Committee, enterprises) is not really tight, synchronous and effective. Forecasting and formulating plans on energy output, progress, demand, etc. are still not close to the situation and have not been adjusted in time when the situation changes, especially output and prices of electricity, coal and gas.
About the coming situation, PM clearly expressed that to recover the socio-economic development with a GDP growth rate of 6.0 – 6.5 % in 2022 according to the Resolution of the National Assembly in a case when Vietnam sustains the affects from abroad situations. The objective is to ensure a great electricity and energy balance in a sustainable way, to avoid an energy crisis, to meet production and consumption requirements, and to ensure reasonable prices, and to control appropriate prices, do not cause a negative impact on inflation and a great balance for import-export activities and budget revenue and expenditure.
PM also emphasized the viewpoint to promote domestic production, strengthen the self-control and self-reliance of the electricity industry, reduce dependence on outsiders, and reduce imports. To do so, there must be both immediate and situational solutions, as well as fundamental and long-term solutions.
Regarding urgent things, which must be done immediately to ensure electricity supply, PM requested to focus on exploiting the possible capacity of oil, gas and coal; to continue to adjust the suitable power plants where there may be a shortage. The import must be reasonable, not to adversely affect the great balance of imports and export, minimize the trade deficit and increase the trade surplus.
The enterprises must as soon as implement the assigned contracts, plans related to the coal and gas supplying sources for immediately solving local shortages and bottlenecks.
PM required MOIT to review the plans and electricity demand for urgently ensure the coal, gas and other renewable power plants.
Ministry of Finance presided over and together with relevant agencies to review the issues related to electricity, coal prices suitable to market economy with the socialist orientation in every period for ensuring interests of the state, enterprise and personal.
Towards sustainable development, it is necessary to strengthen the development of renewable energy in accordance with the situation, conditions and general guidelines of the Party and State on climate change adaptation; promote more energy; encourage domestic production, technology application, innovation, and increase labor productivity in the energy sector.
PM also required the energy units, ministries MOIT, MOF, MNRE, State Capital Management Committee in Enterprises and authorities to coordinate smoothly, closely and effectively; to make suitable instruments and solutions and continuously review, propose and finalize the policies mechanisms for producing, business and supplying electricity, coal, gas and renewable energy sources for ensuring energy security.
Regarding the concrete proposals of enterprises, PM assigned ministries, agencies to handle them according to their competence. In cases, if the questions beyond the competence, they should report them to DPM Le Van Thanh, Head of the National Steering Committee on Electricity Development;
MOIT is asked to actively promote the movement on electricity-saving, clean energy transition and maximum exploiting the existing power plants.
At the same time, it is required relevant agencies and individuals to bring into play responsibility, initiative, creativity, strengthen coordination, control and supervise all items for the nation, people and general development, avoid heck and urge, all for the benefit of the nation, the people; avoid the local and group interests; resolutely fight against corruption, negativity, waste, beg - give, sub-licenses in the electricity, coal, oil and gas industries, towards the rapid recovery and sustainable development.