VSUN have launched VSUN605-120BMH-DG module at Intersolar Europe Exhibition
16:00 | 13/10/2021
- Solar company VSUN with headquarter located in Tokyo Japan has launched the VSUN605-120BMH-DG solar panel at Intersolar Europe, a half-cut monocrystalline PERC product with a 21.38% efficiency rating and the maximum output power reaches 605W.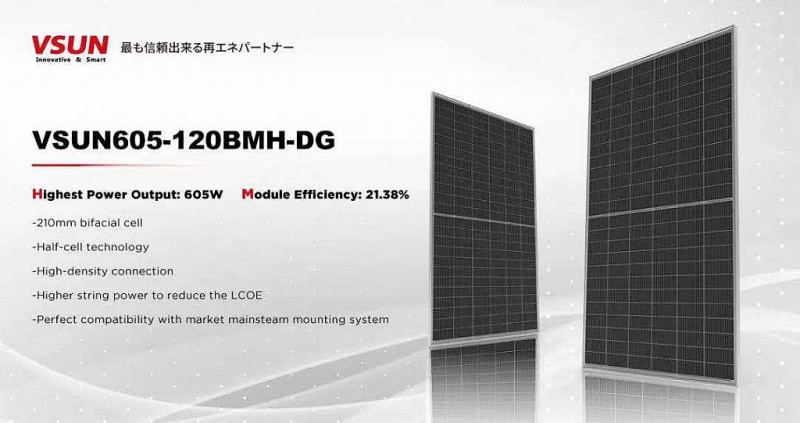 VSUN have launched VSUN605-120BMH-DG module at Intersolar Europe Restart 2021
As a solar module manufacturer and PV solution provider, VSUN has been dedicated to the R&D and technology innovation of new products with an emphasis on high efficiency and reliability. VSUN incorporates the latest technology and officially launches the VSUN605-120BMH-DG series for utility projects to further reduce LCOE and help the arrival of the zero-carbon era.
VSUN605-120BMH-DG improves module layout and performance, inherits conventional 120 half cell configuration and continues the advantage of being highly reliable, shading-resistant and hot-sot free. Furthermore, the VSUN605-120BHM-DG module is designed to be compatible with the original racking design for installation in landscape orientation. Being compatible with different racking, more power in each array can be generated. It is worth mentioning that the high string power design increases current without elevating voltage. The number of modules connected in series thus will not reduce due to the 1500V limit.
VSUN SOLAR actively researches and innovates full life cycle solar solutions including product design, manufacturing, packaging, logistics, project installation and recycle based on customer value. VSUN launches products and solutions for different markets and applications to meet different customer needs.
VSUN is a photovoltaic (PV) enterprise recognized worldwide and engaged in the R & D, production, marketing, service, and terminal utilization of solar modules. VSUN owns a production capacity of 2.6GW throughout the world, together with Japanese quality management system, and the state-of-the-art automatic production lines in the manufacturing base.
In Vietnam, VSUN enjoys preferential policies in tax and borrowing rates as a high-tech enterprise and, with prudent financial performance and outstanding financial capacity, VSUN is highly favored by local financial institutions and ranks in the bankability list of multiple banks in Vietnam, thus wins the award of 'Best International Payment Business' by VIETCOMBANK and emerges in the bankability list as stated in the PV project investment and financial announcements released by MB, TP, and VP banks, all authoritative financial institutions of Vietnam.