EVN and EDC discuss a plan for energy exchange between Cambodia – Vietnam
08:06 | 02/11/2022
- Mr. Tran Dinh Nhan - General Director and the mission of Electricity of Vietnam (EVN) just had a working meeting at the Electricity of Cambodia (EDC) in Phnom Penh. At the meeting, the two sides discussed the plan for the expansion of electricity trading cooperation between Vietnam and Cambodia in the coming time.
According to Mr. Keo Rottanak – EDC General Director, in many recent years, EVN and EDC exchanged energy through a number of connection points in the border area. EVN is still supplying electricity to the capital Phnom Penh under the power purchase contracts between EVN and EDC by the medium-voltage lines (35 kV, 22 kV) along the Vietnam-Cambodia border and 220 kV Chau Doc - Ta Keo transmission line(from Chau Doc 220 kV substation in An Giang province, Vietnam, to Ta Keo 220 kV substation on the Cambodian side). At the same time, a number of EVN units also cooperated with the Cambodian electricity sector in investing in power projects and coordinated testing and operating electric generators.
Mr. Keo Rottanak expressed his desire to continuously cooperate with EVN in connecting the power grid and supplying electricity. On the other hand, he also desired to strengthen exchanging expertise and techniques between EVN and EDC officials and employees and looked forward to learning from EVN in developing renewable energy projects.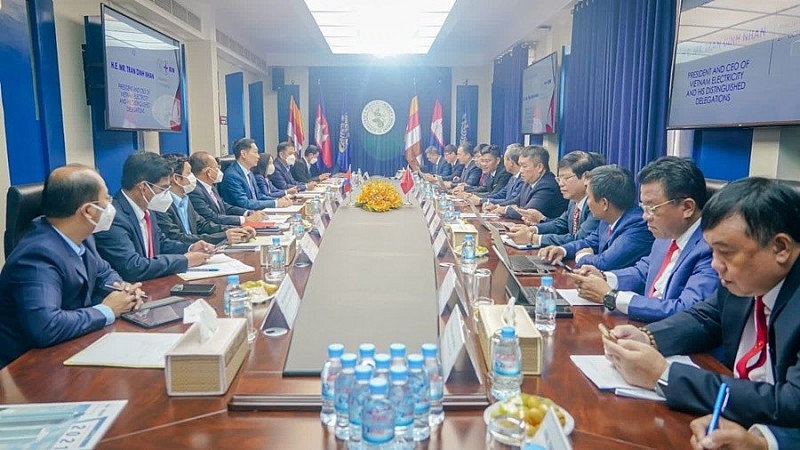 The meeting between EVN and EDC is on October 27 in Phnom Penh, Cambodia.
Exchanging with EDC leaders, Mr. Tran Dinh Nhan affirmed that, EVN is already cooperating with EDC in the spirit of the interests of the two countries, for developing the power sectors of the two countries. EVN welcomes the idea of ​​linking the power sectors of countries in the region with a goal for stable operation of the power systems in the context of the increasing proportion of renewable energy sources.
According to Mr. Nhan, EVN - EDC cooperation is not only EVN supplying electricity for EDC, but it can expand to a contrary direction as EDC to EVN if EDC will invest in developing power sources.
In that spirit, EVN General Director suggested EDC continuously strengthen information exchange, and effectively coordinate with the National Load Dispatch Center of EVN in preparing and operating for the first synchronization the unit 1 of Huadian Sihanoukville thermal power plant (HSPGC) to connect Vietnam and Cambodia power grids.
In the framework of both sides, the EVN mission with EVN NPDC also worked with HSPGC and EDC on testing the coal-fired thermal power aggregates in Preah Sihanouk in Cambodia.