Nuclear industry supplier forum Atomex Asia 2014 started in Vietnam
17:33 | 20/11/2014
- On November 19th, 2014, Nuclear Industry Suppliers Forum Atomex Asia 2014 was tooking part in Ho Chi Minh city, with extensive program on strategic partnership between Russia and Vietnam in nuclear energy field, including separate sessions on localization policy and requirements to suppliers, educational cooperation and public awareness.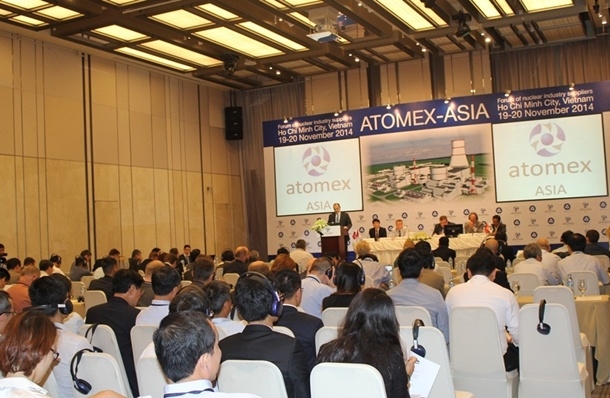 Overall picture of the Nuclear Industry Suppliers Forum Atomex Asia 2014.
Nuclear Industry Suppliers Forum Atomex Asia 2014 is organized by Russian State Corporation Rosatom and is hosting participants from World Nuclear Association, Indonesia, Malasia, Thailand, Vietnam Atomic Energy Institute, VINATOM, EVN and other Vietnam companies as well as leading suppliers of nuclear industry in Russia with more than 150 people in total.
First day of discussions at Atomex Asia 2014 focused on core topics of strategic partnership between Russia and Vietnam in nuclear power.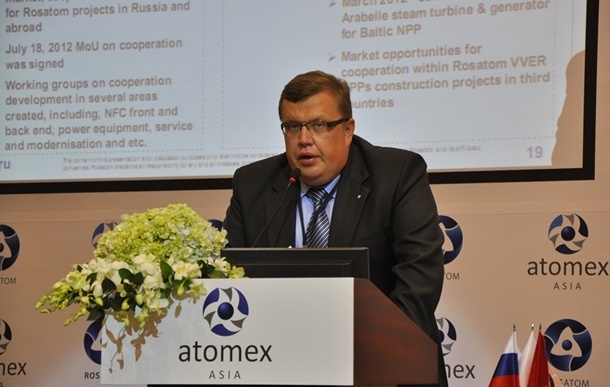 Mr. Nikolay Drozdov, Director of Rosatom Department of International Business.
Opening the plenary session, Nikolay Drozdov, Director of Rosatom Department of International Business, put special focus on strategic partnership with Vietnam: "Rosatom is keen on expanding its operations in South East Asia region and Vietnam is our main partner in the field of nuclear energy development with first nuclear power plant in province of Ninh Thuan under development. We provide Vietnam an integrated solution that includes nuclear infrastructure, nuclear and emergency response, physical protection, regulatory framework, nuclear education and personnel training thus securing a safe and reliable future for country development".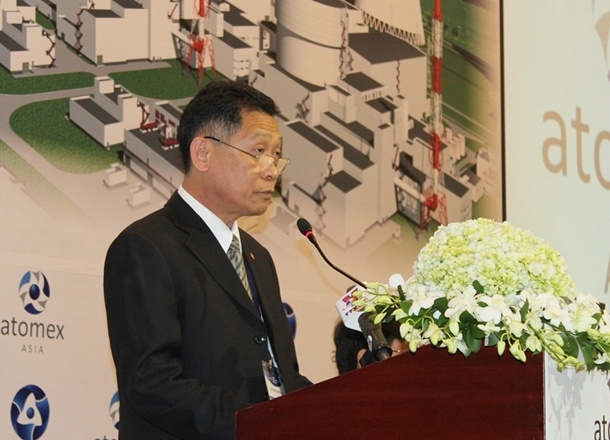 Mr. Nguyen Cuong Lam, Vice President of EVN , Head of Ninh thuan NPP Project Management Board.
Mr. Nguyen Cuong Lam agreed: "We believe that Russian Federation has large experience in building and operating nuclear power plants and owning many high-technology nuclear reactors, which comply with IAEA standards. Therefore, the Government of Vietnam has chosen Russian Federation to be the partner building the very first nuclear power plant in Vietnam". Yarianto S Budi Susilo, head of National nuclear energy system assessment, National nuclear energy agency, Batan, Indonesia, broadened the discussion by focusing attention on support nuclear power plants provide to long term energy security.
Representatives of leading nuclear government institutions in Vietnam, VINATOM talked about plans for development of Ninh Thuan and safety management of the project. Representative of Russian regulatory body, Rostechnadzor demonstrated in detail its role in a safe development of nuclear energy and deputy head of Vietnam project division of NIAEP, Oxana Wolf, gave an extensive report about implementation of Ninh Thuan NPP project.
Safety systems and Russian reactor technologies were on the forefront of discussion. Atomproekt, a part of Rosatom engineering division, presented general and safety features of generation III+ reactor AES-2006 and design of modern NPP with VVER-1200 reactor. TVEL presented its integrated approach to fuel supply. International Uranium Enrichment Center elaborated on new Russian initiative to ensure secured supplies of the uranium products. Rosenergoatom, the only Russian enterprise functioning as a generating company and NPP operator, talked about Russian new generation technologies.
"Rosatom procurement system – How to become a supplier of Rosatom" session attracted attention of many participants. Nikolay Drozdov explained step-by-step corporate system of procurement. Rosatom manufacturing division Atomenergomash provided case studies of cooperating in overseas markets in supplies of power equipment. NIAEP talked about Integrated industry directory of equipment and materials (EONKOM) and provided insights into roles of producers and suppliers. And Rusatom Overseas company gave an outlook of and corporate practice of contracting with suppliers.
Atomex Asia 2014 will be organized in two days, from November 19th to 20th, 2014.
VietnamEnergy.vn