Signing EPC Contract for Duyen Hai 3 Power Thermal Plant Extension Project
16:31 | 27/11/2014
- On November 25, 2014, in Hanoi, Power Generation Corporation 1 (Genco 1), Electricity of Vietnam (EVN) and the Sumitomo contractor (Japan) held a signing ceremony of EPC contract for Duyen Hai 3 Thermal Power Plant extension project with an over US$ 891millions total cost.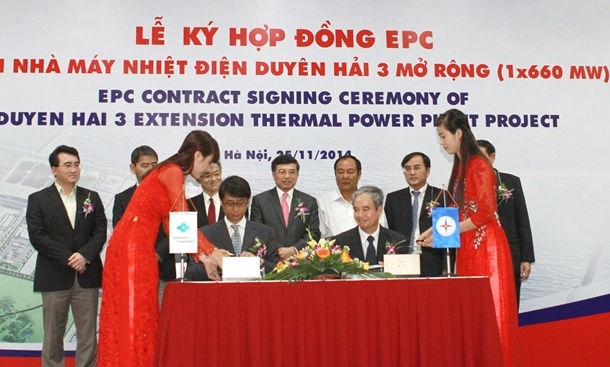 Signing Ceremony of EPC Contract for Duyen Hai 3 Extension Power Thermal Plant Project.
This is an urgent power project allowed by the Prime Minister to be implemented accordingly to a specific mechanism in Decision No. 2414 / QD-TTg dated on December 11, 2013 with a goal to put the plant into operation for overcoming the power shortage in southern region from 2018.
Representative of the investor said: the total investment cost of the project is VND 22,774 billions. The EPC Contract (design – material and equipment supply - installation) has an over US$ 891 million total value, including tax and reserve, among which the domestic and foreign commercial loan is 85% and the counterpart fund of the investor is the remaining 15%. The project consists of 1 unit (660 MW), with an about 3.9 billions kWh annual power output and harbor No. 2 (including station, wharf and dredging parts …) for receiving coal and oil.
The total investment of the project is VND 22,774 billions (equivalent to US$ 1.082 billion).
Thermal Power Project 3 Management Board, representative of EVN Genco1 investor is responsible for the project management. The project occupies a 878.91 hectares total area at Dan Thanh commune, Duyen Hai district, Tra Vinh province.
Sumitomo corporation (Japan) is the EPC General contractor, the PECC 2 and Foreign secondary consultants are the supervisory consultants for project construction.
The Duyen Hai 3 Thermal Power Plant extension project will be connected to the national power system by the 500 kV grid.
Speaking at the signing ceremony, the Chairman of EVN Member Council Hoang Quoc Vuong informed: up to now, the power system of Vietnam is the 3rd place in ASEAN and the 30th one in the world, with an over 35,000 MW and hundreds of thousands kilometers of transmission lines, tens of thousands MVA of transformer stations.
This is the one of 4 thermal power plants of the over 4,000 MW Duyen Hai Power Center.
According to the signed progress schedule, the project will be completed and put into commercial operation within 42 months since the contract taking effect. It is expected, the project will be started for construction in December, 2014 and put into commercial operation in the second quarter of 2018.
VietnamEnergy.vn