Successful pressure tests for boiler 1 and low pressure package of boiler 2 in Thai Binh 2 thermal power plant
17:23 | 16/08/2016
- At 11:30 a.m on August 13th 2016, in the construction site of Thai Binh 2 thermal power plant, LILAMA Corporation has conducted successfully pressure test (of Low Pressure Package) for Boiler 2 and finished pressure test (of High Pressure Package) for Boiler 1.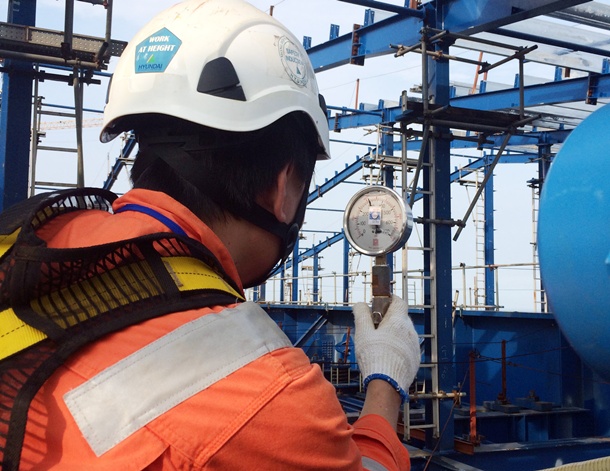 Pressure of Boiler 1 of Thai Binh 2 TPP reached at 302kg/cm2 (295bar)
Previously, on 22/7/2016 LILAMA had carried out pressure test (low pressure package) for boiler 1 successfully. The process had been witnessed and checked by Owner PVN, EPC Main Contractor, ASME Organization, Ministry of Industry & Trade (MOIT), MTV Co., Ltd., Safety Inspection for Petroleum Technique of Vietnam PVC-EIC. This was an important milestone to mark the accomplishment of performing the pressure mechanic work for boiler and it was also the most important item of project so as to assure the quality and schedule.
Thus, up to now Lilama has completed installing and manufacturing 32,000 tons of equipment, 70,000 high pressure welded joints has been finished with high quality. After raising the test pressure upto 295 Bar(g)/ (302kg/cm2), all welded joints and structures of boiler 1 satisfied the defined technical specifications. This was a good result to appreciate the quality, knowledge and professional skills of LILAMA workers in national main important projects.
After the tests, LILAMA would continue to complete the rest items such as: testing pressure of high pressure section for the entire boiler 2, and then thermal insulation, kiln bricklaying, finishing ventilating pipelines, coal supply line, oil supply line and so on, striving for performance of test running work of the project in Quarter 1, 2017.
According to Lilama.com.vn