Sungrow Achieved Strategic Cooperation with AIT CORP for Future Energy Storage System Supply
16:27 | 25/11/2021
- On November 16th, Sungrow, the global leading inverter solution supplier for renewables, signed a strategic cooperation agreement with AIT COPR to provide energy storage system (ESS) for renewable energy plants, and off-grid systems. This strategic cooperation will even strengthen the partnership between Sungrow and AIT CORP, increase the ESS installation in Vietnam, help improve the renewable energy's penetration to make grid more resilient.
Under Vietnam's national realities of energy mix, this country is seeing increased proportion of renewable energy in the national power grid, but this phenomenon has been posing challenges such as power imbalance, discontinuous and erratically fluctuating electricity. Besides, the government also faces more pressure to regulate the new power mode. Under such circumstance, energy storage is a suitable and comprehensive solution, featuring a series of benefits and potentials including the realizing time-shift between peak/valley modes, reducing electricity bill during peak time, relieving transmission congestions, acting as supplemental reserves etc. Besides, as Vietnam's government launched more regulations towards renewable energy installation and application, ESS also helps mobilize the renewable energy market, and thus, ESS can be the future of a clean energy mix for Vietnam.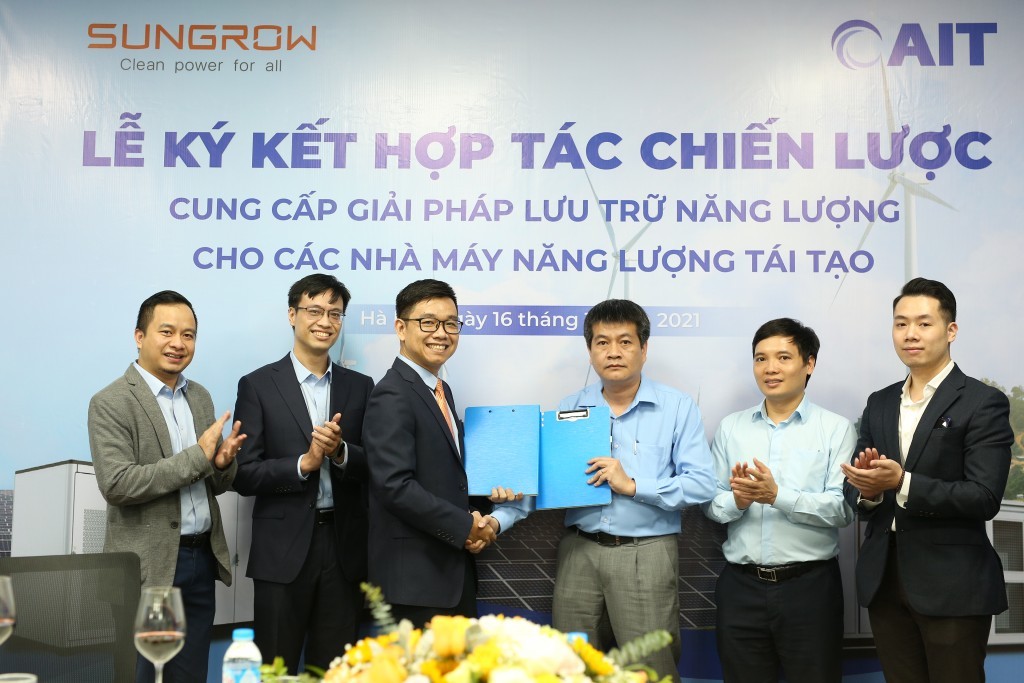 Strategic cooperation signing ceremony between AIT CORP and Sungrow Power
Director of AIT CORP–Mr. Hoang Thanh Hai, commented: "This cooperation between AIT and Sungrow is an important milestone for the next stage of development of the two parties, especially after the success of the Bach Long Vy project with a rated-power of 500 kW and capacity of 2.000 kWh. We are looking forward to contributing to the restructuring of Vietnam's energy industry with many sources of 'Green energy' and sustainable development."
Mr. Vu Thang–Sungrow Power Vietnam's chief representative, expressed: "against the backdrop of the increasing global demand for clean power, as well as the commitment from the Vietnam government to reduce emissions during the COP26 summit, investing in the renewable energy development promises a bright future. Sungrow is ready to provide comprehensive solutions and professional services to support Vietnam's energy transition."
About Sungrow:
Sungrow Power Supply Co., Ltd. ("Sungrow") is the world's most bankable inverter brand with over 182 GW installed worldwide as of June 2021. Founded in 1997 by University Professor Cao Renxian, Sungrow is a leader in the research and development of solar inverters with the largest dedicated R&D team in the industry and a broad product portfolio offering PV inverter solutions and energy storage systems for utility-scale, commercial & industrial, and residential applications, as well as internationally recognized floating PV plant solutions. With a strong 24-year track record in the PV space, Sungrow products power installations in over 150 countries. Learn more about Sungrow by visiting: www.sungrowpower.com.
About AIT CORP:
AIT CORP is one of enterprises that automate the power system and is developing and applying advanced and green technology to the digitalization process in the energy industry in Vietnam.
VietnamEnergy.vn