Doosan Vina exports 1,560 tons of products to Jawa Thermal Power Plant, Indonesia
12:27 | 14/06/2021
- On June 14th, 2021, Doosan Vina successfully delivered the first shipment weighing 1,560 tons of main structural equipment under the Jawa 9 and 10 to the Jawa Thermal Power Plant in Indonesia after more than two months of production.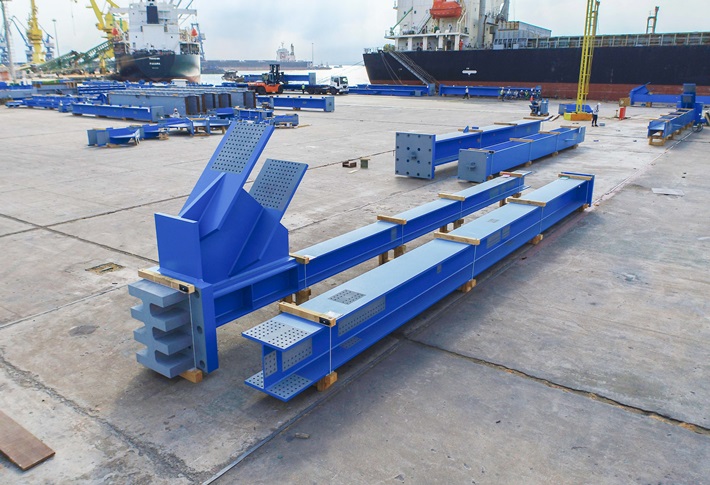 A total of 1,560 tons of Columns, Beams, Girders was shipped to 2000MW Jawa Thermal power plant, Indonesia.
The Jawa 9 and 10 project was signed in December 2020 involve the fabrication and supply of more than 36,000 tons of non-pressure equipment including the boiler structure, pipe, support column, coal storage system, desulfurization system, and other equipment to install at the Jawa Thermal power plant located in Banten province, Indonesia.
The first shipment includes 1,560 tons of Columns, Beams, Girders of the Tier 1 of Unit 1 and bolt jigs of Unit 2. Among them, the largest equipment is 14.2m long, 1.9m high, 3.5m wide and weighs 33.3 tons. After the installation is completed, they will become the support frames for the boiler system, coal transporters, and coal dust processing at the Jawa thermal power plant.
The Jawa 9 and 10 project has two units with each 1,000MW and is constructed by PT HutamaKarya and Doosan Heavy Industries and Construction as EPC. The project has a total investment of up to $3.2 billion, is built in the Cilegon industrial city located on the West coast of Java Island, off Indonesia's Jakarta capital 120km.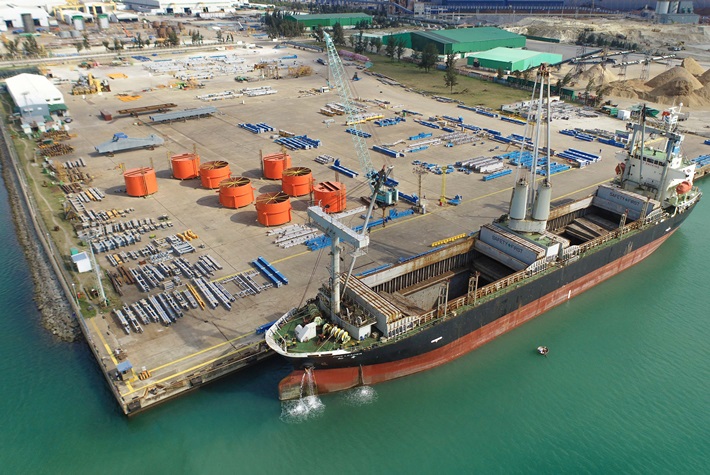 "This is the first time Doosan Vina manufactures for such a large capacity thermal power plant. These are two environmentally friendly coal-fired plants, using ultra-supercritical technology with a steam pressure of 246 kg/cm2 above and a steam temperature of over 593 degrees Celsius. Thanks to the high steam capacity and temperature, the power generation efficiency will be higher, the fuel consumption will be lower, the greenhouse gas emissions will be less and that means the operating efficiency of the plant will be higher." said Seo Deog Won, Director of the MHS shop of Doosan Vina.
"Right after receiving the order, we have coordinated with relevant departments to make the production plan from design, human resources, material procurement to the production process, and so on to meet the customer's strict requirements as well as to ensure the products' quality and delivery schedule." added Seo.
With this huge workload of 36,000 tons, the project will be in production for more than three years and is expected to be completed by 2024.
It is expected that the Jawa 9 plant will be put into operation in 2023 and the Jawa 10 will come into operation in 2024.
Doosan Vina
Doosan Vina is a high-tech industrial complex in the Dung Quat Economic Zone of Central Vietnam's Quang Ngai Province employing 2,000 Vietnamese. The company supplies the mega infrastructure products that make modern life a reality. Doosan Vina's products include: Boilers for thermal power plants, Desalination plants the size of a football pitch that turn sea water into fresh, Material Handling Systems like cranes that are the heart of logistics at ports around the world, Modularization and Structural Steel for refineries, buildings and infrastructure developments. To date the company has exported products valued at $2.4 billion.
The Doosan Group
The Doosan Group is a global multinational focusing on Power, Water and other infrastructure developments worldwide. The company is headquartered in Seoul, South Korea, has operations in 38 countries, over 42,600 employees and $22 billion in annual revenue.
VietnamEnergy.vn.