GS Energy proposed EVN to support Long An 1 and 2 LNG- power projects
10:28 | 19/10/2023
- In Hanoi, Mr. Dang Hoang An - Chairman of the Member Council of the Electricity of Vietnam (EVN) just had a working meeting with the Korean Mission of the GS Energy led by Mr. Kim Sung Won - Director of Global Energy Development. The GS Energy proposed EVN to support and assist in implementing and commercial operating process of the Long An 1 and 2 LNG - Power Projects.
At the meeting, Mr. Kim Sung Won informed that up to now, GS Energy has invested in about 7 GW of power projects in Korea with 6 GW using liquefied natural gas (LNG) fuel.
In Vietnam, GS Energy and VinaCapital are investors in the Long An 1 and Long An 2 LNG - power projects, located in Phuoc Vinh Dong commune, Can Giuoc district, Long An province. The capacity of each plant is 1,500 MW, expected to start generating electricity in 2028.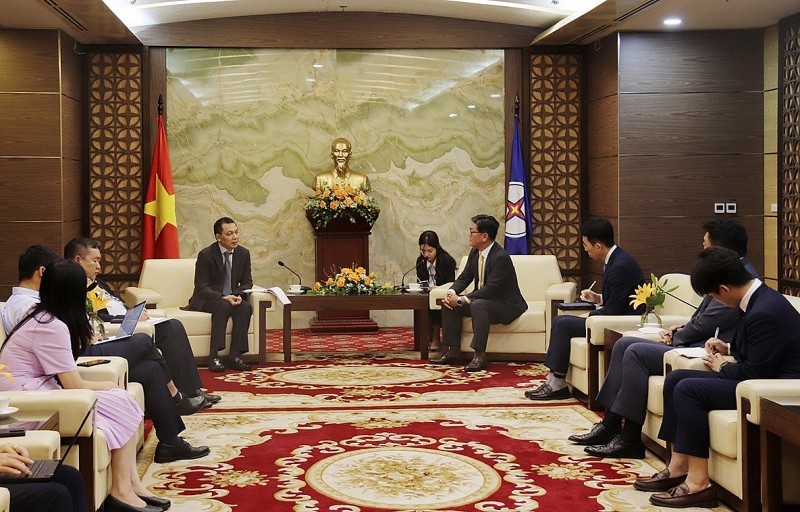 The Chairman of EVN's Board of Directors had a working meeting with GS Energy's Delegation (October 17, 2023).
For the above two projects, Mr. Kim Sung Won hopes to receive support and assistance from EVN during project implementation, as well as the commercial operation and late participation in the electricity market.
Mr. Dang Hoang An said that EVN supports GS Energy in developing power projects in Vietnam. For the Long An 1 and 2 LNG–power projects, Mr. Dang Hoang An hopes that GS Energy will have specific solutions to implement the projects on schedule and select capable contractors for implementing projects with good quality.
According to Vietnam Energy Review: Long An 1 and 2 Power Projects were initially registered to use coal fuel, but later converted to use liquefied natural gas fuel.
In Power Development Planning VIII, Long An 1 and 2 LNG-power projects are on the list of important power plants and grid projects, prioritized for investment in the EVN.
Long An 1 and 2 LNG- power projects are the largest power projects in Long An province, when put into operation, the projects will create motivation for rapid and sustainable economic and social development of Long An province and contribute to ensuring national energy security.