GW165/4.0MW won the "2021 Best Turbine Technology of the Year" award from Lead Energy ASEAN Wind Energy
14:08 | 16/12/2021
- Leader Associates is the world's leading organizer of renewable energy activities. It has a greater reputation and influence in the ASEAN region, East Asia and Australia. Goldwind is honored to receive -"2021 Best Turbine Technology of Year" for Goldwind turbine: GW165/4.0MW".
Goldwind began to explore the Thai market since 2012, with GW121/2.5MW WTG 120m soft tower. After the success in the Thai Market, Goldwind's exploration footprint in ASEAN countries began. In 2018, according to the wind resources and development conditions of 6.5-7.5m/s equal or below class III in Southern China and the central-South and southern coastal areas of ASEAN countries, GW165-4.0 products were developed, together with steel/ hybrid tower solutions, 160m and above. In order to further optimize the LCOE of the wind farm owner, and replace the traditional "cost thinking" with "income thinking".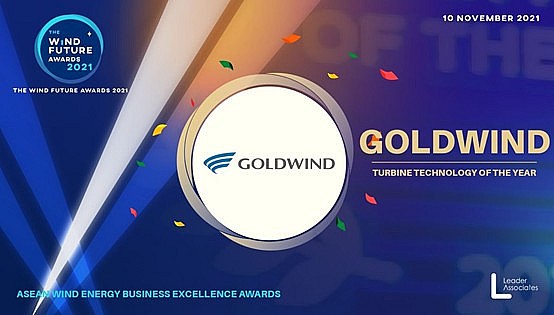 Award "Best Turbine Technology 2021" for Goldwind's GW 165/4.0 MW turbine.
The GW165/4.0MW owns many advantages:
Permanent magnet direct drive products have 4 major features, few components, easy maintenance, no coupling, no gearbox, on the one hand, it helps to achieve a significant improvement in cost efficiency and engineering efficiency.
At the same time, the platform products have a variety of adaptive configuration combinations. While having excellent power generation performance.
Goldwind fully considers the environmental friendliness, such as reducing the impact of noise, shadow flicker and so on, can operate in a complex power grid environment, and help power grid stability.
Goldwind also deeply develop potential wind resource of the local area, and expand the exploitable wind resources to 2.5m/s as the cut-in wind speed.
ASEAN is the most economically active region in the world, and it is also the region with the fastest development of energy trade. Southeast China and ASEAN have many similar background conditions in geographical location, resource development, technical and other aspects.
In the future, GW Technology will further increase the market development of medium and low wind speed, devoting to work with all owners and partners to cope with Vietnam's post-FIT era, strengthen the innovation of "low-carbon" power technologies such as wind power and PV power, and explore "zero-carbon" solutions in combination with energy storage, hydrogen energy and other forms. And through the technical transformation of the power grid to increase the capacity of renewable energy, to help with constantly increasing the usage proportion of renewable energy in ASEAN.