Japan's IHI Corporation highly appreciates Doosan Vina's quality and ability on equipment supplied for TPP
14:30 | 24/08/2022
- Doosan Enerbility Vietnam Company (Doosan Vina) has just received a certificate from the IHI Corporation for its quality and ability to supply equipment for the Van Phong 1 Thermal Power Plant (VP1) project on schedule during the Covid-19 pandemic.
The IHI Corporation is one of Doosan Vina's major customers and both are currently cooperating in the construction of the VP1 project in Khanh Hoa province.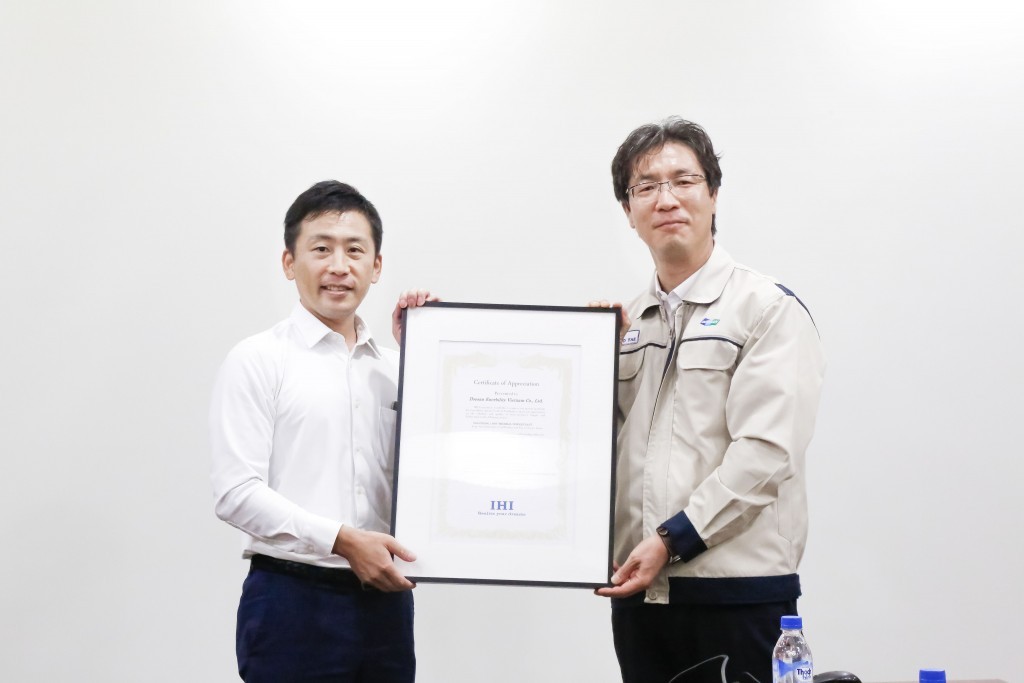 General Manager/Procurement of IHI Hanoi Representative Office (left) presented the Certificate of Appreciation to Doosan Vina's CEO Kim Hyo Tae.
Despite being significantly affected by the Covid-19 epidemic, by mobilizing all resources, constantly innovating, improving production productivity, and product quality and diversifying production processes, Doosan Vina has maintained the production pace and always delivered the products to the IHI customer to the VP1 site on time and ensured their high-quality requirements.
Participating in the VP1 project, Doosan Vina signed three orders with the IHI Corp. including 1) VP1 Steel Structure weighing 9,000 tons of main structure, auxiliary beams, driving rail structure for crane system and structure drive of the elevator system, 2) VP1 Top Enclosure Frame weighing 120 tons of the Headers and Roof Panels' supporting structure, and 3) VP1 Coal Bunker with 756 tons of coal silo equipment.
In addition, Doosan Vina also signed an order with the CTCI customer (Taiwan) called VP1 CW Piping including 6,159 tons of cooling pipes and another order of VP1 TG Building for Doosan Enerbility (Korea) weighing 5,113 tons of the plant's structure.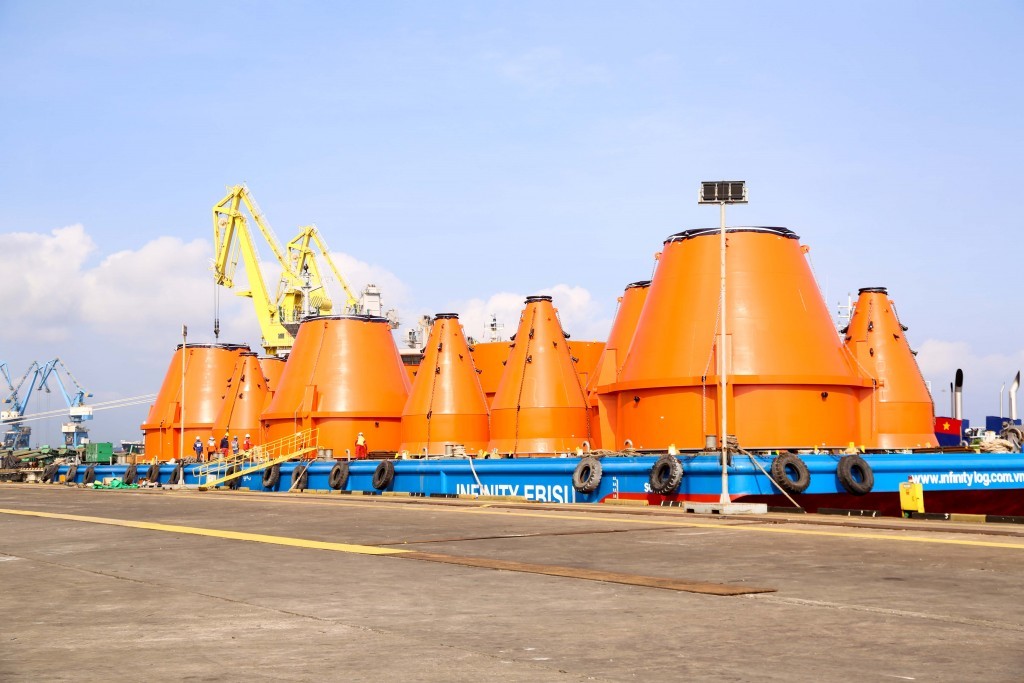 The coal bunkers and coal silos equipment for the VP1 TPP by Doosan Vina.
Doosan Vina's CEO Kim Hyo Tae said, "We are very happy and proud to receive this appreciation certificate from the IHI Corporation. This proves that Doosan Vina's product quality, brand, and reputation are increasingly being affirmed".
IHI Corporation
IHI is a global corporation working in the fields of engineering, construction, and manufacturing in many key industrial sectors. Founded in 1853 in Tokyo (Japan), now IHI operates globally with a system of 201 consolidated companies. The company's total revenue in 2021 reached 1.173 billion yen (about $8.8 billion).
Doosan Vina
Doosan Vina is a high-tech industrial complex in the Dung Quat Economic Zone of Central Vietnam's Quang Ngai Province. The company supplies the mega infrastructure products that make modern life a reality. Doosan Vina's products include boilers for thermal power plants, desalinations to turn seawater into freshwater, cargo container crane for seaports, fired heaters, modules and structural steel for petrochemical refineries, buildings, and infrastructure developments.
The Doosan Group
The Doosan Group is a global multinational focusing on Power, Water, and other infrastructure developments worldwide. The company is headquartered in Seoul, South Korea has operations in 38 countries and over 40,000 employees.
In November 2021, Doosan Vina was also approved by Mitsubishi Heavy Industries Engineering, Ltd. (Japan) as "The best supplier" of WtE boiler products.