Military Bank (MB) of Vietnam will fund the medium and long term projects of EVNSPC
09:00 | 28/03/2018
- On March 26, 2018, in headquarter of Southern Power Corporation of Electricity of Vietnam (EVNSPC) was held a signing ceremony of Memorandum of Understanding (MOU) on Saigon Branch of MB to fund the medium and long term projects of EVNSPC for enhancing ability of the electricity distribution network.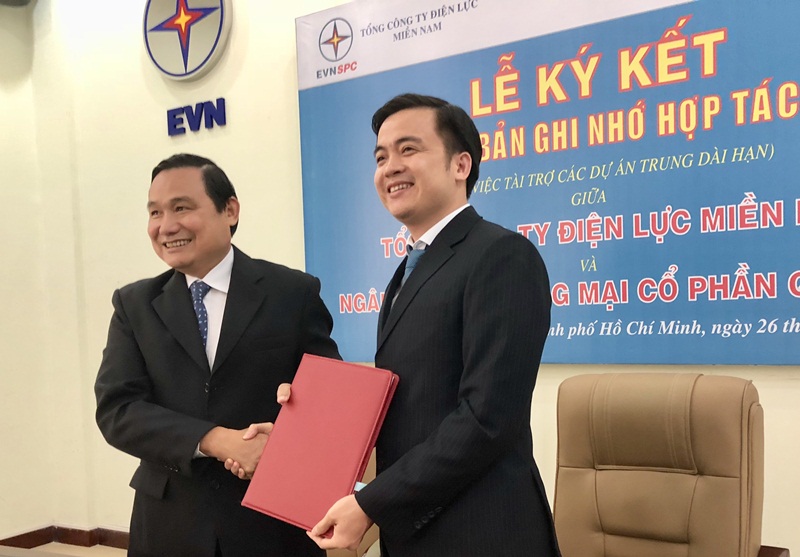 Mr. Nguyen Van Hop – EVNSPC Chairman and CEO and Mr. Nguyen Gia Phuong – MB Saigon Branch Director signed a Memorandum of Understanding on cooperation.
The cooperation is based on the mutual benefit, bringing added value in the sustainable development of production and business for the mutual support, accompanying development in 2018-2023 period and creating the power in the domestic and international markets.
The MOU includes the specific clauses to bring into play the strengths of each side in the activities according to the business strategies, and commit to enhance the development cooperation towards a mutual profitable long-term strategic cooperation.
Through the activities on cooperation, development, increasing value for products and services of each side, and creating the new products and services integrating the Bank- Electricity – Consumers, and extending the relations to promote production and business, broadcast the trade names, images to best exploit the strengths of each side in traditional business and other fields of mutual interest.
According to the EVNSPC Chairman Nguyen Van Hop, signing this MOU shows a substantial cooperation relationship between EVNSPC and MB, so both sides will organize the periodic meetings to review and check implementation progress of the signed contents.
VietnamEnergy.vn