Sea energy development in Vietnam: What are the priorities for the investors?
12:55 | 04/04/2022
- Answering questions from international investors at the Berlin Energy Transition Dialogue 2022 (BETD 2022): What priorities should Vietnam identify to pave the way for more efficient coastal energy in the near future? What are the key levers that can unlock the full potential of coastal renewables (such as offshore wind, wave, or tidal power)? Deputy Minister of Industry and Trade Dang Hoang An said: In order to effectively exploit this potential offshore wind energy source, we are trying to perfect the legal bases and preparing favorable conditions for developing the projects.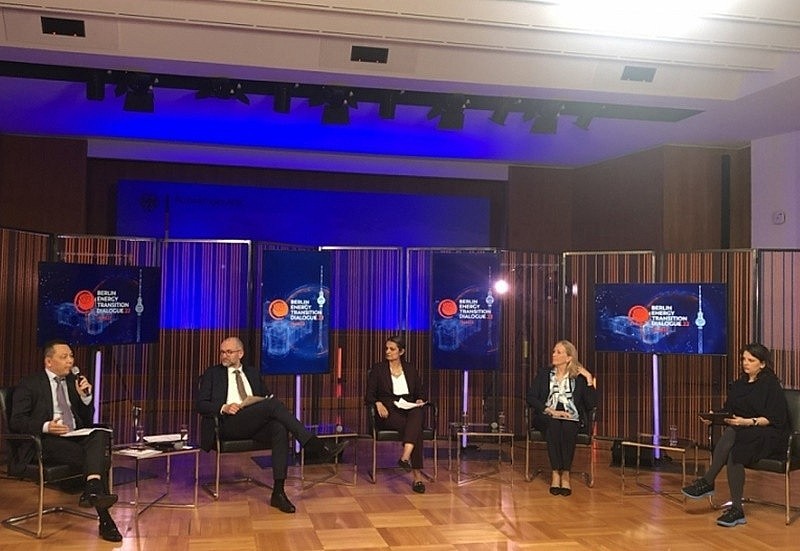 Berlin 2022 Energy Transition Dialogue (BETD 2022).
Participating in BETD 2022 were Mr. Dang Hoang An - Deputy Minister of Industry and Trade (Vietnam MOIT); Mr. Kristoffer Bottzauw - General Director of Danish Energy Agency; Ms. Amisha Patel - Head of Public Relations and Policies of Mainstream Renewable Power Company; Ms. Vera Brenzel - Director of Public Relations and Communications of TenneTT Company.
At present, facing the situation that the oceans occupy about 70% of the earth surface but sea – coastal energy is almost still not yet exploited as for example, the technical power potential of the global off-shore wind estimates as 420,000 TWh/year sufficient to meet the current demand of the whole world, but we are still very far from this number.
The BETD 2022 presenters discussed how to ensure broaden deploying the sea energy technologies?
According to MOIT, Vietnam is a country with rapid economic, urbanization, industrialization and modernization growth rate in ASEAN that requires Energy and Power sectors to have a vanguard development for creating the necessary premise and environment for the sustainable development of the country.
At Glasgow COP26 in 2021, The Prime Minister of Vietnamese Government committed that Vietnam will achieve net carbon emission by 2050. And for reaching this goal Vietnam should supplement 18 GW of wind power projects by 2030.
Answering the questions about the plans of Vietnam for attracting investors to off-shore wind power projects in coming period and there is any public assistance program in place for offshore wind projects? Mr. An said that Vietnam is considered to achieve 158 GW of off-shore wind power projects distributed mainly in Southern and South Central regions (about 140 GW), the rest capacity in Northern and North central regions.
In the newest draft version of Power Development Planning VIII (PDP VIII), 16,121 MW of on-shore wind power and 7,000 MW of off-shore will be developed in Vietnam to 2030. Then the rate of wind power projects will be 15.8%, among that off-shore wind power - 4.8%.
In the previous period, Vietnam applied the FIT mechanism to encourage the development of renewable energy types including offshore wind power. At present time, Vietnam has perfected the necessary legal framework to select investors to implement the projects in accordance with the provisions of the Investment, Bidding Laws and other relevant regulations.
Answering the questions about the necessary points for efficient paving the way for sea renewable energy projects (wind, wave and tide power projects) in coming period? Mr. An said that for exploiting abundant off-shore potential, Vietnam is trying the best to perfect legal bases and preparing favorable conditions for developing the projects.
The legal bases include:
1/ Connecting energy planning with marine spatial planning.
2/ Completing legal framework on development investment of the offshore wind power towards a competitive market mechanism.
3/ Completing processes and procedures for seabed surveying and sea area assignment.
4/ Researching and investing in the power grid infrastructure for integrating the large renewable energy projects.
Besides that:
5/ Vietnam is also necessary to develop a plan for synchronous development of seaport and transport infrastructures for transporting, installing and constructing the project equipment.
6/ Strengthening domestic capacity of producing equipment and supplying services.
7/ Training and improving the quality of human resources in both management and technology.
8/ Establishing the systems of national standards and regulations on technology, equipment, survey, design, transportation, etc. for ensuring management efficiency and conformance with international practices.
However, the offshore wind power is a new technology and so far Vietnam only develops the wind projects on land and near shore, so Vietnam needs more support from the international partners, especially technological transfer so that in the near future Vietnam can actively develop offshore wind power projects.
In recent years, many international organizations and development partners such as the United States, Denmark, the United Kingdom, the World Bank (WB), the Asian Development Bank (ADB), the German Development Cooperation (GIZ), Japan Cooperation Agency (JICA)... supported Vietnam in researching potential evaluation, sharing experiences and practical lessons on wind power development, generally, as well as offshore wind power. So, Vietnam wishes to continuously receive the international support in terms of recommendations for policy improvement, technology transfer, and feasible solutions for Vietnam to increase the rate of wind energy in the national power and energy development planning.