Starting construction of Phuoc Thai 2 and 3 solar power projects
13:32 | 25/09/2023
- The starting construction ceremony of Phuoc Thai 2 and Phuoc Thai 3 solar power projects has just taken place in Phuoc Thai commune, Ninh Phuoc district, Ninh Thuan province.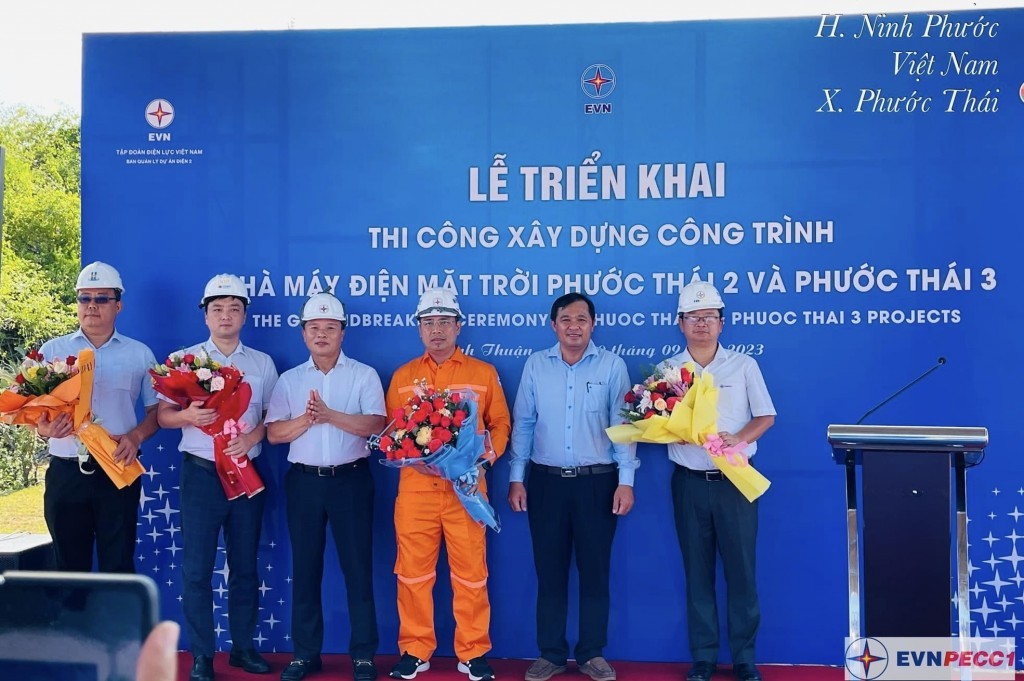 Groundbreaking ceremony for Phuoc Thai 2 and Phuoc Thai 3 solar power plant projects
Phuoc Thai 2 and Phuoc Thai 3 solar power projects are invested by Electricity of Vietnam (EVN), with Power Project Management Board 2 representing the investor to manage and operate the projects. The projects with a joint venture of contractors - headed by Electricity Construction Consulting Joint Stock Company 1 (PECC1) and joint venture member Power Generation Corporation 1 doing the consultant supervising construction and installation.
Phuoc Thai 2 and Phuoc Thai 3 solar power projects were invested and developed with the goal of adding the proportion of renewable energy projects to the national power system, contributing to meeting the commitment of the Prime Minister at the 21st Conference on the Climate Change (COP 21) in 2015 November, suitable with the strategy of the renewable energy development in Vietnam to 2030 with vision up to 2050.
The projects use a system of mono-crystal silicon solar panels, with a direct grid connection, no storage and a string inverter.
The installed capacity of Phuoc Thai 2 solar power project is 100 MWp and Phuoc Thai 3 is 50 MWp, a total investment of about 4,209 billion VND. Both projects are connected to the national power system via the 220 kV Vinh Tan - Thap Cham line.
According to the plan, when completed (first quarter of 2024), the two projects will add an annual electricity output of over 247 million kWh, contributing to supply clean electricity for the national electricity system in general and the Ninh Thuan, Binh Thuan provinces in particular.
The projects ensure energy security for the whole system, and socio-economic development of the project region and contribute to the cause of industrialization and modernization of the country.