EVN and GIZ exchange international experiences on rooftop solar power development
10:56 | 15/06/2023
- The Electricity of Vietnam (EVN) and the German Development Cooperation (GIZ) have coordinated to organize an international experience-sharing Workshop on rooftop solar power development (under the self-production, self-consumption mechanism). The Workshop was held in the form of face-to-face and online for all EVN units.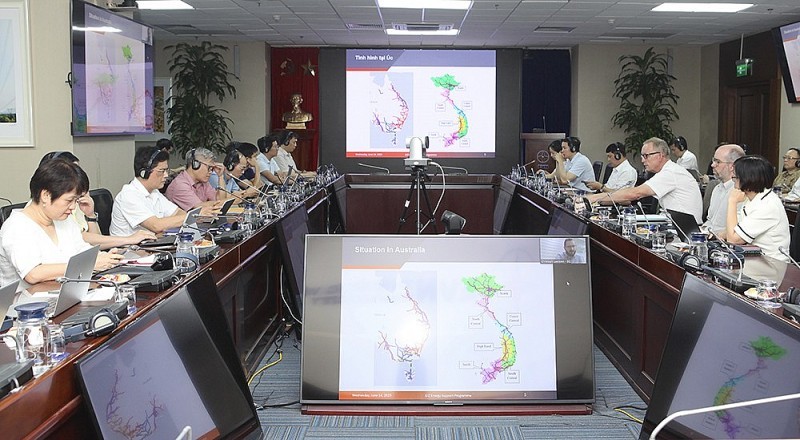 Overview of the workshop
Speaking at the opening of the Workshop, Mr. Vo Quang Lam - Deputy General Director of EVN said: In the context of the power system facing difficulties in supply, especially in the Northern region, the continued development of rooftop solar power is absolutely essential.
In the past time, EVN made a number of documents petition to the Ministry of Industry and Trade and the Prime Minister on continuing to issue mechanisms to encourage the development of rooftop solar power (not generating electricity on the grid).
Mr. Vo Quang Lam expressed his gratitude for the meaningful and effective cooperation of the German Development Cooperation Organization with Vietnam Electricity in the past time. EVN wishes to share and exchange many valuable experiences and lessons from Germany and other countries in policy formulation, operation and regulation of rooftop solar power systems.
Mr. Nathan Moore - Director of the rooftop solar power project in the commercial and industrial sectors (of GIZ) affirmed: This organization is ready to support EVN as well as the state management agencies of Vietnam in bringing make appropriate recommendations to promote the development of rooftop solar power in the coming time.
At the Workshop, the delegates exchanged and discussed issues such as Lessons in developing rooftop solar power in the world, experience in calculating the roof solar power price frame, self-production, and self-consumption rooftop solar power development policies, etc.
Up to now, Vietnam has developed 103,720 rooftop solar power systems, with a total capacity of about 9,602 MWp, accounting for about 10% of the installed capacity of the national electricity system. Renewable energy projects in general and rooftop solar power projects, in particular, have actively contributed to supplementing the supply of Vietnam's electricity system in the past time.
In Power Master Plan VIII, the goal by 2023 the whole country will have 50% of office buildings and 50% of residential houses using rooftop solar power (self-production, self-consumption, not selling electricity into the national power system).
At the same time, Directive 20/CT-TTg dated June 8, 2023, of the Prime Minister on enhancing electricity saving in the period of 2023 - 2025 and the following years, encourages the development of rooftop solar power for offices, households, service business establishments, industrial production.