Doosan Vina and Chung Ang University, Korea continue to implement the eighth education CSR program in Quang Ngai
10:10 | 04/02/2023
- Binh Thanh No. 2 Primary School and Binh Minh No. 1 Primary School in Binh Son district, Quang Ngai province are the two schools where charity activities and educational exchanges are held by students of Chung Ang University (CAU), Korea this year.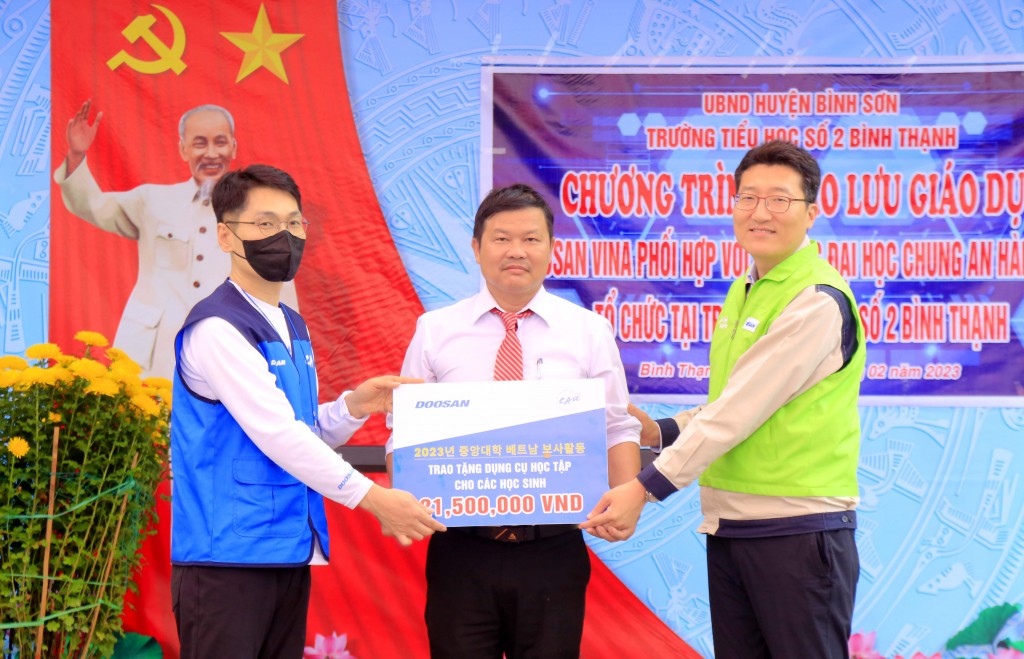 In addition, the program also donates a 65-inch Television worth 21,500,000 VND for Binh Thanh No. 2 Primary School and a laptop worth 20 million VND for Binh Minh No. 01 Primary School to support the teaching.
Implemented 4 years later than the Medical CSR, the Educational CSR program in Vietnam has become an annual activity of CAU and has now reached its eighth year after 2 years of interruption by the Covid-19 epidemic.
This year's program takes place in 5 days, from February 1st to 5th, 2023 with 04 activities including 02 main activities of educational support & entertainment and 02 side activities of cleaning at a massacre site and upgrading houses for disadvantaged local families.
Educational supports happen for 4 days from February 1st to 4th at Binh Thanh No. 02 Primary School and Binh Minh No. 01 Primary School (Binh Son District) with various activities such as helping students to develop the skills of drawing, collage, dancing and singing; Painting schools' doors and corridors; Painting the walls and bringing traditional Korean dance, K-Pop and Taekwondo to the children along with some other extracurricular activities such as planting trees, cleaning the campuses...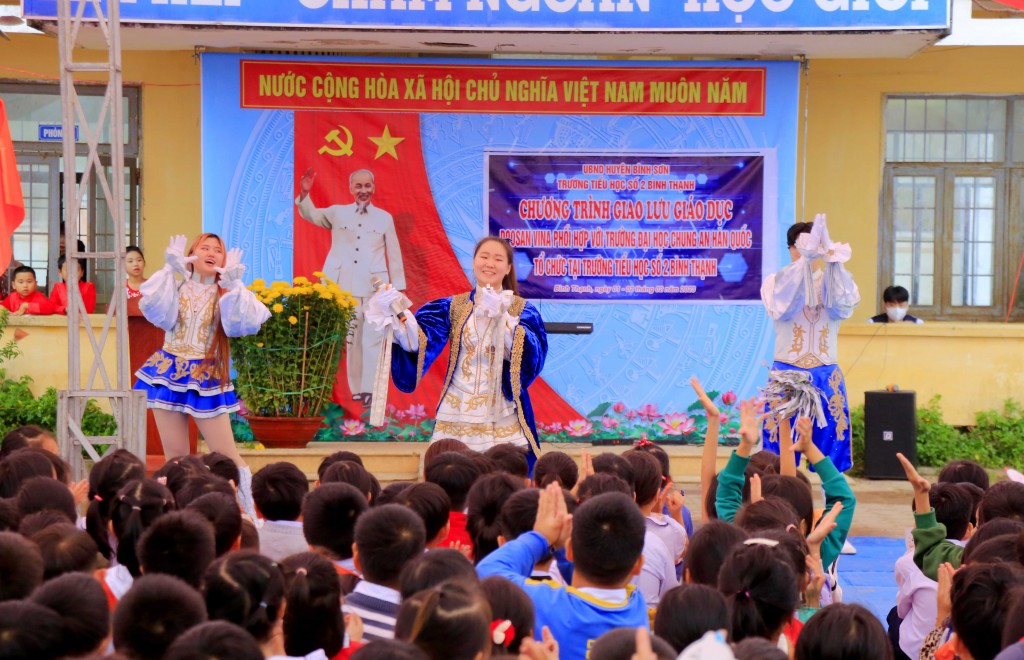 Cultural exchange between CAU students and pupils of Binh Thanh No. 2 and Binh Minh No. 01 Primary Schools.
"This is my first time chatting and playing with Korean brothers and sisters. They were all very cheerful and enthusiastic. I learned how to make hearts from paper and play many new games. My school now has very beautiful pictures. I like them very much. I hope that Doosan Vina will continue to bring Korean brothers and sisters to my school in the future." Le Huu Quoc, a student in class 5B of Binh Thanh No. 2 Primary School shared.
On the last day of the program (February 5th), a group of 31 CAU volunteers will clean up around the campus of Binh Hoa Massacre Area and upgrade houses for two needy households of Mr. Huynh Van Minh, 85 years old and Mrs. Nguyen Thi Nghia, 75 years old in Binh Thuan commune, Binh Son district.
Doosan Vina
Doosan Vina is a high-tech industrial complex in the Dung Quat Economic Zone of Central Vietnam's Quang Ngai Province. The company supplies the mega infrastructure products that make modern life a reality. Doosan Vina's products include boilers for thermal power plants, desalinations to turn seawater into freshwater, cargo container crane for seaports, fired heaters, modules and structural steel for petrochemical refineries, buildings, and infrastructure developments. Contact us at http://www.doosan-vina.com/doosanvina
The Doosan Group
The Doosan Group is a global multinational focusing on Power, Water, and other infrastructure developments worldwide. The company is headquartered in Seoul, South Korea has operations in 38 countries and over 40,000 employees. For more information, please visit us https://www.doosan.com/en