System Cost Goes Up?Check what's new in SNEC? Watch Live Broadcast
15:12 | 20/05/2021
- China do has the ambitious plan to win in a global low-carbon transition of much efforts that already started to put on. For this time on SNEC show, we will have a more in-depth discussion with well-known producer & Corp on how number of ways that constantly updated technology could improve a business' carbon footprint while at the same time increasing the efficiency and reduce investment costs.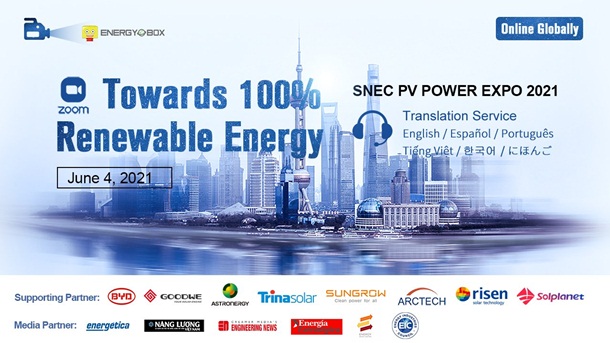 Do You Wanna Know the latest information of global market over the world? How about the new trends in international investing? Click the Register link! https://us02web.zoom.us/webinar/register/WN_V4CWyp7ZTiGPZnCVYIJzhw (June 4)
IHS market will hand with us to bring the most hot news for you!
2021 SNEC EXPO Recorded broadcasting globally!
We all know the entire supply chain prices are keeping rising attributed to the shortages of raw materials, PV INFO LINK will deeply analyse the current market situation and the developing trend of the future.
Top 10 media industries in the world will gather together this time, register now for your chance to "virtually" meet them through Zoom broadcasting, join right now! Come and win a free "trip" to participate in the exhibition session chat and Q&A with speakers!
Source: Energy Box.