Deputy Prime Minister Tran Hong Ha received the Chairman of Jiangsu (Giang To) New Energy Group
16:10 | 08/11/2023
- On the occasion of attending the 6th China International Import Expo (CIIE), in Shanghai City, Deputy Prime Minister Tran Hong Ha received Mr. Dao Long Trung - Founder and chairman of New Energy Group Jiangsu (China).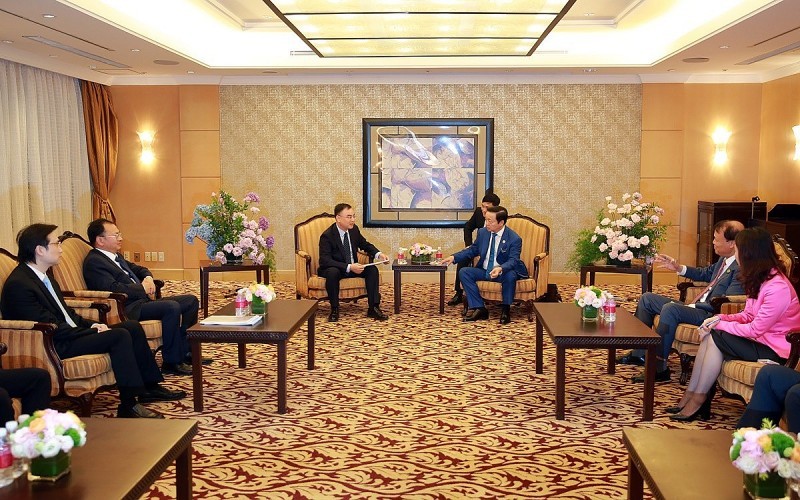 Deputy Prime Minister Tran Hong Ha received Mr. Dao Long Trung - Chairman of Jiangsu New Energy Group, on November 5, 2023, in Shanghai City. Photo: VGP/Minh Khoi.
At the meeting with Mr. Dao Long Trung, the Deputy Prime Minister said that Vietnam aims to strongly develop all types of renewable energy to develop and produce new fuels such as green hydrogen, and green ammonia... This is an opportunity for foreign investors in Vietnam to participate more deeply in all stages of the renewable energy and new energy industries, as well as serve the export of energy, equipment and components to the global market.
However, the Deputy Prime Minister (DPM) emphasized that the problem facing renewable energy enterprises is to ensure the highest quality standards, safety, environmental friendliness, and maximal recycling, etc…
DPM proposed that Jiangsu New Energy Group jointly research and develop feasible technological solutions for solar cells, smart power transmission grids, green hydrogen, green ammonia production and energy storage... Chairman of Jiangsu New Energy Group reported to the DPM on the progress of the project to produce silicon ingots and semiconductor discs (phase 1), with a total investment of 440 million USD in Hoang Mai 1 (Nghe An) Industrial Park. He proposed that the Vietnamese Government and relevant agencies create favorable conditions, provide sufficient power sources for production and promote the expansion of the project in the following stages.
Jiangsu New Energy Group is one of the leading enterprises in the solar battery manufacturing industry, with a staff of more than 4,500 people working at production and research facilities in Asia and the Americas.
As for the silicon and semiconductor disk production project of Runergy PV Technology Co., Ltd. (Thailand) in Hoang Mai 1 Industrial Park (Nghe An), the investment policy was approved in June 2023 as a subsidiary owned by Jiangsu New Energy Group.
The plant with a design capacity of nearly 40,000 tons of silicon bars/year and nearly 30,000 tons of semiconductor discs/year. As expected, in November 2023, the project will go into production operation (phase 1) and by June 2025, the entire project will be put into operation.