WB proposed EVN to invest in renewable energy projects
08:37 | 05/10/2023
- On October 3, in Hanoi, the Chairman of the Electricity of Vietnam (EVN), Mr. Dang Hoang An received and worked with Ms. Carolyn Turk, WB National Director in Vietnam and WB Mission. The two sides discussed promoting and extending cooperative activities between EVN and WB including renewable energy.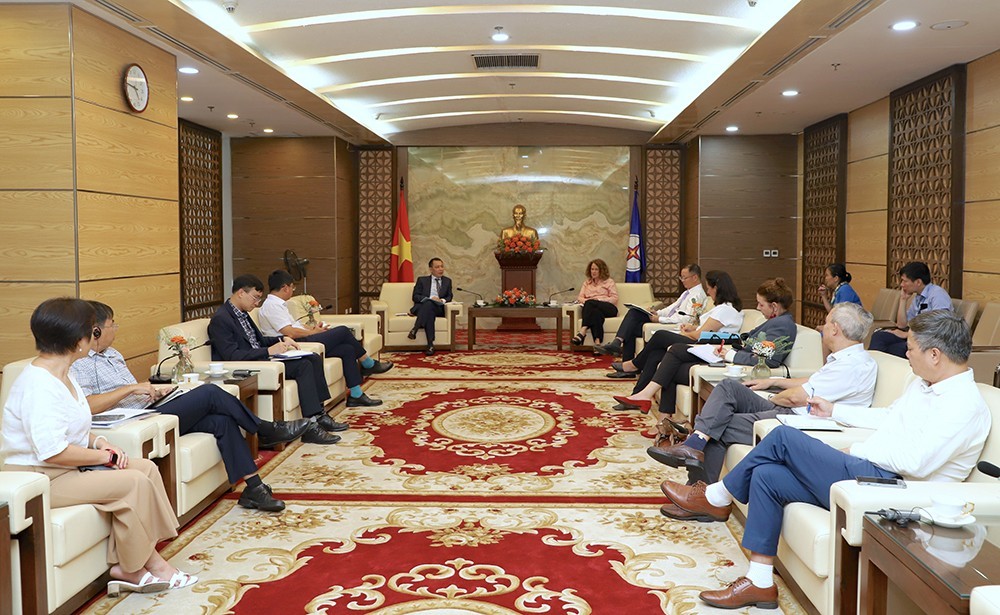 World Bank delegation working with EVN
At the meeting, Ms. Carolyn Turk proposed EVN ideas for cooperation in the energy field such as installing floating solar power projects in Vietnam, importing electricity from Laos to Vietnam and cooperating in developing offshore wind power and pumped storage hydropower projects.
Ms. Carolyn Turk said that the World Bank has a lot of experience in supporting the energy transitional process in many countries, especially in finance and technique. With that experience, the WB wishes to continue to support EVN in developing renewable energy projects such as pumped storage hydropower, solar and offshore wind power projects...
EVN Chairman Dang Hoang An respectfully thanked and appreciated the WB's proposals for EVN in particular and the energy industry in general. At the same time, he said that EVN always values and wishes to continue to receive support and assistance from the WB, not only in terms of financial resources but also policy advice, technical assistance, experience, and vision, for EVN to realize its development goals.
The EVN leader emphasized that with the potential ideas mentioned by the WB, EVN will seriously consider appropriate content to realize them in the near future.
At the meeting, the two sides exchanged and discussed related contents such as:
1/ The challenges of the energy industry in general and EVN in particular.
2/ The cooperation plan between EVN and WB.
3/ The WB recommendations to ensure sustainability in the financial mechanism of the electricity industry.
4/ The solutions to convert the coal thermal power to clean energy plants.