Signing MOU on developing La Gan off-shore wind power project
05:49 | 25/07/2020
- Copenhagen Infrastructure Partners (CIP), on behalf of New Market Fund I, Asiapetro, Novasia Energy and Binh Thuan Provincial People's Committee (PPC) signed a Memorandum of Understanding (MOU) on developing La Gan offshore wind power project with a total capacity of up to 3.5 GW. The signing ceremony took place at the Vietnam 2020 High-Level Forum on July 22, 2020, in Hanoi.
As the world's leading investor and developer of offshore wind power projects, Copenhagen Infrastructure Partners has mobilized more than US$ 10 billion from funds specializing investment in renewable energy projects, including the latest CI IV fund expected to become the largest fund for the renewable energy projects in the world. With the New Market I Fund, CIP especially orients toward the new fast growing economies as the Vietnamese market at the present.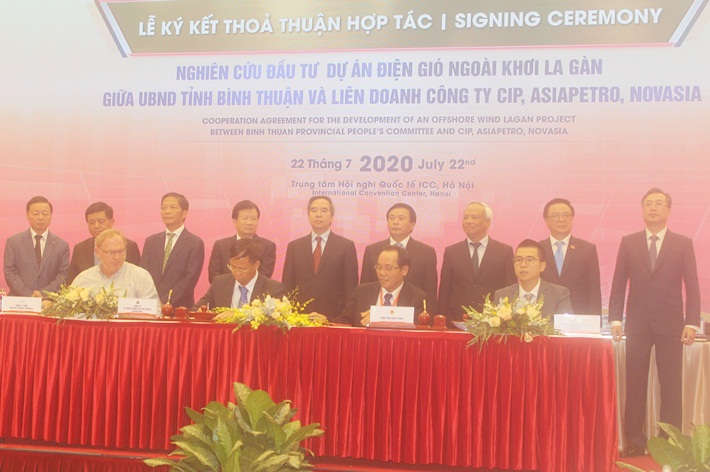 The Signing Ceremony
With a potential capacity up to 3.5 GW, La Gan project is one of the first large offshore wind power projects in Vietnam.
Mr. Kim Hojlund Christensen, Danish Ambassador to Vietnam, said: the findings from a cooperation project between the Danish Energy Department and the Vietnam Department of Electricity and Renewable Energy show that Vietnam has a large offshore wind power potential with 160 GW that leads Vietnam to the top position in the list of the potential offshore wind power markets.
Vietnam must learn more experience from the other countries to reap the benefits of offshore wind power.
30 years ago, in 1991, Denmark developed the first offshore wind power project in the world, and we are proud to be the world leader in this field.
"We would like to continue sharing our advanced knowledge, know-how and technology with Vietnam to assist Vietnam in the transition to the green economy at the most effective costs" - Mr. Kim Hojlund Christensen emphasized.
La Gan off-shore wind power project will bring opportunity for Vietnam to access the most modern and advanced wind power technology, while also support Vietnam to transform into a country with the power system with a high integration of renewable energy and low carbon emissions.
According to Mr. Michael Hannibal a CIP founder member, signing MOU on developing La Gan off-shore wind power project between CIP, Asiapetro, Novasia Energy and Binh Thuan PPC is a very important milestone and shows a valuable support and close cooperation from local authorities and partners.
CIP is a vanguard group in the offshore wind power industry in Asia Pacific with projects in Vietnam, Taiwan, Korea, Japan and Australia.
The staff of CIP includes the off-shore wind power experts with a propound professional knowledge and good experience in developing supply chain.
"CIP commits to continue cooperating with the local partners to turn this project into a model of successful technology transfer projects while maximizing the use of local resources and profession skill"- Mr. Michael Hannibal affirmed.
With a total investment level of US$ 10 billion, the project is expected to generate significant sources of income and jobs for both Binh Thuan and Vietnam. The successful cooperation between CIP, Asiapetro, Novasia Energy and Binh Thuan province in this project may also be a premise to attract other foreign investors to offshore wind projects in Vietnam.
VER.