The founder of the Monsoon wind power project (Laos) worked with EVN
08:34 | 10/03/2023
- In Hanoi, Mr. Tran Dinh Nhan - General Director of Electricity of Vietnam (EVN) just had a meeting with Mr. Peck Khamkanist - CEO of Impact Electrons Siam (founder of Monsoon - Laos wind power project).
At the meeting, Mr. Peck Khamkanist exchanged situations of cooperation for carrying out the work and schedules of the Monsoon project.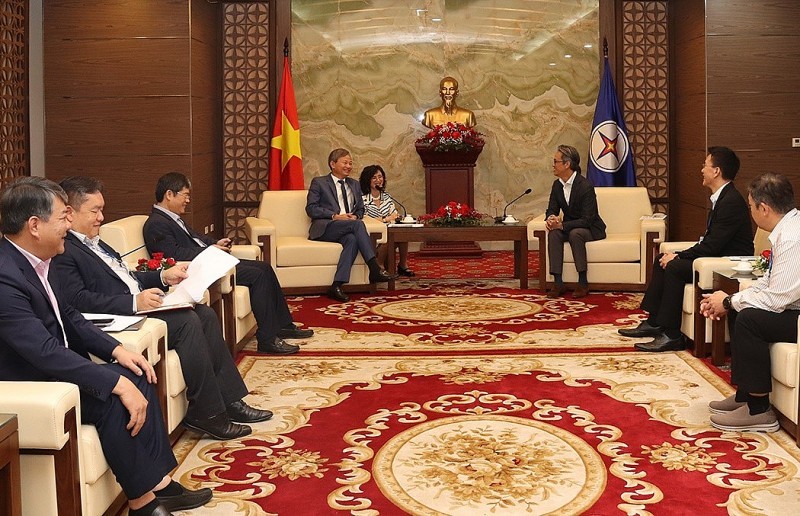 EVN General Director receives the CEO and the delegation of Impact Electrons Siam.
According to Mr. Tran Dinh Nhan, this wind power project is not only meaningful for EVN and investors, and capital sponsors... but also for the close relationship between Vietnam and Laos. In recent times, EVN actively worked with the Ministries, agencies, and Quang Nam Provincial People's Committee to promote the progress of the Monsoon - Thanh My 500 kV transmission line project. EVN also committed to ensuring the progress of the transmission line to meet releasing the capacity of the wind power project.
The Monsoon wind power project with a total capacity of 600 MW develops in the Lao southeast, about 22 km from Laos - Vietnam border. The commercial operation date (COD) should be in the second quarter of 2025.
The policy of importing electricity from this project was approved by the Prime Minister in Document 938/TTg-CN dated July 21, 2022. The power purchase agreement (PPA) for the project was signed by EVN and Impact Energy Asia Development Limited (the investor) on January 10, 2022. According to the signed document, the Monsoon wind power project will connect with the Vietnamese power system by the Monsoon - Thanh My 500 kV transmission line, with a total length of 65 km (of which about 43 km is in Vietnam territory).
According to the report of the Power Project Management No 2 - the unit assigned to manage and operate the project by EVN: Up to now, there is completed 6/24 the consulting and non-consulting bidding packages. For the bidding packages of the project construction, installation and equipment supply, on the basis of the approved technical design, the consultant will complete the bidding documents with the approval of the Power Project Management Board No 2 for submitting to EVN for consideration and approval of the bidding packages for equipment supply in March 2023, construction and installation bidding packages in April 2023. For the conversion of forest use purposes and site clearance, the Government has allowed the conversion and impact on natural forests for project construction.