Signing contract of geotechnical survey for La Gan offshore wind power project
11:06 | 19/07/2021
- On July 15, 2021, in Hanoi, La Gan Wind Power Project Development Joint Stock Company - the developer of the 3.5 GW La Gan offshore wind power project (under the Copenhagen Infrastructure Partners, Asiapetro and Novasia) has signed a contract with the Vietnam - Russia joint venture (Vietsovpetro) of geotechnical survey for La Gan offshore wind power project. The signing ceremony was conducted online under the witness of the Danish Ambassador to Vietnam - Kim H. Christensen.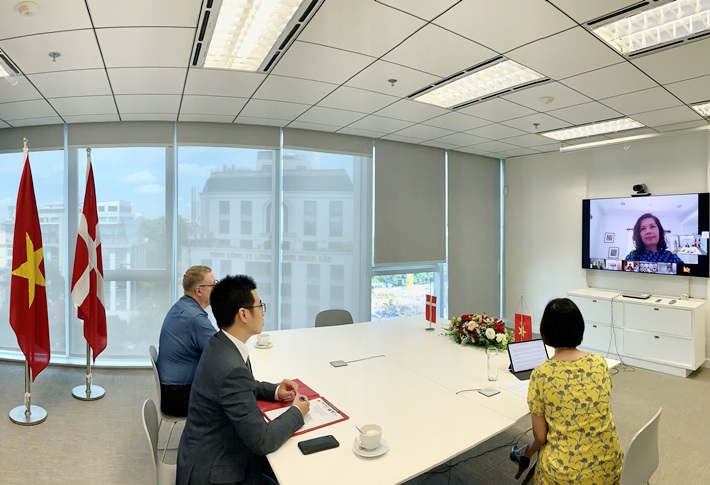 Signing contract for technical geological survey of La Gan offshore wind power project .
Accordance with the contract, Vietsovpetro will cooperate with subcontractors, PetroVietnam Technical Services Corporation (PTSC) and Fugro Singapore Co., Ltd. for collecting soil and rock samples placed deeply in seabed. These samples will be tested in high-level laboratories and used to build a detailed ground model of the seabed within the wind power farm site. This ground model will play an important role in the structural design for the foundation buttresses and underground cables of La Gan offshore wind power project.
Speaking at the signing ceremony, Danish Ambassador to Vietnam, Mr. Kim H. Christensen said, that with today survey contract signing, the investors of La Gan offshore wind power project reaffirm their serious commitment to continue rapidly implementing the project as planned, despite the difficulties and challenges caused by the Covid-19 pandemic.
The Vietnamese Government of Vietnam is currently in the process of finalizing the Power Development Planning VIII and establishing the relevant legal framework for offshore wind power projects. Therefore, it is necessary for the functional agencies to create a favorable environment for foreign investors, especially those who have demonstrated their capacbilities in the offshore wind power industry, as well as highly determined to develop their projects.
"We hope and believe that the Vietnamese Government and relevant local authorities should make prompt decisions and issue the necessary certificates and approvals for the project so that the investors can deploy the activities as soon as possible. This not only helps create a good start for the whole energy industry, but also contributes to realizing the Government's vision of developing the energy industry in a green and sustainable direction" - Mr. Kim H. Christensen emphasized.
According to Ms. Maya Malik, CEO of La Gan Wind Power Project Development Joint Stock Company, the geotechnical survey is the key activity for the designers to understand the current status of the seabed and implement developing ground models of foundation buttress and designing them. We are very proud to be one of the investors to implement the first large offshore wind power project in Vietnam.
As a responsible and experienced project developer, La Gan Wind Power Project Development Joint Stock Company expresses honor to cooperate with Vietsovpetro and their prestigious subcontractors to conduct survey activities under the highest safe, environmental and social standards. We are also proud to be supported for developing the local supply chains and facilitated for transferring knowledge between the local and international suppliers.
Since signing a Memorandum of Understanding with Binh Thuan Provincial People's Committee (July 2020), many development activities for La Gan offshore wind power project with a capacity of 3.5 GW and total investment capital of 10 billion US$ have been actively carried out.
According to an economic impact study conducted by international experts from BVG Associates (a consulting unit of the World Bank), La Gan project will contribute more than $4.4 billion to Vietnam's economy in the project lifetime.
The project is also expected to create more than 45,000 full-time jobs (FTE) for Vietnamese domestic workers (an FTE is equivalent to a job in one year).
The project expects to reduce CO2 emissions of 130 million tons/year.
VER.