Completing the installation of the last turbine of Dong Hai 1 wind power project
11:03 | 19/10/2021
- On October 17, 2021, Tra Vinh 1 Trung Nam Wind Power Joint Stock Company - TraVinh1 Trungnam WP (a member of Trung Nam Group) completed the installation of the last turbine of Dong Hai 1 wind power project, in Tra Vinh province.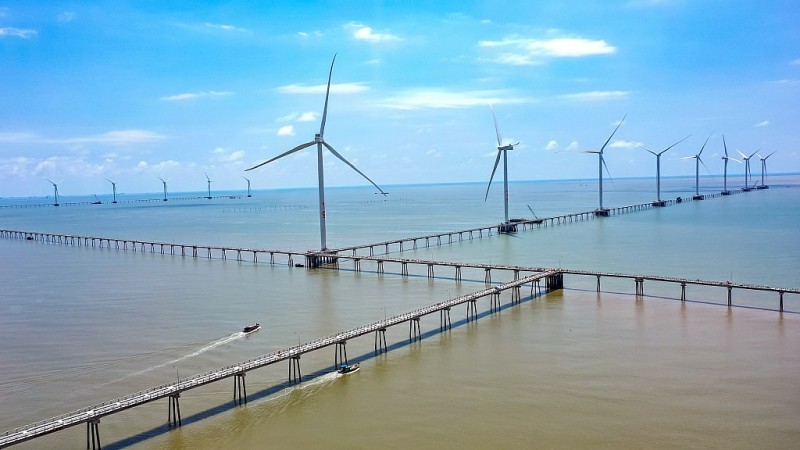 Dong Hai wind power project 1
Dong Hai 1 wind power project including 25 turbines with a total capacity of 100 MW (each turbine has a capacity of 4.0 MW), an annual average output of 330 GWh.
Dong Hai 1 is the first offshore wind power project invested by Trung Nam Group with a total capital of about 5,000 billion VND. The project developed on V1-7 sea cost in Dong Hai commune, Duyen Hai district, Tra Vinh province was started for construction in April 2020. During 10 months, Tra Vinh 1 Trung Nam WP company transported about 70,000 tons of the equipment and materials on the distance of over 12,000 km and its 1,100 engineers, workers directly constructed on 14 km of working bridge in the sea; used over 18,000 tons of steel, staked 115,000 meters of steel piles in the seabed.
The installation of the wind turbines also required the mechanized crane with a height of 130 m and a lifting force of more than 1,200 tons for fitting 75 turbine blades at an altitude of 105 meters in the situation of the fourth Covid-19 pandemic breakout.
With the completion of the last wind turbine today, it is fully hoped that the COD recognizing for Tra Vinh Dong Hai 1 wind power project should be made in time before October 31, 2021