Top 10 PV Brand shipment in Vietnam for 2020
15:30 | 02/04/2021
- According to the Chinese customs data, the majority of PV modules circulating in Vietnam were mainly provided by global well-known PV module manufacturers. Among them, JinkoSolar, JA, Longi, Trina, and Canadian Solar are the top 5 in the total annual imports of photovoltaic modules in Vietnam. Risen, AE Solar, Huansheng Solar, Sharp, and Suntech are in the second tier of PV module shipments in Vietnam, rank from 6 to 10 respectively. The top 10 companies accounted for 88% of Vietnam's total annual module imports.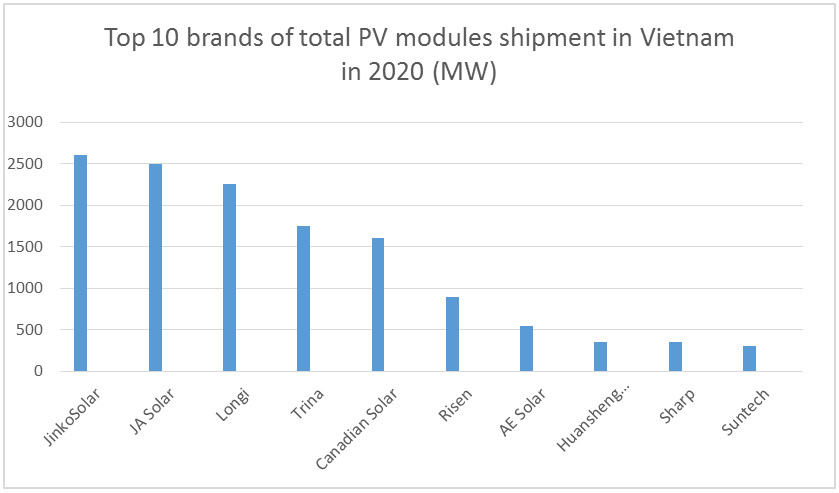 Vietnam is without any doubt one of the fastest-growing markets for the solar industry in 2020. One main reason for the strong growth is due to the fact that energy demand in Vietnam keeps growing at about 8.5% per year. Beyond this, the country's energy consumption will continue to grow as the economy recovers from the pandemic. The total installed capacity for Vietnam is around 13.4GW for 2020, and among these, 9.205GW was from the rooftop project. With the support of FIT2, a dramatic increase in shipment happened in the December of 2020 with over 6.8GW in a single month.
JinkoSolar as the No.1 PV module brand in Vietnam, supplied over 2.5GW solar modules to the Vietnam market in 2020, and holding 36.8% market share for the utility market and over 18% for the overall market, JinkoSolar confirmed its incredible performance in the market.
According to a research institute in China, monocrystalline modules accounted for over 89%, 72-cell modules accounted for 63%, and the mainstream module shipment was 440-450W among the PV shipments in the Vietnamese market. The demand for photovoltaic modules in Vietnam is also transforming to monocrystalline and large silicon wafers as well.
With the incredible performance of the Solar market, Vietnam has ranked 3rd in the new installed capacity of countries around the world, after China and the United States.
Vietnamenergy.vn