Gemadept Group ordered 6 more Panamax STS cranes from Doosan Vina to equip the seaport system in the North
15:19 | 24/01/2022
- Proud to be one of the leading manufacturers of heavy industrial equipment in Vietnam, Doosan Vina is gradually showing its influence in the field of seaport crane manufacturing in both domestic and international markets.
In 2021, expanding cooperation opportunities with Gemadept Corporation, a leading corporation in Vietnam in port operation and logistics, Doosan Vina signed two package orders from design, manufacture, assembly to transfer operation technique of eight STS cranes with a total weight of nearly 8,500 tons to serve to load and unloading cargoes, in which two Super Post Panamax STS cranes for Gemalink International port serving the world's largest vessel sizes (in Ba Ria - Vung Tau province) and six Panamax STS cranes for Gemadept's ports in the North to welcome the largest ships in and out of Dinh Vu area (Hai Phong City), contributing to the goal of promoting the growth of Vietnam's seaport logistics industry.
Accordingly, Doosan Vina will continue to supply 6 Panamax STS cranes to the seaports of Gemadept customers with the first three units signed on September 8th, 2021, and the remaining three were signed on January 20th, 2022. These cranes have a height of up to 53m, 100m long, 26.5m wide, about 850 tons heavy and can reach up to 40m (equivalent to more than 15 rows of containers); lifting capacity of 40 tons under the boom and 50 tons under the hook; lifting height 30m above the rail and 12m below the rail. They will be used to load and unload cargo containers with a maximum of 50 tons from large vessels up to 50,000 DWT (the largest vessel size that can enter the Dinh Vu area at present). Of these, five will be newly equipped for the second phase of Nam Dinh Vu port which was started on December 28th, 2021, and the other one will be additionally installed to continue improving the handling capacity at the Nam Hai Dinh Vu port, Hai Phong city.
Doosan Vina started production of the first three cranes in November 2021 and has reached 27 (percent) of the schedule. As planned, these first three units will be handed over to the customer within October 2022 to promptly put the project into operation from the beginning of 2023. The 2nd lot of three units will be handed over by February 2023.
The order of Gemadept Group and the achievement of this order of Doosan Vina is a very good sign in the context that the whole country is still facing many difficulties and challenges of the pandemic, opening a new stage of flourishing development after Covid-19. At the same time, it meets the localization goal of key mechanical products that Doosan Vina has committed to the government and demonstrates the good cooperation relationship and national pride with the Gemadept Group's domestically produced products.
Back in March 2021, Doosan Vina signed a contract to supply two STS super-heavy cranes with 1,700 tons/each to equip for the top 19 world's leading deep-sea ports Gemalink and reached 97% complete. Once put into operation, these 2 super-heavy STS along with 6 cranes (handed over by Doosan Vina at the end of 2020) will contribute to meeting the demand for cargo handling for the world's largest ships up to 250,000DWT, improve loading and unloading efficiency, maximize the design capacity of phase 1 by 2022 of the largest deep-water port in Vietnam, Permalink.
Up to now, Doosan Vina has manufactured and supplied a total of 97 cranes for the busiest domestic and foreign ports. For the domestic market, they were for Da Nang port (2 RTGCs), Saigon Newport (2 RTGCs), Nghi Son Refinery and Petrochemical Plant Port (2 RMQCs), Gemalink port (8 RMQCs), and the upcoming is a port cluster of Gemadept in Dinh Vu area (6 Panamax).
Nam Dinh Vu port
Nam Dinh Vu Port is one of the key port projects of Gemadept Corporation with a total investment of up to VND 6,000 billion. Nam Dinh Vu Port was born to promote Northern economic growth and become a strategic link connecting economic belts in the chain of logistics activities across the country. Possessing a prime location with deep draft, modern equipment, and a solid rear yard system, the port can receive the largest vessel sizes in the Dinh Vu area up to 40,000 - 50,000 DWT. The whole project has a scale of 7 container terminals on a total area of more than 65 hectares, a berth length of 1.5km, a total capacity of approximately 2 million TEUs and 3 million tons/year.
Nam Hai Dinh Vu port
Nam Hai Dinh Vu Port is among the group of 4 seaports and ICD of Gemadept in Hai Phong. Officially operating in 2014, with a three times larger scale than the previously constructed Nam Hai Port, Nam Hai Dinh Vu Port has become an important trading hub in the busiest port complex in the North. With its strategic location in the downstream area of ​​the Cam River, 450m length of berth, -9m depth alongside berth, 320m turning basin, and Capable of receiving vessels up to 48,000 DWT. In recent years, Nam Hai Dinh Vu has always operated at high efficiency compared with a designed capacity of 550,000 TEUs/year.
Doosan Vina
Doosan Vina is a high-tech industrial complex in the Dung Quat Economic Zone of Central Vietnam's Quang Ngai Province employing 2,000 Vietnamese. The company supplies the mega infrastructure products that make modern life a reality. Doosan Vina's products include Boilers for thermal power plants, Desalination plants are the size of a football pitch that turn seawater into fresh, Material Handling Systems like cranes that are the heart of logistics at ports around the world, Modularization and Structural Steel for refineries, buildings, and infrastructure developments. To date, the company has exported products valued at $2.4 billion.
The Doosan Group
The Doosan Group is a global multinational focusing on Power, Water, and other infrastructure developments worldwide. The company is headquartered in Seoul, South Korea has operations in 38 countries, over 42,600 employees, and $22 billion in annual revenue.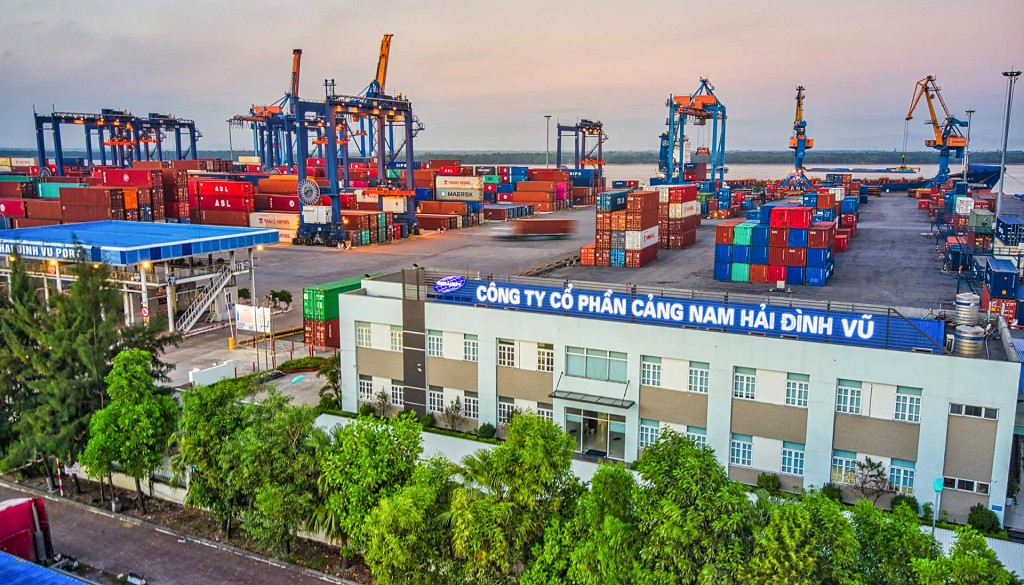 The upcoming six Panamax STS cranes will be equipped at Nam Dinh Vu and Nam Hai Dinh Vu ports (Hai Phong City).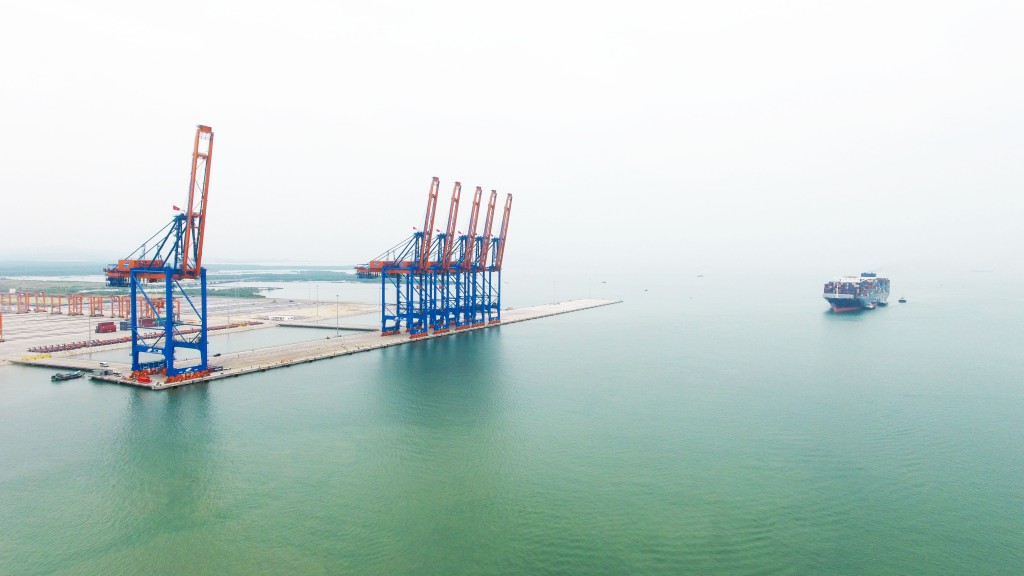 Six Super Post Panamax STS cranes supplied by Doosan Vina are in commercial operation at Gemalink international port of Gemadept Corporation.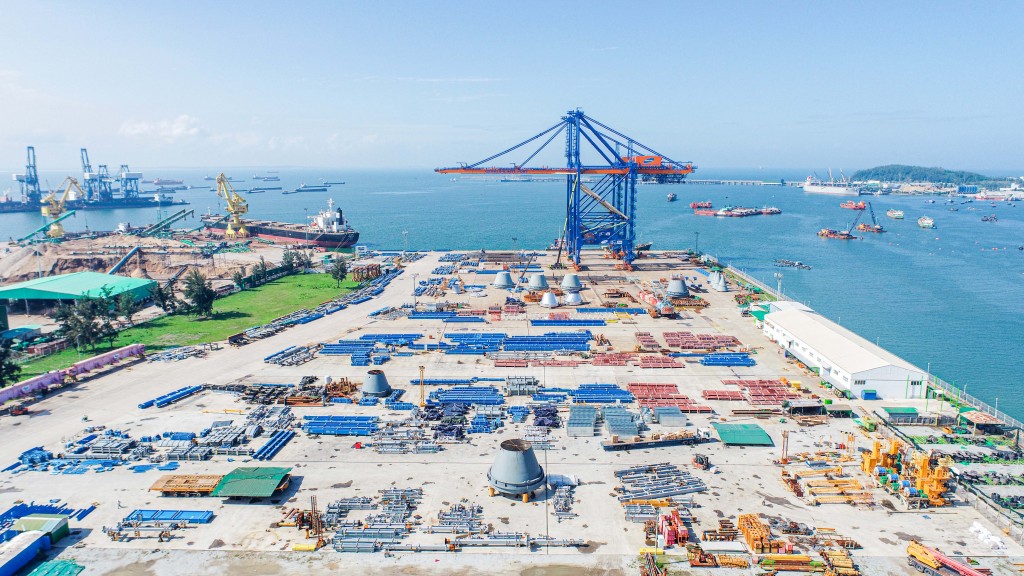 The Super Post Panamax STS cranes that Doosan Vina has been manufacturing and supplying to Gemadept for operation at Gemalink international port, BRVT.